Expert Review
CCM Spitfire Bobber review (2019-)
Latest variant of bespoke British single adds '40s balloon bobber tyres to lightweight chassis and punchy ex-enduro engine and is arguably the best yet. Stylish and fun but limited practicality.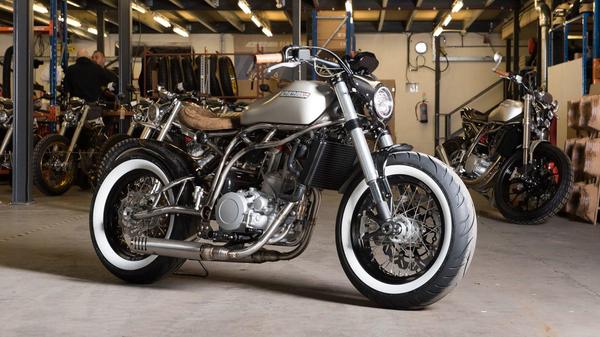 The Auto Trader expert verdict:
Limited edition 'scrambler' single adds 1940s balloon-tyred style to its funky and fun repertoire. It's pretty, fun and entertaining, but pretty raw and rudimentary, too, for a £10K bike.
Reasons to buy:
Bespoke exclusivity
Funky retro style
Sprightly single cylinder handling and performance
Design
For bold, 'bang-on-trend', bespoke, retro scrambler style, British firm CCM's Spitfire series is brilliant. Drawing on its off-road roots and designed in association with 'Skunkwerks' the Spitfire uses a hand-brazed, tubular-steel monoshock frame, top-notch cycle parts and a punchy, ex-Husqvarna enduro single-cylinder engine, wraps them up in minimalist retro scrambler bodywork and has created a fashion phenomenon that's grown into a family of bikes. The Bobber's the latest, swapping bigger, flat track wheels for ballon-tyred, wire 16-inchers with a slightly revised riding position and other detail changes. The result looks great, has neat touches and is a hoot to ride. But this is a Sunday short-hop toy rather than practical, useful transport.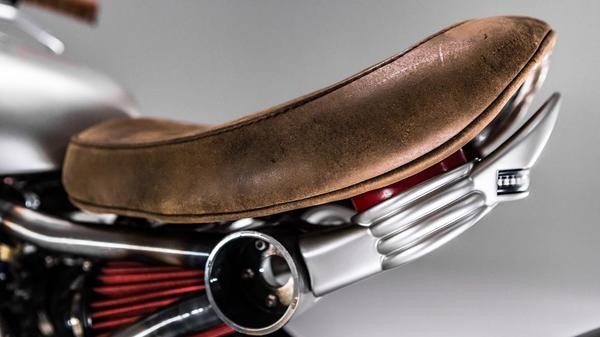 Riding position
An upright, slightly feet-forward 'Bobber' posture with merely a single seat (no pillions here), fairly straight bars and totally exposed to the elements shouldn't bode well for long distance comfort or anything by way of weather protection, but the Spitfire Bobber is actually more comfortable than it looks. Sure, this is no luxury cruiser or tourer, the CCM is too small, minimal and lightweight for that but the ergonomics are natural enough, the seat more supportive than you expect and no cramps or pains set in any hurry.
Practicality
This is an exclusive, limited edition, 'style statement' fun bike at best so you shouldn't expect much by way of practicality. There's no weather protection, pillion or luggage provision, the most basic of equipment, no creature comforts and it's all powered by a lumpy, vibey single. That all said, in certain situations it does make total sense, such as on short sunny Sunday blasts, exploiting its lightness and nimble manners to carve through town traffic. No-one buys a bike like this for practical considerations but it does have its moments…
Performance & braking
Being basically an off-road race engine, the CCM's liquid-cooled 600 is punchier than most singles but still produces a fairly modest 56bhp. Even so, combining it with an ultra-light 135kg chassis results in plenty of punchy drive in the lower gears, the close-ratio transmission is impressively smooth and it eagerly revs on to 8000rpm, or around 80 in top, before it begins to run out of steam. Considering that lightness, the single wavy front disc gripped by a meaty four-piston radially-mounted caliper is more than up to the job.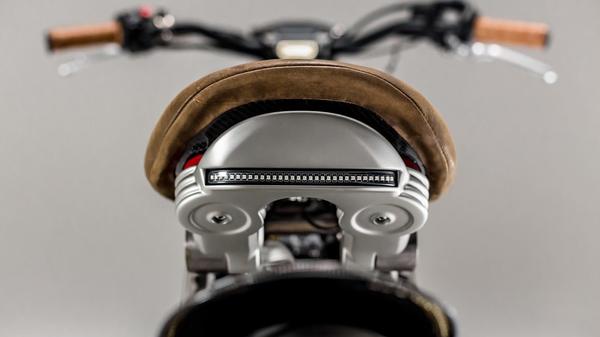 Ride & handling
Being a semi-cruiser bobber might mean handling expectations are fairly low. The opposite is true. The ultra-lightweight, short chassis is as nimble as they come; decent suspension front and rear means the ride is sports bike taut, the upright riding position puts you completely in control and the fat tyres actually work in the Bobber's favour, slightly calming the steering and flickability of the bike where previous Spitfires, with larger, narrower hoops were, if anything, a little twitchy.
Running costs
The Bobber's enduro bike roots work both for and against it here, although, on the whole, it should be a fairly cheap bike to run. The light weight and limited performance shouldn't take too high a toll on consumables such as tyres, chain, brake pads and so on, fuel consumption is a fairly decent 55mpg-odd and, being an in-demand limited edition (just 500 are being made) will keep its residual value healthy, too. The only slight downside is fairly short 3500-mile service intervals, although this will be counteracted by the similarly low mileages examples are likely to rack up.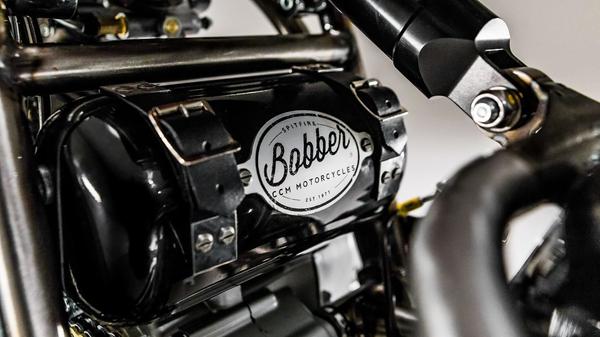 Reliability
Although the Bobber is CCM's newest model, its Spitfire family, which all use the same engine and frame, have been around for a couple of years now and we've yet to hear of any horror stories. Yes, they're hand built and their ultra-light chassis appear delicate, but quality is generally good and the Husqvarna engine, as long as it's correctly looked after, should be robust. All that said, however, this is unlikely to be a bike that is either used all year round or neglected…
Warranty & servicing
CCM's Spitfire Bobber, as with other Spitfire models, come with a generous manufacturer-backed two-year unlimited mileage warranty covering all parts and labour. On the slight down side, servicing is due every 3500 miles, which is down to the competition roots of that Husqvarna four-stroke single. On the up side, as CCM don't have dealers and operate direct from their Bolton factory, it's carried out by their mobile servicing team, who can pop to your house or work.
Equipment
There's not that much to get excited about here – the Bobber, as with all CCM Spitfires, is about as basic as motorcycles get, comprising: two wheels, a frame, engine and that's about it. There's not even a pillion seat, leave alone any fancy electronics or creature comforts. That said, what it does have – billet mirrors, leather bar grips, neat leather seat, performance exhaust, alloy-rimmed wire wheels, etc etc, is decent quality and desirable.
Why buy?
There's no sitting on the fence with a bike as niche as the CCM Spitfire. If you like the style and can put up with the limitations of the ride, you won't be disappointed. As a stand-out Sunday toy that'll draw a crowd at the pub carpark and paint a smile on your face on the blast back home, few bikes offer as much for the money. On top of that, it's British, exclusively limited, the Bobber is probably the best of the Spitfire breed so far and it's even half-decent value. Just don't expect a pillion-friendly, versatile machine…