Expert Review
BMW S1000RR Super Sports (2019 - ) review
BMW's original S 1000 RR shook up the superbike establishment in 2009 with its class-bashing 190bhp and revolutionary electronic riding aids, 10 years on this all-new 207bhp version has done it again.

Words by: Auto Trader
Published on 29 July 2019 | 0 min read
The Auto Trader expert verdict:
The first S 1000 RR's power and clever electronics set the new standard in superbikes even if it never quite delivered on track. This all-new, more powerful, lighter, smaller and even more sophisticated version raises the bar again – and this time is winning on track, too.
Reasons to buy:
Class-leading power AND 'ShiftCam' flexibility
Sharper but still real world and refined chassis
Fabulous electronics and TFT dash interface
Design
BMW have pushed the boat out with its all-new S 1000 RR superbike flagship – and it shows. It's better looking (gone is the old, controversial 'asymmetrical' face), faster (and more flexible), better handling and superbly equipped (satnav, Bluetooth and cruise control on a superbike?). Best of all, though, BMW have managed to improve its sporting credentials (it's already more successful than the old in both WSB and TT racing) yet keep it real world road relevant and easy to ride as well. Say 'hello' to the new superbike benchmark.
Expert rating: 5/5
Riding position
Despite being smaller, lighter and sharper-steering than the old, fairly roomy by superbike standards, RR, BMW have done a pretty decent job of ensuring it's still manageable for most and road relevant as well. Bars are decently wide, pegs surprisingly low and manageability at most speeds excellent. Instead the main reason for docking it a mark is its extremely low screen, which might be fine for WSB racers, but for the road (or even TT) leaves all but the tiniest, most crouched riders exposed to everything.
Expert rating: 5/5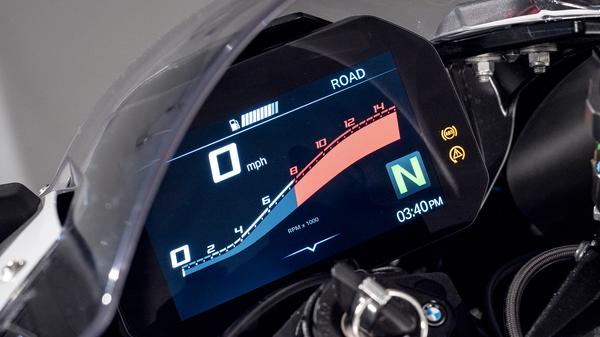 BMW S 1000 RR
Practicality
OK, no litre-class superbike is really designed to be practical: it's race crouch, emphasis on sheer speed and hunger for consumables puts paid to that (and the RR's the top-of-the-range M Pack version doesn't even have a pillion seat or pegs). But we're being generous to BMW's latest for still delivering more road comfort, real world features (heated grips, sat nav and cruise control are standard on the higher spec versions) than many of its rivals. What's more, if you not in the mood for a 'scratch' it's also refined, flexible and a half-decent sports-tourer.
Expert rating: 4/5
Performance & braking
Top marks – and we really couldn't give it anything else. The reworked engine boasts a class-leading 207bhp; the additions of 'ShiftCam' variable valve-timing means a decent, flexible midrange is retained and its uprated electronics and added refinement makes all that easy – and safe – to access. Add onto that new, astonishingly powerful BMW-branded Hayes brakes (no complaints, but it's a shame they're not Brembo), cornering ABS and more and you've not only one of the fastest bikes currently available – but also one of the quickest to stop.
Expert rating: 5/5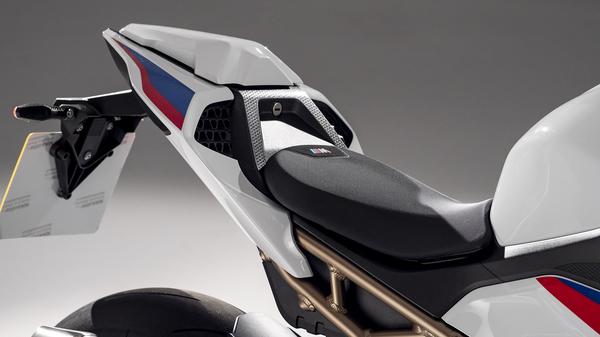 BMW S 1000 RR
Ride & handling
Again, a new benchmark for litre-class superbikes has been set. The new S 1000 RR's 'flexi' frame is more forgiving, its sharper steering geometry and lighter weight means it flick-flacks through turns now almost faster than you can think, the new Marzocchi semi-active suspension, which adjusts rebound and compression damping at both ends automatically according to received data is taut yet refined and the whole plot, as well as being supremely capable, is amazingly reassuring and intuitive as well. We can't fault it.
Expert rating: 5/5
Running costs
OK, compared to a Tracer or more budget all-rounder, no superbike is going to fare well, here, and the new S 1000 RR's 207bhp and sporting aplomb ensures a healthy appetite not just for fuel but other consumables such as tyres, brake pads, chain and more, but although pricey and exotic nor is it quite as bad as some Italian rivals we could mention. What's more, BMW's residuals are traditionally market leading, which helps blunt the cost, and we see no reason why this latest RR, which is sure to be in demand, should be any different.
Expert rating: 4/5
Reliability
Although there were some minor engine and electronics problems reported with very early S 1000 RRs, as perhaps to be expected of an all-new, revolutionary machine with class-leading performance, these have been rectified over the years and subsequent updates have all been improved and fared better so, although again there has to be a slight question mark again this latest all-new version, we've plenty of confidence in BMW's engineering. What's more, BMW's dealer service and technical update protocols have traditionally been among the best as well.
Expert rating: 4/5
Warranty & servicing
All big BMWs now come with a class-leading three-year, unlimited mileage, manufacturer-backs parts and labour warranty to ease any sleepless nights, which even comes with European-wide breakdown assistance, and you can't get much better than that. Servicing-wise, the new S 1000 RR requires servicing every 6000 miles or annually, whichever comes first, which is pretty much the industry standard as well.
Expert rating: 5/5
Equipment
Equipment levels naturally vary across the three variants currently offered. There's the base model at just over £15K, the Sport at £16,700 which gets the semi-active suspension, extra riding modes, quickshifter and more and then the top of the range M Package version we tested which has all the above, comes in M Sport colours, has carbon wheels and race solo seat and more for just over £19K. The basics, though, of superlative-strewn engine, sublime chassis, mouth-watering TFT interface and class-leading performance are common across all three while the range topped even gets heated grips, cruise control and satnav – on a superbike!
Expert rating: 5/5
BMW S 1000 RR
Why buy?
BMW set the new standard for superbike performance and electronic sophistication – and by so doing created an astonishingly fast but still road usable machine – when it launched the very first S 1000 RR back in 2009. And though it never really proved a winner on track, being slightly too big and cumbersome except at the TT, it's gained a solid road reputation. A decade on BMW have done it again – and then some. The all-new S 1000 RR's performance and electronics have again raised the bar but even more impressively it is now already proving to be a winner on track AND still has more relevance on the road than most. Just as impressively its hugely refined, so much so that all that performance is far less intimidating and much more accessible than you might expect…
Expert rating: 5/5