Expert Review
BMW S1000R naked/roadster (2021-) review
Successor to BMW's original S1000RR superbike-based 'naked' is now based on latest 2019 RR. Lighter, slicker and more sophisticated it's a classy, cultured machine in a class full of hooligans.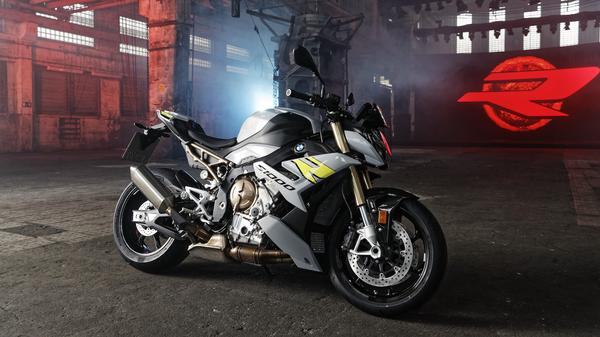 The Auto Trader expert verdict:
Available new from £10,961
Although based on BMW's latest 200bhp S1000RR superbike this 'naked' version has 'only' 160bhp but compensates with torque flexibility, classy manners and sophistication – it's a 'gentlemanly supernaked'.
Reasons to buy:
Surprisingly easy manners
'Real world' versatility – for a naked
Classy equipment, although most costs extra
Design
The successor to BMW's original 2014 super naked version of its S1000RR superbike is now based on the all-new lighter, leaner, 'ShiftCam' 200bhp RR which debuted in 2019, but detuned to 160bhp. Being a BMW it's no wild monster like 175bhp+ rivals from KTM, Aprilia and KTM but compensates with real world usability, surprisingly easy manners and a subtle, classy style which seems at odds with the old 'super naked' concept. It's neatly and slickly done, there's bags of refinement, plenty of sophisticated equipment (although much only as optional extras) and enough real world punch for most but it also lacks the lariness, aggressive image and big numbers some might demand of a bike of this type.
Riding position
As the new R is based on the latest smaller, slimmer, lighter RR, the naked version's riding position is slimmer and more manageable, too – impressively so. Peg and bar placement is completely natural and intuitive, giving an upright but slightly sporting gait. The new R feels, slim and immediately easy to get on with and even at speed the rider doesn't feel as exposed as is often the case with super naked machines. It's narrower between your knees, there's none of the bulk of most big bikes and the R is natural and neutral from the outset – yet still gives the kind of connection and pleasingly precision necessary for sports enjoyment. Pillion provision isn't exactly generous but that's in the nature of these bikes are there are far worse.
Practicality
Super naked style bikes – being upright, exposed versions of extreme sports machines – aren't by their very nature the most practical of machines, but BMW's latest R begs to differ. The key reasons are refinement, real world manners and effective sophistication. Its balance, riding position, engine delivery and slick controls make every day riding a breeze, the three modes and intuitive TFT dash add class to the experience and it has a better tank range and luggage/pillion potential than most rivals, too. Further practicalities such as heated grips, cruise control and screen cost extra, however, and at the end of the day the R's still a super naked with the limitations that brings. On the whole, though, it's surprisingly good – and if you want more, go for BMW's S1000XR!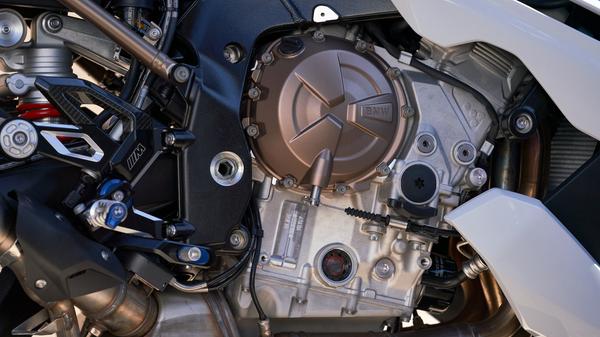 Performance & braking
You might reasonably expect a super naked bike based on BMW's 200bhp S1000RR to be wild and intimidating and… you'd be wrong. Where the latest RR uses BMW's 'ShiftCam' variable valve timing to help achieve its 200bhp, the R does without and is instead tuned for a more real-world 164bhp. True loons may be disappointed by that, but as a slick, refined road bike with a seamlessly smooth and grunty delivery in reality there's little to complain about and if you stump up for the extra 'Dynamic Pro' mode it's competitively exciting, too. Braking, on the whole is more than adequate, too. BMW devotees have been grumbling about the company's recent switch from top-notch Brembo brakes to lesser-known Hayes items but for all but the most extreme use, they're more than sufficient. That said, however, if we were paying £17K+ for a fully-loaded R we'd be a tad miffed not to have Brembos, too.
Ride & handling
Again, the new R is so efficient, neutral, refined and easy to get on with there's little significant to complain about here, especially if you're prepared to pay a little more for goodies such as BMW's ESA electronic suspension. The new slimmer, lighter chassis is naturally balanced and effortless. The suspension is also new and decent quality giving a firm but forgiving ride and the new bike is also significantly more nimble around town or through traffic thanks to a tightened steering lock. That said, it hasn't quite the class of the semi-active suspension of the latest Tuono nor it's razor sharp steering precision while, as mentioned, adding that kind of class, ie the ESA, costs extra.
Running costs
At the end of the day the new S1000R is a high-end, high performance super naked derived from a cutting edge, premium superbike, so running costs were never going to be cheap. That said, with 164bhp rather than some rivals' 175-200, it is (slightly) more sensible than some. Even so, you can still expect relatively high consumption of consumables such as tyres, brake pads, chain and sprockets and so on. On the slight plus side, the R's fuel economy is a touch better than most of its direct rivals and we also expect this more 'gentlemanly super naked' to be ridden slightly more sensibly and economically than most as well.
Reliability
Being a new model it's always hard to be certain about likely reliability. That said, the R is largely based on the latest S1000RR superbike, which was introduced back in 2019 and has so far generated glowing owner ratings for its reliability. Plus, of course, the R is also a premium BMW with all the kudos and reputation for quality and reliability that brings.
Warranty & servicing
Service intervals for the new S1000R are fairly typical with a first service at 500 miles then annual interims services every 6000 miles and the major valve check and adjustment (if necessary) services due every 18,000 miles. BMW now offer a three-year/unlimited mileage manufacturer-backed warranty for all parts and labout, which is better than most and it's also worth bearing in mind BMW's extensive and impressive UK dealer network.
Equipment
Equipment can be a moot point when it comes to BMWs, with the German brand pursuing a business model of offering fairly basic machines in standard trim but which can then be lavished with a phenomenal array of both factory fitted and dealer supplied extra cost accessories. In simple terms, 'you takes your choice, you pays your money…' So, although S1000R prices start at £11,760, with which you get three modes and BMW's usual slick 6.5in TFT dash, most of the worthwhile extras cost extra and come in two 'packages'. The S1000R Sport gets an extra Dynamic Pro mode, quickshifter, heated grips, ESA, cruise control, keyless ignition etc, but starts at £13,705 plus there's a fancy M Sport package after that.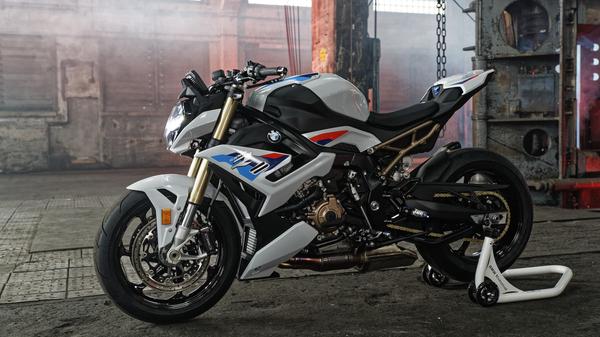 Why buy?
If you like the style, comfort and performance of a super naked, but want it in a more civilized, refined, quality even gentlemanly package, the new S1000R is for you. There's more than enough real world road performance, a delightful, easy, capable chassis and it's more practical than you might expect, too. On top of that, being a BMW, you can then spec it into exactly what form you like including cosmetic add-ons, electronic sophistication such as slicker modes and quickshifter even racier items such as MSport colours, lighter wheels and a sports pipe, although you can easily end up paying quite a lot more. All that, with BMW's residuals and dealer network makes the R a tempting naked proposition – but it'll never be as wild and hooliganistic as some.