Expert Review
BMW S1000R Naked (2013 - ) review
The BMW S1000 R is stunningly quick, brilliantly agile, outstandingly sophisticated and very competitively priced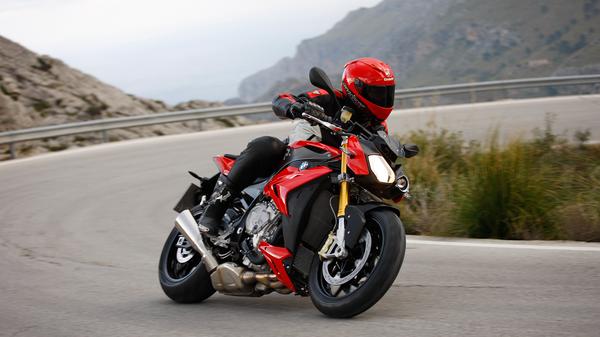 The Auto Trader expert verdict:
Available new from £11,203
The S1000R has made almost as big an impact on the super-naked class as the S1000RR did to on super-sports class in 2010. BMW's stripped-down four is stunningly quick, brilliantly agile, outstandingly sophisticated and very competitively priced.
Reasons to buy:
Smooth, flexible 160bhp engine
Sports bike level of cornering ability
Fantastic performance for the price
Design
The S1000R is edgy, aggressive and asymmetrical, just as you'd expect of a super-naked BMW. Personally, I think it looks great but you can make up your own mind about that. Strictly speaking it's not naked at all, having not just a headlamp surround and tiny flyscreen but also fairing side-pieces with familiar RR-style gills. In the case of the Sport version it has a belly-pan too, colour-matched in the options of red, dark blue or white.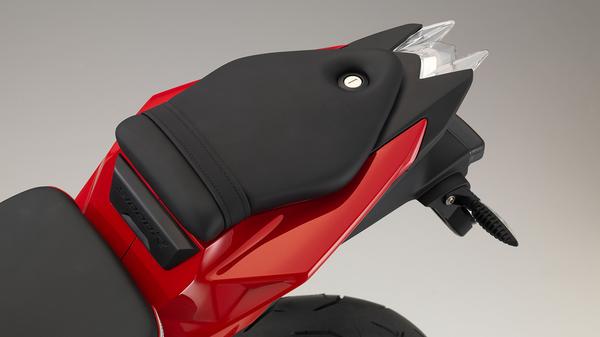 Riding position
"

The seat is quite thin and there's not much room for a pillion but it's more generous than the RR's equivalent

"
The BMW's upright riding position gives an easy reach to the bars and a fair bit of legroom thanks to footrests that are 23mm lower than the S1000RR's. Steering lock is not very generous in traffic but the bike's light enough to be fairly manoeuvrable at low speed, in conjunction with the seat, which is quite low at 814mm. The seat is quite thin and there's not much room for a pillion but it's more generous than the RR's equivalent.
Practicality
Like other naked bikes the S1000R isn't built primarily for practicality, but it's more versatile than many. You don't get much protection from the fly-screen but the Sport comes with heated grips, an accessory on the standard model. Most owners should get a range of close to 150 miles from the 17.5-litre tank. In some ways it is very practical, despite being so powerful and essentially unfaired. You could use it for everyday commuting, and do a track day on it without needing to do more than press a button to fine-tune the suspension.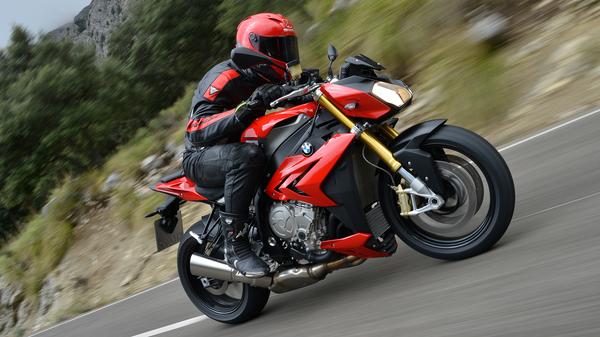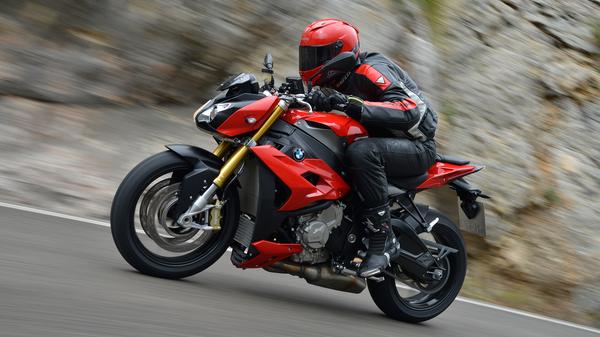 Performance & braking
"

It's a brilliant engine: powerful, smooth and free-revving

"
The engine is heavily based on the S1000RR's dohc, 16-valve engine, and is detuned with a reworked cylinder head, softer cams, reduced compression ratio and revised injection system. The rev limit is reduced by 2,000rpm to 12,000rpm, and the peak power output is 160bhp, 30bhp down on the RR's 190bhp. But the peak torque figure of 83lb/ft is unchanged, and the new engine makes more torque everywhere below 9,000rpm. The BMW is very powerful by naked bike standards and it's also very sophisticated. The standard model's engine modes are Road and Rain, selectable via a button on the right bar, with the latter giving softer delivery to a lower 136bhp maximum, and differing level of ASC (Automatic Stability Control). The Sport's extra modes, Dynamic and Dynamic Pro, are for more aggressive riding and are linked to the Dynamic Traction Control system. It's a brilliant engine: powerful, smooth and free-revving. The S1000R can't match the RR's raw power at high revs but for roadgoing use it more than compensates with its additional flexibility and stunning midrange. Throttle response is excellent in all the riding modes, whether winding it on at 6,000rpm or revving to the redline with the help of the efficient quick-shifter. Power delivery is also impressively controllable, helped by the excellent DTC traction control system. The Brembo radial front callipers gave fierce stopping power, adding some rear brake too because it's a linked system, tuned to work differently in the various riding modes. The ABS operation also varies with mode, notably in Dynamic Pro, the most aggressive setting, when the rear disc's anti-lock is disabled to allow skids.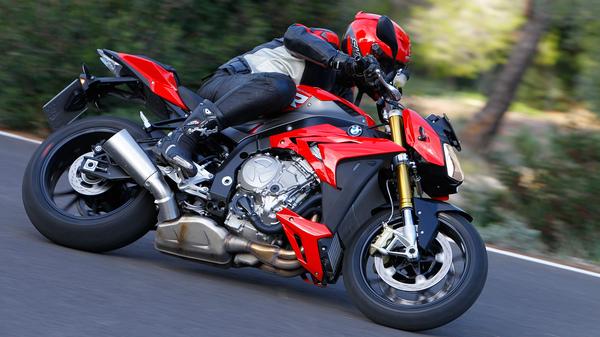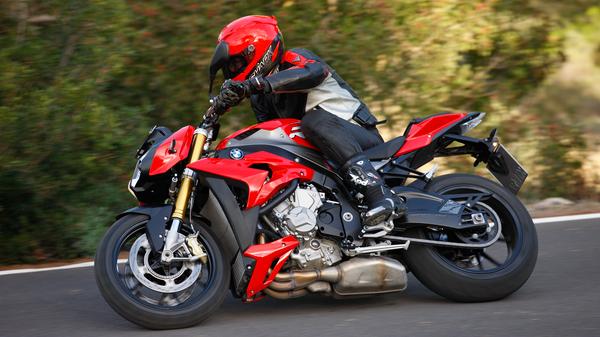 Ride & handling
"

Dynamic mode firms up the suspension and gives a superbly taut and controlled ride

"
The twin-spar aluminium frame is based on the RR's, modified with more relaxed steering geometry and a slightly longer wheelbase to give extra stability. The S1000R Sport gets BMW's DDC semi-active suspension, as introduced on the exotic HP4, which changes with riding mode, automatically adapting its damping levels to suit the current riding situation. (The standard model has 46mm Sachs upside-down forks and works the twin-sided aluminium swing-arm via a conventional monoshock.) In Road mode the Sport is impressively plush, even though it has only 120mm of rear wheel travel. Pressing the button to select Dynamic mode firms up the suspension and gives a superbly taut and controlled ride. Both ends can also be fine-tuned through soft, normal and hard settings via a button on the left bar. On twisty roads the Sport is great fun, thanks to its light weight (207kg with fuel), wide bars, sticky Pirelli Diablo Rosso Corsa tyres and generous ground clearance. Stability at speed is very good, helped by the standard fitment steering damper.
Running costs
The S1000R is an open-class superbike with high bars. It's not cheap to run, any more than a super-sports bike would be with similar performance and fat, sticky tyres that will wear out quickly if you make good use of them. But the motor is reasonably fuel efficient, averaging roughly 40mpg on my ride despite hard use. You could also argue that having one bike that's so capable of tackling everything from commuting to track days could cut costs by reducing the need for a second bike.
Reliability
BMW's recent reliability record is mixed but the four-cylinder bikes have a good reputation, and this bike's engine is in a lower state of tune than the S1000RR unit, so is less stressed. Despite the Sport's complex electronics we haven't heard of troubles.
Warranty & servicing
The S1000R comes with BMW's standard two year, unlimited mileage warranty and, while there's no mileage guidance on when it should be serviced, BMW recommends that you bring it in every year.
Equipment
The Sport model is essentially an accessorised version of the standard S1000R, complete with its Sports accessory package (apart from cruise control). The Sport package includes the quick-shifter, DDC traction control (the standard model comes with the more basic ASC version), Riding Mode Pro (adding Dynamic and Dynamic Pro modes to the standard model's Road and Rain), and cruise control. If you're not fussed about the Sport model's belly-pan and LED indicators, upgrading the standard S1000R makes sense. Factory-fit options with the Sport are limited to cruise control and an alarm. Accessories for both models include tuning parts such as carbon-fibre mudguards and covers, folding levers, rearset footrests and engine crash pads. There's an Akrapovic slip-on silencer, or a titanium exhaust system that saves 4.5kg. Forged wheels developed for the HP4 save 2.5kg of unsprung weight. Alternatively, you could add practicality with a Navigator GPS, larger flyscreen, comfort seat or larger pillion seat. Luggage options include a dedicated tank bag and a larger rear bag that clips to the pillion seat.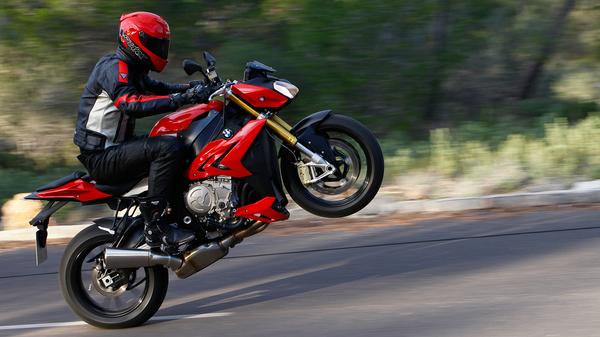 Why buy?
"

It's fast, handles superbly, and its sophisticated electronics help make it reasonably comfortable

"
The S1000R Sport is among the best of the impressive current crop of super-nakeds. It's fast, handles superbly, and its sophisticated electronics help make it reasonably comfortable, practical and easy to ride too. The competitive price doesn't makes it any less desirable.