Expert Review
BMW R 18 B tourer/bagger (2021-)review
BMW's successful, all-new, boxer-powered cruiser, the R18, is followed up, Harley-style, with a touring 'bagger' version. It's beautifully and impressively done, too. Who said US tourers need to be American?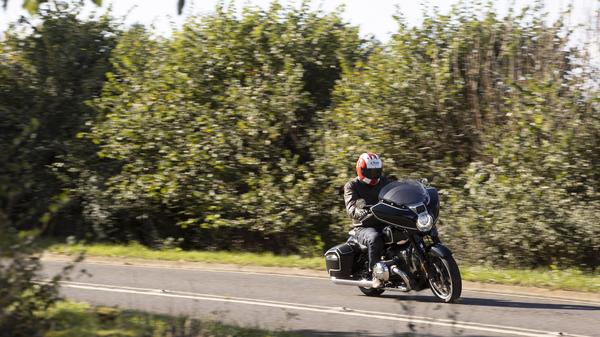 Words by: Phil West
Published on 24 December 2021 | 0 min read
The Auto Trader expert verdict:
With its convincing heritage/cruiser styling, grunty 1800cc air-cooled boxer engine, endearing manners and top spec tech and finish, BMW's 'bagger' is a credible alternative to Harley and Indian.
Reasons to buy:
Convincing style and quality
Effective performance
Impressive tech and spec including big TFT dash
Design
There's much to admire about BMW's new cruiser R 18 family. The base, unfaired R 18 arrived first and wisely learnt from the mistakes of BMW's old R1200C by having an all-new, dedicated, big-bore, traditional BMW boxer engine but also styling that skillfully blended BMW heritage and classic cruiser lines. The new B builds on that by adding the necessary bagger elements of a sleek handlebar-mounted touring fairing and twin hard panniers. But to deliver that, BMW has been far craftier than is obvious. There's also a bigger, touring tank (complete with cubby hole for smartphone), an all-new, massive, 10.5inch TFT dash which boasts a raft of slick features, a slick stereo with Marshall speakers, smart cast (not wire) wheels, a stronger rear subframe (to carry luggage and pillion) and even revised steering geometry. 'Thorough' isn't the half of it. It's clever and effective, too.
Expert rating: 5/5
Riding position
There's no surprises here: the R 18 B delivers a traditional US 'bagger' gait with plenty of upright touring comfort that bears a striking similarity to that offered by rivals from Harley and Indian. It's comfortable all right, although the bike itself is fairly heavy, big old beast and so tricky to manhandle around at a standstill, but that's typical of the breed, so no complaints. One pleasant BMW bonus, however, is the addition of not just five-way heated handlebar grips but a three-way heated seat, too. US-style baggers simply don't get more luxurious.
Expert rating: 5/5
Practicality
On face value, with the exception of off-roading, the 18 B can do it all. It's obviously an able, well-equipped tourer, is decent fun on Sunday A-road ride-outs and, at least compared to its bigger, more cumbersome, 'full dress' brother, the R 18 Transcontinental, it can take a pillion and some luggage with ease and it's reasonably manageable, too. That said, the B's still an imposing, big old beast when it comes to scything through city centre traffic and is such a glorious, chrome-laden showstopper any owner would be mad to commute year round on one – but the R 18 B is more versatile than you might expect.
Expert rating: 4/5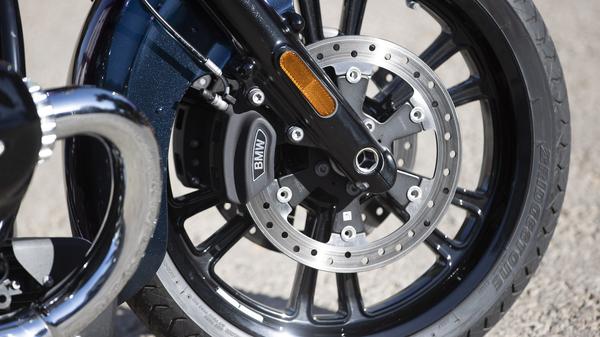 Performance & braking
As with the preceding R 18, the B uses BMW's all-new, air/oil-cooled, 1802cc boxer twin, which is not only BMW's biggest ever, with exposed, classic-style shaft drive, it's a wonder of engineering and piece of sculpture in its own right. It's now performance, sportster, admittedly, instead being a low revving, characterful lump that's more about torque 'grunt' than big power. That said, it's peak of 91bhp at just 4750rpm is more than competitive with the best 'genuine' American cruisers such as from Harley or Indian and, with three switchable power modes called, slightly embarrassingly, Rain, Rock and Roll, it has more performance options, too. Brisk and lumpy rather than potent or fast, there's more than enough for its bagger roll, but not much more. Braking is equally impressive, with big twin discs and four-piston calipers up front, a similar single item at the rear and all 'linked' proportionately so that the pedal activates the front brakes to a degree and vice-versa – and with a hefty all-up weight of 398kgs, you need them!
Expert rating: 4/5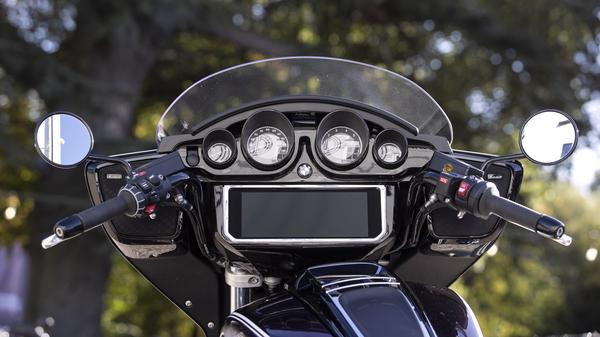 Ride & handling
BMW has done some serious chassis work to turn the R 18 into the R 18 B: there's a reinforced headstock with revised, sharper steering geometry c/o reversing the fork yokes with the added result of reducing the B's wheelbase slightly; the rear subframe is all-new to come with the extra weight of the hard panniers and likely passenger; the wheels are different, in being being cast aluminium items rather than the pure cruiser's wires and the suspension has been recalibrated, too. On the plus side, the result makes it a decently lithe handler, especially compared to the even bigger, heavier Transcontinental version, and it also has extra ground clearance over the base R 18 as well. The ride is plush and, despite its bulk, it steers naturally and accurately. On the slight downside, the B is significantly heavier than the base R 18 and it shows. On the move much of that weight disappears but at slower speeds it can be a bit of a monster.
Expert rating: 4/5
Running costs
Running a £20K+, near-100bhp, 398kg bike like this is never going to come cheap, especially one with a BMW badge on its tank but the R 18 B's relatively gentle, understressed, 'cruiser' nature does work in your favour. Being a low revving twin helps get mpgs into the 50s (if you're gentle), the shaft drive means there's no chain (or Harley-style belt) to maintain and eventually replace and unless you ride like a lunatic consumption of things likes tyres and brake pads, although still significant due to the weight, isn't that bad either. On the other hand, insurance will be steep and an unknown at this stage is residuals. BMW's generally are traditionally good but the German marque's last foray into cruisers with the R1200C was a disaster with bikes plummeting (for a BM) in value. We're confident the R 18 will fare better.
Expert rating: 4/5
Reliability
Although a brand new design with an all-new engine, BMWs have some of the best records for reliability going, the R 18 B is a premium machine built to a very high standard, it's a very understressed, low-revving drivetrain that should cause few problems (compared to, say, a new, high performance superbike) and we've heard on no reliability concerns on the earlier R 18 on which the B is based. On top of that, much of the R 18 B's ancillaries such as its 10.5inch TFT dash, scroll wheel switchgear, brakes etc, have already been proven on other BMWs. Overall, again, we've no real reason for concern.
Expert rating: 4/5
Warranty & servicing
BMW has recently introduced an extended three-year, unlimited mileage manufacturer-back warranty for all parts and labour for many of its machines, including the R 18 B, so there's every reason to rest easy. Service intervals are fairly typical with annual services due every 6000 miles and major services every 12,000, although it's worth remembering that, being a mostly exposed cruiser with an air-cooled boxer engine makes it easier (and cheaper) to work on than some rivals.
Expert rating: 4/5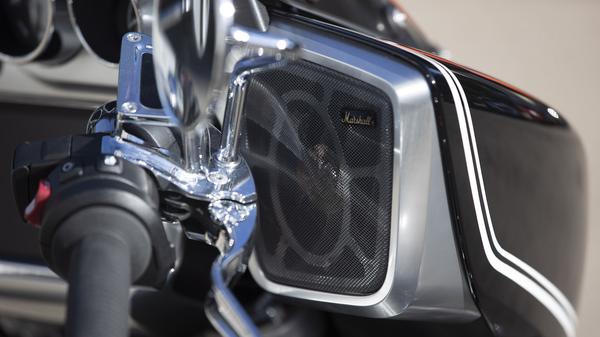 Equipment
It's a premium touring BMW so you'd be right to expect a lot – and you get it. The new 10.5inch TFT display as first used on the new R1250RT, is, simply fabulous, easy to navigate via BMW's brilliant scrolling wheel switchgear and contains everything you could imagine – it even has a 'split screen' function so you can have part of the screen for your satnav and the rest for your entertainment and/or info. There's also smartphone Bluetooth connectivity via a clever smartphone compartment in the top of the tank that also includes a USB charger. While beyond that there's heated grips and seat, stereo upgrades (with Marshall speakers), twin panniers, the list goes on. Being a BMW there's also a long list of extra cost accessories available including fancy paint, radar-controlled cruise control, adaptive headlight, reverse gear and more, but that can quickly add up.
Expert rating: 5/5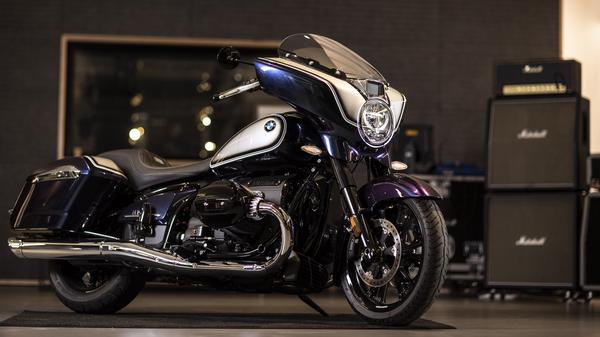 Why buy?
Until recently, if you wanted a convincing, credible American 'bagger' your options were the Harley Street Glide or Indian Chieftain – and that was it. The R 18 B changes that. The big BM has all the performance of the American originals, just as good handling and manners, arguably even better spec and tech and a fit and finish that's as premium as any. Unless you go mad with the options list it's also cheaper. But there's a 'but' – in fact there's two. A 'bagger' is about as definitively American a bike as motorcycles get and, unless you live in Wyoming or Wichita, doesn't really fit the European idea of touring. And if you DO want an American bagger surely you want just that – an American bagger like an Indian or Harley because, over here, that's the whole point. Unless, of course, you're a BM buff who fancies a bagger but not a Harley…