Expert Review
BMW R 18 Transcontinental full-dresser/tourer (2021-)
The 'full-dress tourer' brother to BMW's R 18 cruiser-based R 18B 'Bagger, the Transcontinental is a fabulously styled, built and engineered German take on the most American bikes of all, Harley's ElectraGlide.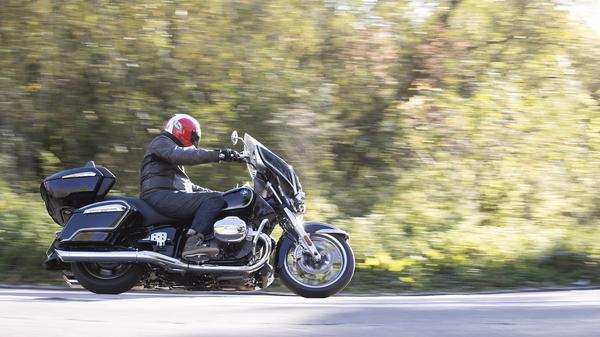 The Auto Trader expert verdict:
BMW finally proved it can do 'cruiser' with its awesome 2020 R 18. This full-dress, fully-laden touring version impresses just as much and has everything – except being American.
Reasons to buy:
Slick, comprehensive design
Lavish features
BMW Boxer heritage
Design
You can't accuse BMW of not going the extra mile with its new 'bagger' R 18B and full-dress Transcontinental versions of its R 18 boxer cruiser. With the base bike itself all-new in 2020, defined not just by its dedicated, big-bore boxer twin cylinder engine but also by skillfully-married BMW heritage and cruiser styling and fabulous build quality, BMW has literally built on that by lavishing both with extra comfort, tech and luggage options. The R 18B, reviewed elsewhere, is the more streamlined 'bagger', but the Transcontinental goes quite literally the whole hog with panners, top box, full fairing, heated seats, Marshall sound system and, if your pockets are deep enough, much, much more. What's most impressive of all is how slickly and neatly it's all blended together. Full dressers are rarely so subtle.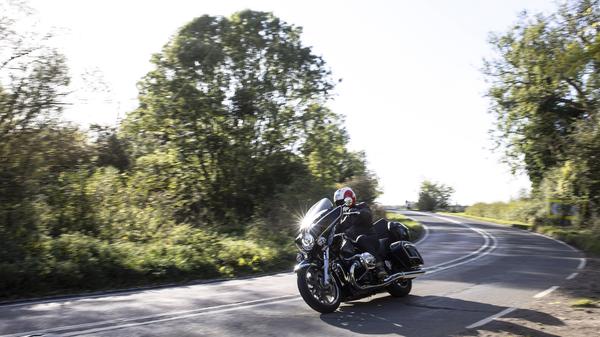 Riding position
Full-dressers are all about long distance comfort and luxury and the Transcontinental, being an all-new BMW wants simply for nothing and is beyond criticism here – as it probably should be. Seats are deep, well-padded and supported and three-way heated. The bar grips are heated five ways. The screen is adjustable. The list goes on. If you want sumptuous all-day comfort the Transcontinental has certainly got it. But then, so have virtually all US-style full-dressers, that's the whole point…
Practicality
Depends on your definition of practicality, I suppose. If it is to be able to travel vast distances two-up in comfort with plenty of luggage and on primarily arrow-straight, well-surfaced roads, the Transcontinental can do it all. In fact there's probably none better (although, it has to be said, BMW's own, six-cylinder K1600GTL is certainly as able and definitely faster, finer handling and more exciting). If, however, you're need something less cumbersome and flashy, to commute across town all ride year round, to give sporting thrills or the ability to cope with a wide variety of roads, you're looking in the wrong place. What it does, it does brilliantly, though…
Performance & braking
Like the R 18 B, the Transcontinental is powered by BM's all-new 1800cc boxer twin which delivers 91bhp at just 4750rpm with the grunty torque to match. That's certainly class competitive with its more traditional US rivals such as from Harley and Indian, but not so much better to stand out. There are also three power modes, cheesily entitled Rain Rock and Roll. Overall it's effective and sufficient without overly impressing. If you want dynamic full dress tourer thrills you'll be far better off with BMW's six-cylinder K1600GTL. Brakes, too, are more than sufficient. There's two big discs up front grasped by four-piston calipers with a single at the rear. Usefully, all are 'linked', too, so that the front brake also operates the rear proportionately and vice-versa.
Ride & handling
Again, as its sibling, the R 18B bagger, although based on the R 18 cruiser, BMW has undertaken a fair amount of work to make its chassis fit for Transcontinental duty. There's a revised, reinforced headstock with sharper geometry to compensate for the added weight and drag of the fairing. At the rear, there's a new, stronger subframe to cope with the weight of passenger, luggage and so on. There's stronger, cast wheels in place of the R 18's wires for the same reason plus the suspension has been recalibrated, too. Although at standstill an unsurprising handful, on the move the Transcontinental is surprisingly nimble and manageable with a plush, magic carpet ride. It is, however, noticeably heavier and more awkward than the R 18B.
Running costs
Much of what we've already said about the R 18 B is true here as well. Namely that "a £20K+, near-100bhp, 398kg bike like this is never going to come cheap, especially one with a BMW badge on its tank". But there are upsides, too. The low-revving twin means mpgs remain in the 50s; the shaft drive means that, again, "there's no chain (or Harley-style belt) to maintain and eventually replace" and nor, again, will there be an excessive hunger for other consumables such as tyres and brake pads. All that said, however, insurance won't be cheap and residuals are still unknown.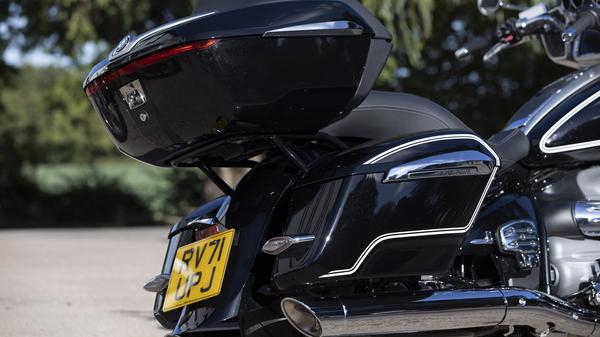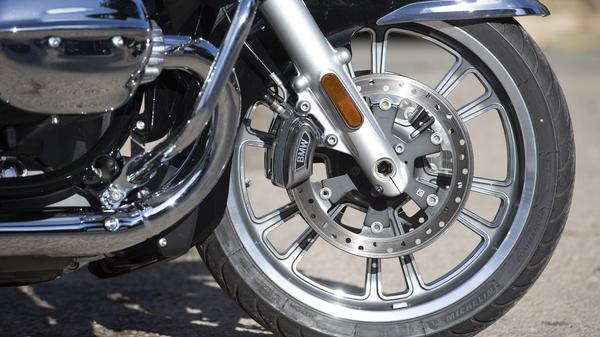 Reliability
As with the R 18 B (and the R 18 before it, the Transcontinental is a brand-new design with an all-new engine, so we have to be cautious with any reliability claims. That said, BMW has an excellent record for reliability and the Transcontinental is a premium, flagship machine built to impeccable standards and is also powered by a low-revving engine that is in no way over-stressed. We've so far heard of no reliability concerns with any of the earlier variants while, as we stated with the B, many of the Transcontinental's parts and components, eg switchgear, brakes, TFT screen, have already been proven on other BMW models.
Warranty & servicing
As with most other current BMWs, the Transcontinental benefits from a recently introduced, extended to three year, unlimited mileage manufacturer-backed warranty for all parts and labour which should give plenty of peace of mind. The bike's service intervals, meanwhile, as with the R 18B, are fairly typical for this sort of bike in being every 600 miles or annually with major services to check the valve gear etc every other year or 12,000 miles. Being a BMW it won't be cheap but at least it's also an air-cooled boxer twin with everything reasonably accessible which should help keep things manageable.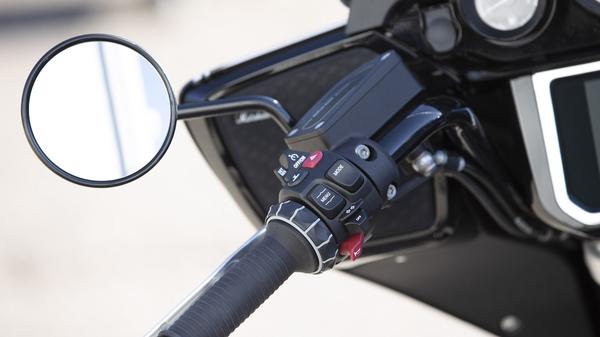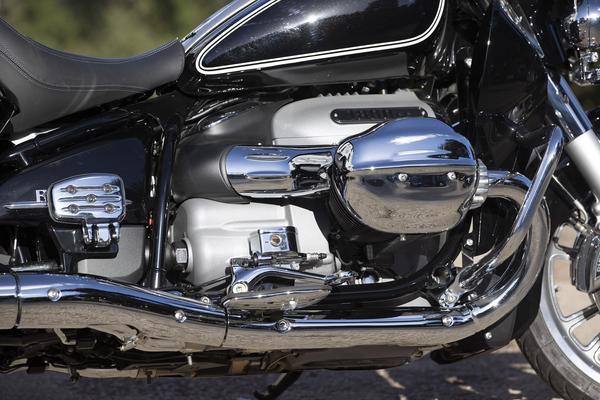 Equipment
This is where things really get excessive, although, being a BMW, many things only come as extra cost accessories. That said, even the standard stuff is impressive. There's a huge 10.5in colour TFT dash (as debuted on the R1250RT) which also has a novel split-screen function, a sophisticated Bluetooth compatible comms system including stereo with no less than Marshall speakers. There's bags of luggage capacity including twin panniers and voluminous top case; the aforementioned heated seats and grips, riding modes, keyless ignition. The list, again, goes on. And if you want more there's fancy paint options, radar-controlled cruise control, an adaptive headlight, reverse gear and more, although all of those costs extra. Sincerely, it's got – or can have – it all.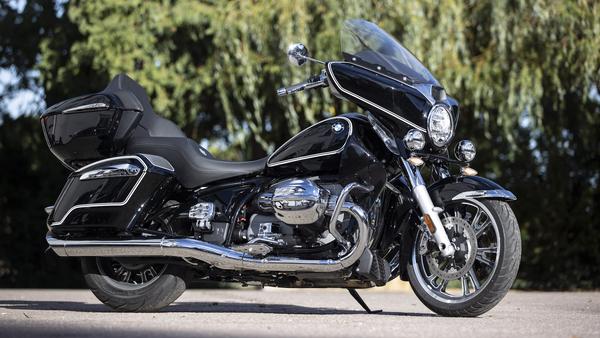 Why buy?
Although the more slimline R 18B is brilliant, there's no question that with the Transcontinental version you get more, that's why it gets a slightly higher rating here. What's more, in terms of execution, equipment and ability, the Transcontinental can't really be faulted, certainly compared to its direct American competition. Instead, it's that geographic difference which gives us our main concern. Generally, if you want a US-style full dress tourer such as a Harley or Indian, that is exactly what you want. In years gone by Japanese copies only sold because they were cheaper and better performing. BMW's version is not really either, so you've really got to want a US-style flat-tracker – but one that is built by BMW.