Expert Review
BMW R1200R Naked (2015 - ) review
Latest version of BMW's basic boxer roadster may look conservative but gets latest, pokey, liquid-cooled 125bhp engine, returns to conventional forks and has the latest electronic options. No super naked but a clever, capable roadster for the 21st century.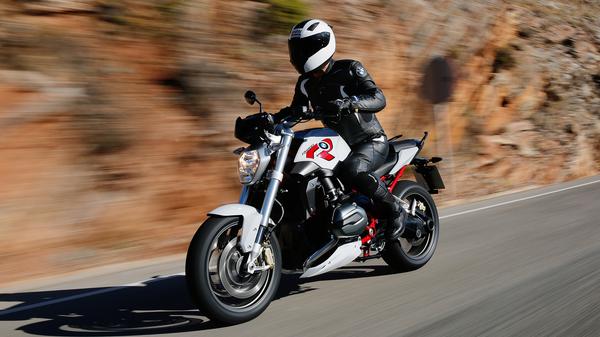 Words by: Phil West
Published on 17 November 2015 | 0 min read
The Auto Trader expert verdict:
Forget the subtle, sensible exterior, the latest R is boxer BMW at its most pure: punchy twin; effective yet minimalist chassis; engaging yet comfortable manners; and, as many BMW goodies ranging from heated grips to Electronic Suspension Adjustment (ESA) to onboard computer as you want to tick on the options list.
Reasons to buy:
Pure boxer riding enjoyment
'Wolf in sheep's clothing' performance
Huge choice of options and equipment levels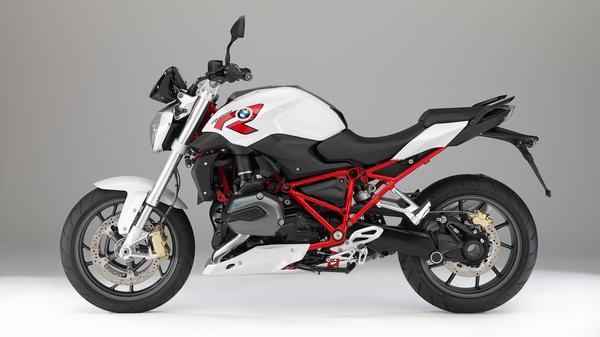 Design
"

The new R is lighter, leaner, more aggressive and sportier than ever

"
The roadster R is the third of BMW's boxer range (following the adventure-style GS and touring RT) to be fully redesigned around the new 125bhp liquid-cooled twin and, like those two, it's been transformed. Although still fairly conservative-looking, the new R is lighter, leaner, more aggressive and sportier than ever and, with extra poke and sharper handling (partly thanks to ditching BMW's Telelever front end for conventional telescopic forks) is a decent performer, too.
Expert rating: 4/5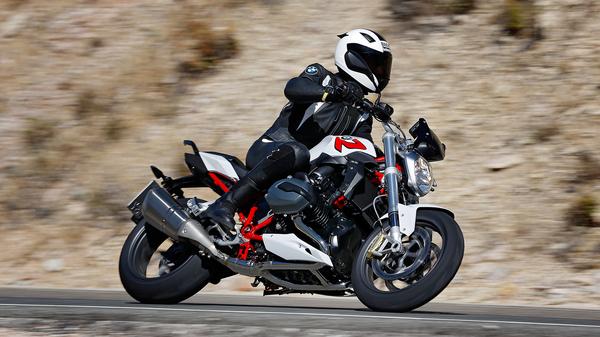 Riding position
"

If you can't find your ideal combination on a BMW R, there's no hope for you

"
The R has a conventional and comfortable, upright 'roadster' riding position with enough of a sporting gait to satisfy more, err, enthusiastic riders. Being a BMW, it also has more adjustability than most, with adjustable bars and footpegs and, perhaps most usefully, a height-adjustable seat with further high and low seats available as optional extras. In short, if you can't find your ideal combination on a BMW R, there's no hope for you!
Expert rating: 5/5
Practicality
The R is the most basic of BMW's boxer line-up, so there's no fairing, no luggage and not much, in basic spec, in the way of gadgets and gizmos. That said, it's a great base bike, easy to ride, good around town, comfortable and entertaining enough through the twisties. And, if you want to bolt-on some extra practicality to that, via BMW's extensive options list, perhaps with a screen, luggage or more, you can do that, too.
Expert rating: 4/5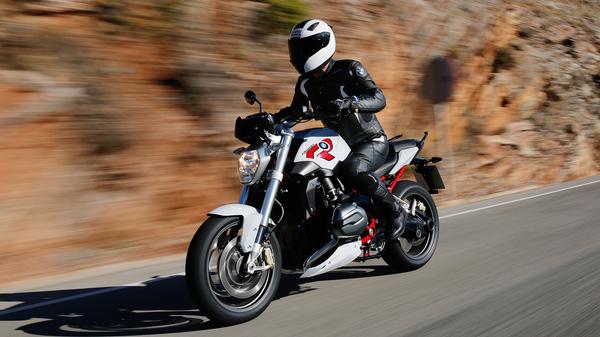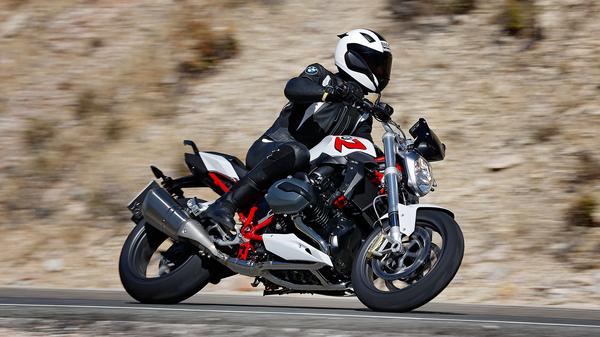 Performance & braking
The new 1170cc air/liquid-cooled twin is a peach, producing 125bhp. That is a significant boost over the old 110bhp version and it also has a much smoother delivery, crisp throttle response and a decent kick at the top end. In short, though no out-and-out performance motor, it is fabulously versatile and flexible, delivering pretty much what you want, when you want. The brakes are also new, with big, ABS-assisted, radially-mounted calipers biting onto dinner-plate 320mm discs. Powerful and progressive they are.
Expert rating: 4/5
Ride & handling
For such an understated, conservative-looking bike, the R1200R is a revelation to ride. On the one hand, it's as easy and friendly as ever, and comfortable, too; on the other, the new conventional front end, with 45mm non-adjustable forks in place of the previous controversial Telelever system, gives the R sharper steering and more feel and precision. Better yet, if you go for the Electronic Suspension Adjustment (ESA) option, it gives the R semi-active suspension over three settings: Comfort, Normal and Sport.
Expert rating: 4/5
Running costs
BMW ownership never comes cheap, although the R is the cheapest of the boxer range. That said, in return for the premium prices, owners get high residuals and enviable aftersales service. Also, being 'just' a 125bhp roadster with shaft drive, the cost of normal wear and tear is much better than most. There's no chain, while tyre and brake wear is better than most as well.
Expert rating: 4/5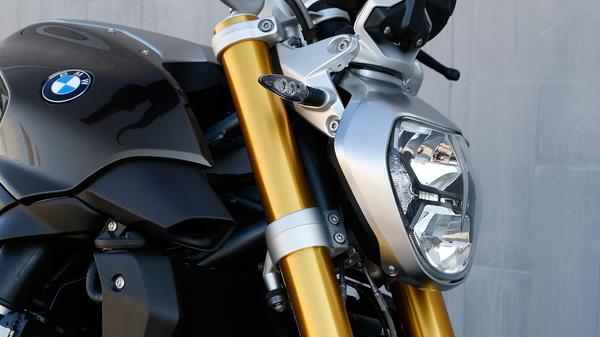 Reliability
It's still fairly early days on the new 1200 boxer engine, so the jury's still out. That said, so far there have been no horror stories in any of the three bikes (GS, RT and R) it's being used in. What's more, all are solidly built with high quality finishes and tend to get well looked after. It's also worth bearing in mind that the R, being the simplest incarnation of the trio, also simply has fewer parts that could go wrong!
Expert rating: 4/5
Warranty & servicing
The R1200R, like the rest of the range, benefits from BMW's standard warranty, which covers the first two years with no mileage limitation. Servicing, too, is unchanged from the previous model: namely oil and filter change every 6,000 miles, with major services for valve check and/or adjustment every 12,000.
Expert rating: 4/5
Equipment
With BMWs, the equipment question is like asking 'How long is a piece of string?' In other words, it's all about options and how many of them you specify when you buy it. In stock, form the R is fairly basic – but then nobody buys them like that. Load it up with goodies, ranging from performance (ESA, Akrapovic exhaust), to cosmetic (flyscreen, belly pan, seat cover and more) to luxury (on board computer, heated grips etc), and it suddenly becomes a far more sophisticated (and expensive) beast. You pays your money…
Expert rating: 4/5
Why buy?
The R, particularly in the UK, is traditionally the most overlooked of BMW's boxer range where us Brits have a long-standing love affair with the adventure GS and touring RT variants – but that could change slightly with the R. For the first time, the bare roadster has a style and pizazz that, added to its simple appeal and price, makes it a tempting proposition. And, if you spend your savings wisely on the options and extras you really need and want, you could end up with the best boxer BMW of all.
Expert rating: 4/5