Expert Review
BMW R nineT Pure Naked (2017 - ) review
The original R nineT retro boxer in 2013 was so successful it spawned a whole family. The down-specced Pure us the latest, most affordable version.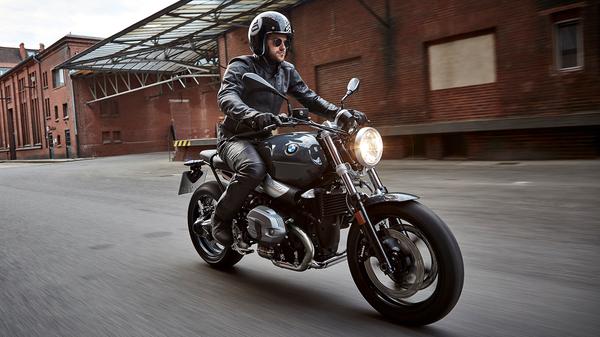 The Auto Trader expert verdict:
Available new from £10,111
BMW's R nineT proved a hit for its blend of modern boxer mechanicals and performance but with a hefty splash of 'on-trend' retro style. This more basic, budget version loses none of the performance and little of the retro style for a full £2000 saving.
Reasons to buy:
R nineT cool at a cut-price
Modern boxer dynamics and performance
BMW kudos and lots of custom potential
Design
The huge sales popularity of the original R nineT, which was only intended as a limited edition commemoration model in 2013 before demand proved so great it entered extended production and span off a whole family of models, proves its design success and exactly the same is true of this new, more affordable version. Yes, corners have inevitably been cut to reduce the price by over £2000 but performance is unchanged and most of the changes actually suit its retro, cut-down roadster style. Conventional forks replace inverted telescopics, a steel tank in place of alloy, single not twin dials and silencer and more basic rear shock. But in most respects – we would prefer wire not cast wheels – you barely notice.
Riding position
Unchanged from that of the original R nineT, so there's little to add. It is worth repeating, however, that BMW have got the ergonomics of their retro roadster bang on': a slim-ish seat combines with semi-rearset footpegs and almost flat, tapered handlebars to give a comfortable, upright rider posture but with a hint of forwards canted sporty aggression. On the move everything feels natural and involving and a walking pace, despite ultimately being a big, 1200cc machine, the R nineT is impressively manageable as well. A lack of any kind of weather protection can make prolonged motorway riding a chore, though.
Practicality
It's fair to say that if you're after a practical boxer, BMW have far more convincing offerings than the style victim R nineT, such as the adventure R1250GS, sports-tourer R1250RS or tourer R1250RT – but that's not to say it's impractical either. Although based on the older, oil-cooled 1170cc version of the R1200R from way back in 2012 (due to its lack of radiators, the R has since been updated twice, to liquid-cooling in 2014 and 1250 form in 2019), that bike was decently practical anyway. Sure, there's no weather protection, but small screens are available, as is luggage; it's comfortable, easy to ride, great around town, has shaft drive and even things like heated grips are available.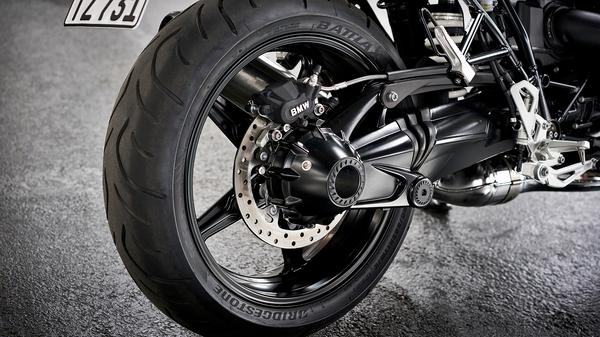 Performance & braking
For a so-called 'retro' the original R nineT was respectable performer – primarily because the bike's basically a restyled, modern R1200R (or rather, it was, since 2013, the R has gone from 110 to 125 and now 134bhp) and there's no difference here with this cheaper Pure version. Its 110 horses aren't at all shabby, are punchy enough for well over 100mph easily yet flexible enough for effortless everyday motorcycling and it's reasonably economical, too. As for the brakes, two fat discs grasped by Brembo four-piston calipers aren't at all shabby, either, and are more than capable of bringing the Beemer to a brisk stop.
Ride & handling
The original R nineT proved good enough for use to give it five stars in this respect. Fat, inverted telescopics replaced the R1200R's Telelever front end which, combined with a quality rear shock gave impeccable ride and handling. With the Pure, however, suspension is one of the areas where cost cutting has taken place. Instead, conventional teles are now up front with a slightly downgraded shock at the rear. In truth, in terms of ride and handling, there's not much between the two and it only starts to show when you really turn up the wick, but we have to knock it back one star even so.
Running costs
It'd be natural to assume the cost of running a high end, premium BMW might be quite steep – but that's not necessarily the case with the R nineT and certainly not with this cheaper Pure version. With a middling 110bhp consumables consumption is reasonable, plus there's no chain drive. On top of that, the Pure is competitively priced from the outset and, don't forget that BMWs generally having market-leading residuals. All told, you should be in for a sweet surprise…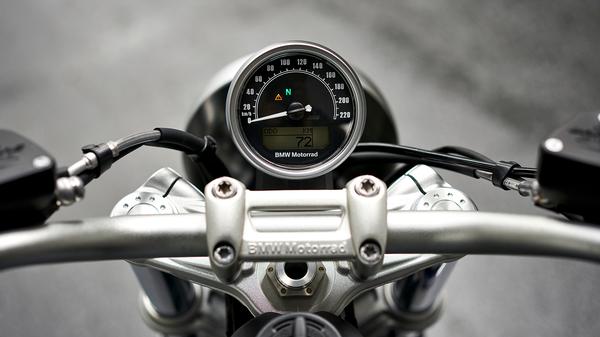 Reliability
In the years since the first R nineT debuted they've proved a durable, reliable machine and even their cosmetics, being high quality, are better than most. All of that bodes well for this Pure version, too, although we would add a slight pinch of salt simply as some of its components are a little cheaper and more basic. There's no risk of rust on the original's alloy tank, for example, but the Pure's is steel… That said, bikes like these don't get ridden through rain much, are looked after fastidiously and, with mechanicals that are basically bulletproof, you should be fine…
Warranty & servicing
BMW recently extended their standard warranty meaning that new buyers now get parts and labour covered for a full three years, which isn't to be sniffed at. Servicing-wise, major services are, as with the original, every 6000 miles or 12 months.
Equipment
Being the budget alternative, you wouldn't expect the Pure to be lavished with kit – and it's not. Where the original R nineT has twin dials, twin silencers, wire wheels, aluminium tank and so on, the Pure gets a single dial and can, five-spoke cast alloy wheels, steel tank and so on – but then that was the whole idea and is why is costs over £2K less. Besides, if you want more, in typical BMW fashion a whole catalogue of extra cost options are available, including wire wheels, fancy exhaust, heated grips, luggage and pretty much everything you can think of.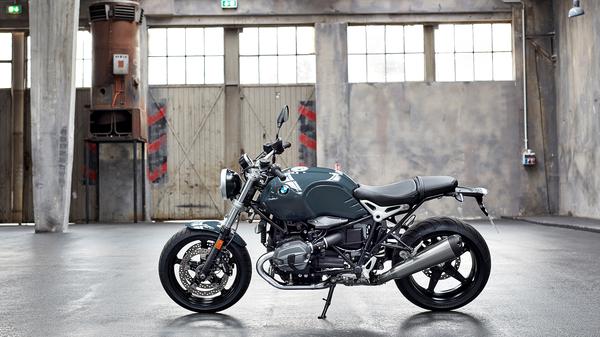 Why buy?
The new Pure version of the R nineT has an awful lot going for it. While the original was a deserved sales hit and brilliantly combines retro style with modern mechanicals and dynamics it was also fairly pricey compared to (admittedly lesser performing) retro-style machines. The Pure changes that. At £10K it's Triumph Bonneville money yet still with 110bhp. Besides, nearly all of the areas where corners have been cut – single dial, steel tank, conventional suspension – are ones that don't really matter with this kind of bike. Personally, we'd still like wire wheels, but they remain an option. The rest of the bike, meanwhile, is a tantalizing 'blank canvas' to make your own, unique – and brilliantly performing – modern classic.