Expert Review
BMW K1600GT Tourer (2011 - ) review
Astonishing, straight-six, luxury tourer has been enhanced even further for 2017, with uprated bodywork and clocks, and a new Euro4-compliant engine, and now comes with electronic suspension as standard.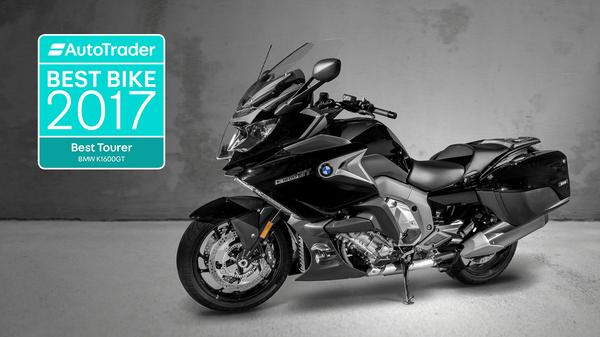 Words by: Phil West
Published on 12 September 2017 | 0 min read
The Auto Trader expert verdict:
It was already the biggest and the best, but now BMW's amazing six-cylinder luxury-laden tourer is even better. That 160bhp engine is now Euro4-compliant, a reverse 'gear' is added, clocks are updated and ESA is standard. Tourers don't get any more slick or sophisticated than this.
Reasons to buy:
Unique and impressive six-cylinder engine
Class-leading 'full-dresser' luxury and sophistication
Despite its size and bulk, impressive handling and performance
Design
There's nothing quite like BMW's awesome K1600GT. Originally launched in 2011 alongside an even grander, top-spec, topbox-and-more-equipped 'GTL' version, the Bavarian firm's super-six redefines the term 'full dresser'. Quite literally, it has it all, ranging from luxury comfort, such as heated seats and electric screens, to sophisticated rider aids including ABS, cruise control and optional 'ESA' electronic suspension all wrapped up in slick bodywork that makes Honda's GoldWing seem ancient. Now, with updated bodywork and improved features, the BM's even better still.
Expert rating: 5/5
Riding position
The K1600GT is the proverbial 'armchair with handlebars' – big tourers simply don't get more comfortable. Despite its bulky proportions, the upright ergonomics put the rider completely in control, while its plush seat, large footrests and enormous, adjustable screen conspire to keep all the elements at bay. Meanwhile comfort for the pillion simply doesn't get any better: after passengering on a K16, your partner probably won't want to ride on anything else. Mine didn't.
Expert rating: 5/5
Practicality
Enormous 'full-dressers', whether they be from Honda, Harley-Davidson, Indian or BMW, will never make the most practical and versatile of motorcycles simply because of their vast proportions and bulk. Both compromise their commuting, traffic-splitting and parking ability – bikes don't get any more awkward to manoeuvre or man-handle. On the plus side, though, their immense luggage capacity is useful, they're brilliant over long distances, and the K16 is certainly more nimble and entertaining than most bikes like this.
Expert rating: 4/5
Performance & braking
Monster 'mile-munchers' have never been so fast. With 160 super-smooth bhp, the K1600 delivers a ballistic 'magic carpet' ride like no other. The result of this 'whistling wonder' is that the now Euro4-compliant K16 can eat miles at sustained high speed like nothing else, and all while the rider and pillion are in unmatched comfort. Of course, the brakes need to be impressive, too, in order to haul all that supersonic bulk down safely, but thankfully they are (although some early examples were, perhaps unsurprisingly, known to warp their discs). Big and a potentially a handful, but it's still impressively potent and controlled.
Expert rating: 5/5
Ride & handling
Another area where the updated K16 is better than ever. The big BMW always delivered a plush yet impressively controlled ride, but now it has the company's impressive Electronic Suspension Adjustment (ESA) system fitted as standard. This allows the rider to flick between Road and Dynamic suspension settings at the press of a button, meaning the K16 is better than ever, and the overall handling is impressively good, too. Thanks to a lightweight aluminium frame and high-quality suspension, the K16 can be ridden more sportily than its looks suggest, but this is still a big, heavy bike that demands respect.
Expert rating: 5/5
Running costs
Let's face it: the K1600 is a high-performance, sophisticated six-cylinder machine laden with luxury and, well, weight. What's more, it's a prestige BMW, so running costs aren't cheap and it has a healthy appetite for consumables such as fuel, tyres, brake pads and more. On the plus side, build quality and finish are very good, but at the end of the day, prestige and luxury cost.
Expert rating: 3/5
Reliability
BMWs hold their values well, with impressive residuals, thanks largely to a reputation for quality and a track record of reassuring reliability, and the big, six-cylinder K1600 is no different. Although there have been the odd niggles with switches and the like, on the whole, the Bavarian flagship tourer is robust, well-built and durable. If a used example is well-maintained and cosmetically clean, you'll have little to fear.
Expert rating: 4/5
Warranty & servicing
Like all BMWs, the big K1600GT, along with its GTL stablemate, comes with the German firm's usual two years/unlimited mileage parts and labour manufacturer-backed warranty. Servicing-wise, motorcycles probably don't come any more daunting thanks to the sheer complexity of its six-cylinder, 24-valve engine, with all of its sophisticated electronics and luxuries on top. But, with major valve checks only due every 12,000 miles, it could be worse.
Expert rating: 4/5
Equipment
If ever a bike had 'everything including the kitchen sink', the K1600 is it. Yet now, this new, updated version is even better still. On top of the adaptive headlights, audio system, traction control, ABS and more of the old version, this latest version now has BMW's desirable ESA electronic suspension system as standard, as well as benefiting from an equally useful electric 'reverse' gear to assist while manoeuvring. On top of that, even more goodies are available as options.
Expert rating: 5/5
Why buy?
It's simple, really: if you want the biggest, most sophisticated, most potent, modern and comfortable touring machine around, the K1600 is it. What's more, it's the only one with such an amazing and powerful engine. In truth, that much was all true before, but now, with updated styling and additional features, BMW's monster six-cylinder machine is even better. Tourers simply don't get more capable, potent or impressive.
Expert rating: 4/5