Expert Review
BMW F900XR Adventure (2020 - ) review
Parallel-twin powered 'mini S1000XR' is one of BMW's latest stars due to immense versatility, great, engaging dynamics and tempting value – so much so it's a credible rival to Yamaha's Tracer 9.
The Auto Trader expert verdict:
New, smaller XR is one of those rare all-rounders that both 'just does it' yet also has character and class to spare. It's decent value, too, though less so if you go mad with BMW's options catalogue…
Reasons to buy:
Brilliantly versatile
Classy BMW touches and clever design
All the fun and functionality of a Yamaha Tracer 9
Design
Much more than 'just' an enlarged F800R with S1000XR-alike bodywork. Familiar F-series parallel twin engine is effectively uprated, its chassis refined and impressive, the colour TFT screen and scroll wheel controls borrowed from previous BMWs are clear, intuitive and class-leading and the bodywork, including easily-adjustable screen is clean and a lesson in clean, minimalist design. No one aspect can be significantly criticized and the sum total is one of BMW's best bikes – but at an almost 'un-BMW' price.
Riding position
It's an 'adventure sport' like its bigger, S1000-derived brother, so being adventure-style upright with wide-ish bars but also having a low-slung, semi-supermotard gait is to be expected. What's less expected is how natural, neutral and effective it is. Being a twin makes the F900XR pleasingly slim and light, the flattish, wide bars mean it's superbly nimble around town yet with an engaging, semi-sporty attitude. And yet with an effective, easily adjustable screen, reasonably comfortable seat and (admittedly slightly small) pillion it's also a credible light tourer – albeit slightly more cramped than some rivals.
Practicality
Simply: the XR does it all – at least it does if your 'all' doesn't include off-roading. Being relatively light and unintimidating makes it an option for A2 novices (BM offer a restriction kit); being upright, nimble and brisk means it's great around town; it has enough performance and entertainment to be fun on A-roads on Sunday afternoons and yet, with reasonable weather protection and comfort plus plenty of typical BMW luggage options, means the XR is a credible tourer, too. Ride one and you'll seriously wonder why you need anything else – not least BMW's own S1000 XR.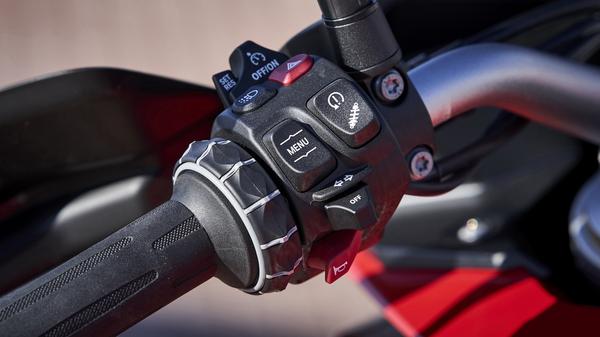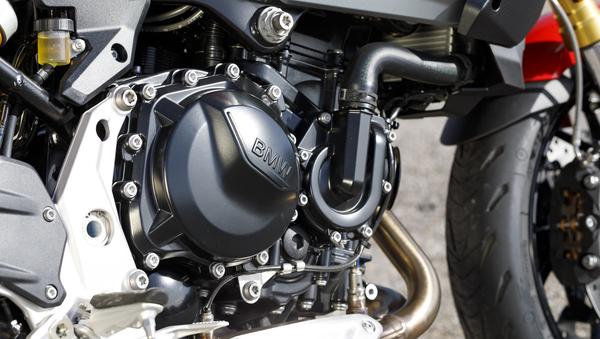 Performance & braking
895cc twin is a bored-out version of that in the F850GS adventure with the result producing a healthy 105bhp (up 10bhp) along with 68lbftlb. It also achieves that rare quality of being neither peaky nor overly-grunty with a vice-less, progressive delivery in all of its three easily-switchable modes – Rain, Road and (an optional extra of our up-specced test bike) Dynamic. Performance-wise, it's impossible to criticize, although being a twin it does sound a little clattery and 'wooden' compared to some rival triples. Braking is excellent, too. Twin, four-piston, radially-mounted Brembos bite onto big 320mm discs backed up by ABS which together give more than sufficient braking power and feel.
Ride & handling
Although slightly built down to a price, (the forks are unadjustable, the rear shock only for preload and rebound) the 900XR benefits from an impressively sorted chassis that wants for little. Besides, being a BMW, if you do want that bit more, the German firm's impressive Electronically Adjustable Suspension (ESA) for example, as fitted to our test bike, it and other upgrades are available in higher spec packages. Not that it needs it. The 900XR again achieves that rare brilliance of being nimble, secure, composed and comfortable all at once, without any need for suspension adjustment. The result is both easy, comfortable transport with a plush enough ride but also, when the mood takes you, a sprightly, easily-flickable scratcher that gobbles up B-roads.
Running costs
The F900XR's base price is an impressive £9830, which is currently actually less than Yamaha's latest Tracer 9, never mind the GT version. However, that doesn't tell the whole story. Factory fit extras such as the Active Package (extra riding modes, heated grips etc for around £535), Comfort Package (Dynamic ESA, keyless ignition, centre stand, for around £630) and Dynamic Package (quickshifter, LED riding lights etc, £575) quickly ramp up the cost with the result we tested costing over £12K. That said, you pays your money you takes your choice. Base-spec BMs are almost unheard of and options hold their value with strong residuals. On top of that, fuel economy is better than a comparable triple, and consumables costs (chain, pads, tyres etc) should be better than most as well.
Reliability
It's a new model with an enlarged engine so the jury necessarily remains slightly out – but in every other respect we have absolutely no qualms about the F900 XR. The engine is a development of the proven F850 unit which in turn dates all the way back to 2008. The chassis is all comprised of tried and tested components as well. The electronics including colour TFT screen, scroll wheel switchgear and optional ESA are also borrowed from pre-existing BMW models so are sorted and, at the end of the day, the F900 XR is a BMW, with the generally proven quality, durability and reassurance the German brand brings.
Warranty & servicing
BMW remain ahead of the pack in the UK by offering a three year manufacturer-backed warranty for all parts and labour, when most rivals still over only two – that in itself is a tempting reason to buy, especially on PCP terms. The F900 XR's service schedule, however, is fairly typical in being a first oil and filter check at 600 miles followed by annual services every 6000 miles and major valve adjustment services every 12,000.
Equipment
As standard, the base model XR gets BMW's brilliant colour TFT dash which is packed with tons of information, a natty, easily adjustable, two-position screen, two riding modes (Road and Rain), LED headlights, ABS and traction control, so it's not at all bad. But it's what's available when you go for BMW's legendary extra cost accessory packs where it gets interesting. As mentioned earlier, factory fit extras such as the Active Package (with an extra riding mode, cornering ABS, heated grips etc for around £535), Comfort Package (Dynamic ESA, keyless ignition, centre stand, for around £630) and Dynamic Package (quickshifter, LED riding lights etc for £575), not to mention BMW's luggage options, potentially lift the XR to a level few other bikes can match.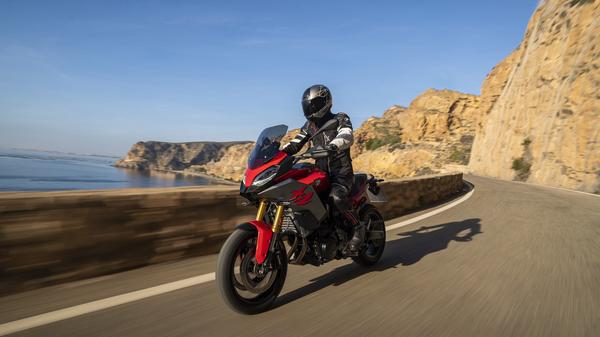 Why buy?
The 900 XR is one of those rare brilliant bikes that truly makes you wonder why you'd need anything else. Easy and engaging to ride, hugely versatile and practical, desirable and well-equipped it's also impressive value and economical to run. The base bike's performance and handling are beyond criticism, the XR's purity and simplicity add to the appeal while, being a BMW, the long options list means you can also add any type of extra or gizmo you like. The twin cylinder motor might not quite have the thrill and charisma of Yamaha's three-cylinder Tracer 9, but it almost matches it for performance and is arguably a better all-rounder.