Expert Review
Aprilia Tuono V4 1100 Factory Super Sports (2017 - ) review
The naked, roadster version of Aprilia's WSB-winning RSV4 superbike has always been up there with the very best super nakeds, especially since its enlargement from 1000 to 1100cc. Now, for 2017, its chassis, engine and electronics are enhanced even further. A brilliant road sportster.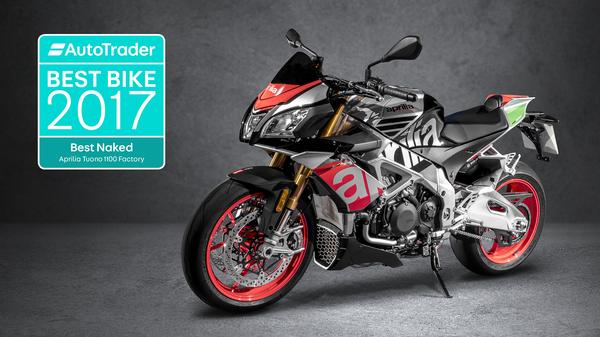 The Auto Trader expert verdict:
No other super naked is as potent – or as capable. This top-spec version of the Tuono V4 has 175bhp, class-leading electronics and true race-spec suspension and brakes. It was good before, but now the Tuono is simply awesome: fast, sophisticated, delectable and impressively versatile, too. It's Aprilia's best bike.
Reasons to buy:
Astonishing performance and handling
Updated, class-leading electronics and rider aids
Italian style in a real-world package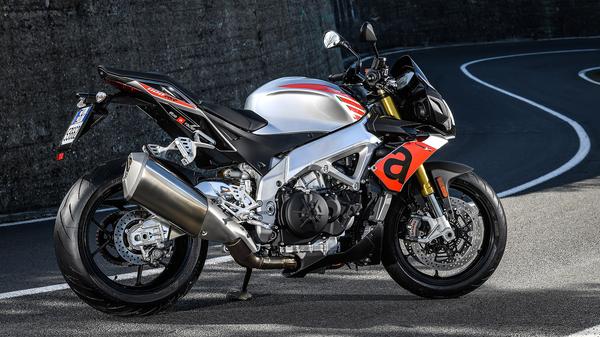 Design
Many 'super nakeds', naked versions of sports or superbikes, don't quite pull it off. They can easily seem ungainly, have riding positions that are too cramped, or are plain ugly. However, a few manage to carve out an image of their own. The original Triumph Speed Triple springs to mind - although it hasn't been derived from a sportster at all since 2004 - and Aprilia's latest Tuono is another. The Italian, while paying lip service to its RSV4 sibling, has a classy identity all its own. It manages to be both true Italian exotica and a modern techno delight, is beautifully built and equipped and, with its distinctive half fairing is impressively versatile, too. Mind you, some might argue that this discounts the Tuono from being considered a 'naked' in the first place…
Riding position
Again, Aprilia gets it just right. One-piece, slightly raised bars combine with a revised footpeg position to give the Tuono an upright but adequately sporting forward cant. On top of this, the Tuono's proportions also manage to be ample for most riders. Finally, by virtue of the effective but slightly contradictory frame-mounted half-fairing, protection from the elements is surprisingly good for a so-called 'naked' as well.
Practicality
Super-nakeds were never conceived to be practical. Instead, as originally inspired by homemade 'streetfighters', such as high-barred Suzuki GSX-Rs, they were all about hooliganistic fun. Thirty years on, however, factory versions have evolved so far that the very best, like the Tuono, can be both. The Aprilia's comfort and manageability are good, weather protection reasonable, and it can tour, commute and more better than most – although in this top-spec Factory trim, most owners are unlikely to.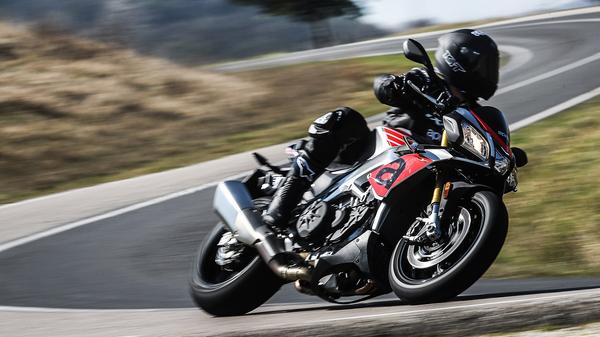 Performance & braking
In 1100 trim, the 175bhp V4 Tuono is powerful and fast. Indeed, it's quicker than any other super naked. Tweaks for 2017 to get through Euro4 emissions regulations haven't dulled that performance at all, while a new colour screen and updated switches make the interface with the Aprilia's class-leading electronics (which include three riding modes, eight-stage traction control, wheelie and launch control, and more) better than ever. Braking, meanwhile, which was already good, now comprises Brembo radial calipers biting on new, bigger 330mm discs via a new radial master cylinder. True superbike-standard stuff.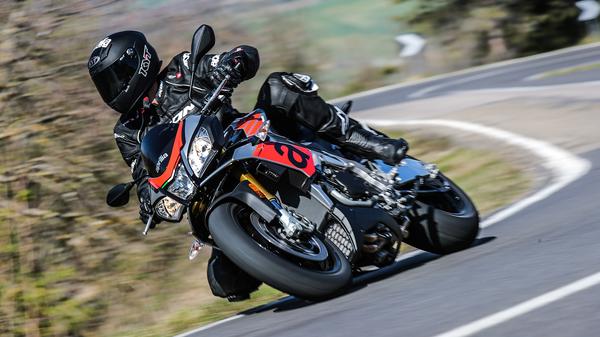 Ride & handling
Many super nakeds promise superbike handling, but don't quite deliver. The new Tuono Factory, however, totally delivers. With new, 43mm Ohlins forks to go with the Ohlins rear shock, plus a great chassis, the Factory is genuinely capable of giving any sportsbike a run for its money on road or track. Best of all, however, that sophisticated suspension is also slick and compliant, so the Tuono Factory doesn't jar, crash or prove uncomfortable on less than perfect roads. It's a fabulous achievement.
Running costs
Owning high-end Italian exotica never comes cheap, whether it's a Ducati, MV Agusta or Aprilia; and, the same is as true of top-spec super nakeds as it is of more familiar superbikes. By producing a hugely impressive 175bhp, the Tuono Factory has as big a hunger for consumables, such as fuel, tyres, brake pads and chain, as similarly-powered sports machines, while insurance is costly, too, as it sits in group 17. What's more, Aprilia residuals have yet to match those from, say, BMW, Harley-Davidson or even Ducati.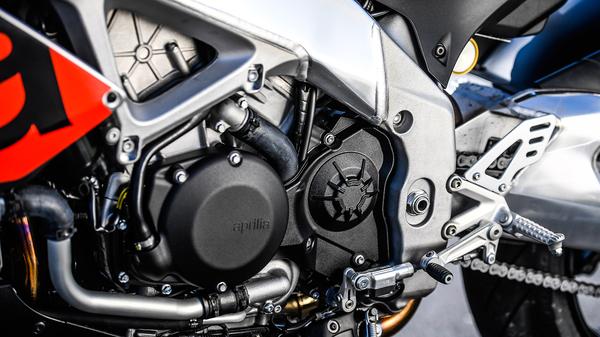 Reliability
Aprilia's impressive V4 superbike family has proved generally reliable since being introduced in 2010, and the Tuono super naked, launched in 2011, has followed suit, whils it has consistently been evolved and refined since, first into 1077cc 1100 form in 2015, and now into this Factory machine. Although it's complex and sophisticated, we've no major concerns and this is reinforced both by impressively high build quality and by the quality of components used, especially on this top-of-the-range Factory version. Spares availability, however, is sometimes more sporadic than on some rivals.
Warranty & servicing
Again, there are no major concerns here. The Tuono 1100 Factory, like the rest of Aprilia's line-up, benefits from the industry-standard 24 months/unlimited mileage manufacturer warranty for parts and labour. Service intervals are fairly typical, too, with major checks every 12,000 miles, although costs are higher than on less sophisticated machines because of the complexity and compactness of the machine.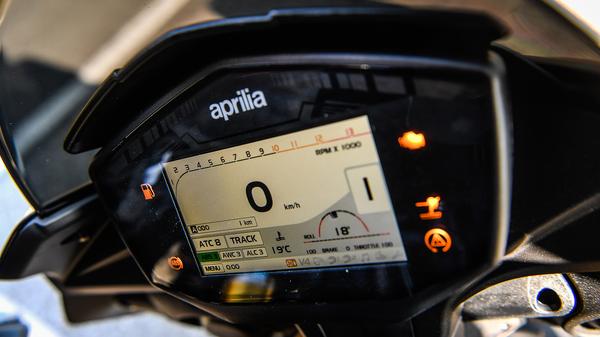 Equipment
There was a time when only top-line superbikes had this amount of sophistication, and the naked variants were very much the poor relation, but not any more. Although the 'base' Tuono wants for little, this Factory version has all the bells and whistles including a new digital display, top-spec Brambo brakes, Ohlins suspension and the best electronics in the business. On top of that, there's an exquisite aluminium frame and gorgeous build quality. No super naked is as mouth-watering…
Why buy?
Super nakeds used to be considered the more basic, more road-orientated versions of superbikes, which ultimately lost out to their faired siblings in on-track performance. The latest Tuono Factory changes all that. The Aprilia is simply stunning both on road and on track, is decently versatile, fabulously equipped and a true poster bike in its own right. All it lacks is quite the same kudos, dealer network and residuals as a Ducati. If it had those, then it'd be perfect!