Expert Review
Aprilia Tuono 125 Roadster (2017 - ) review
The naked, roadster version of Aprilia's exotic RS 125 sportster is back and better than ever. With classy, RS 125 running gear, a useful, four-stroke powertrain, and Tuono 1000 styling, A1-compliant roadsters don't get much more appealing.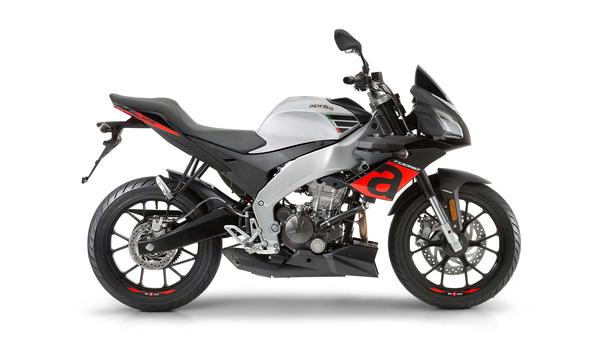 The Auto Trader expert verdict:
If Aprilia's updated RS 125 is the class-leading learner sports, then its new Tuono 125, which is derived from it, is surely the new 125 naked to beat. It's got all the RS' classy specification, styling and appeal, but in a more manageable, upright, roadster configuration, plus Tuono 1000 lookalike styling.
Reasons to buy:
Great RS 125 sourced specification
Mouth-watering mini Tuono 1000 styling
More upright manageability than the RS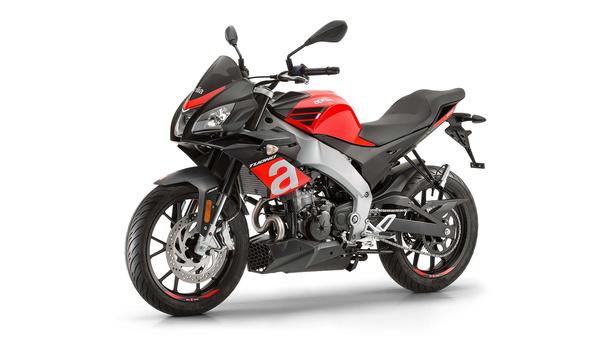 Design
Six years after the launch of the four-stroke powered RS4 125 sportster, and a full 12 after the demise of the old two-stroke Tuono 125 in the UK, Aprilia has finally launched an all-new Tuono 125. Our first impressions: it's been worth the wait. As before, it's basically a naked, upright, roadster version of the sportster, that now happens to be four-stroke powered and has styling based on its current Tuono 1100 big brother. As such, it's great looking, well-specced, and both fun and manageable to ride.
Riding position
Large capacity super nakeds appeal as they offer sports bike performance but with more comfortable, upright and manageable ergonomics. The junior Tuono follows the same recipe. Although frame and suspension are the same as the RS sportster, the footpegs are a little lower, the bars are higher, and the seat is new and more comfortable, too, being more thickly padded. The result is comfortable, roomy and easily manageable.
Practicality
At the end of the day, the new Tuono 125 is a fairly exotic lightweight with A1-class limited performance, so versatility is never going to be its strongest suit. That said, it's just as practical as any other 125, is comfortable and manageable, and more than capable of cross-town commutes and whatever else 17-year-olds do with their bikes. Being pricey and posh, however, means it'd be a shame to use through winter, though, unless carefully looked after.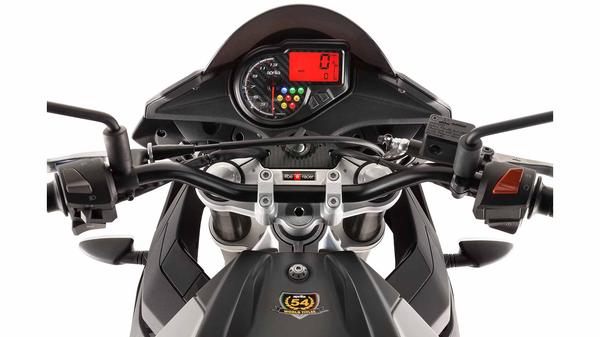 Performance & braking
Again, any A1-class 125, being legally restricted to 15ps, only has so much performance potential, but the Tuono, in being light and racy, certainly makes the best of what it has – even if it is a shame the days of the screaming two-stroke version are long gone. That motor tops out at about 80mph and is flexible enough getting there. The brakes, however – a top notch big front disc grasped by a fat, four-piston radial caliper – are better yet and more than capable of stopping the Tuono on its nose.
Ride & handling
As with the engine and frame, the new Tuono 125's suspension, steering geometry, wide wheels and sporty tyres, are identical to those of its sports RS 125 brother. They're quality items, too, with the suspension comprising beefy, 40mm inverted forks and a sophisticated monoshock at the rear. The ride is cultured and smooth, the steering is sharp and precise, and with the whole plot being so light, the Tuono is incredibly nimble and engaging without being at all intimidating.
Running costs
High-end bikes are never the cheapest when it comes to running costs, and the new Tuono, although only a 125, is no different. The initial purchase price is pretty steep, as is insurance, while its consumables, namely tyres, chain, pads etc., are more expensive than those of most rivals. On the positive side, being just 125cc, at least these don't get consumed that often, so there isn't, really, that much to worry about.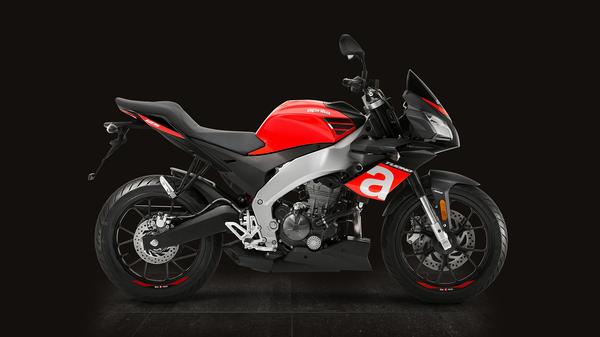 Reliability
The Tuono 125 is a brand new model so it's difficult to be certain, however it is largely derived from Aprilia's RS4 125 (renamed RS 125 for 2017), which has proved reliable enough (as long as it's looked after) since its introduction in 2011. The four-stroke single is – as long as it's looked after properly – as durable as any, most of the Tuono's components are high quality, and it's well built and finished as well.
Warranty & servicing
Again, being essentially a revised version of the only slightly updated 2017 RS 125 (which, for the most part, has been unchanged since 2011), the same is true of the Tuono. The warranty is the industry-standard 24 months/unlimited mileage, while service intervals are identical to the RS 125, too, being every 3,000 miles/annually for a major service.
Equipment
Like its RS 125 sportster brother, the new Tuono 125 wants for little and has pretty much the best of everything, even in standard trim. Along with the twin spar aluminium frame, inverted forks, radial brakes and fat wheels, there's a neat, Tuono 1000-like, half-fairing, impressive dash (which includes a lap-timer) and ABS. Optional extras include a quick shifter and smartphone connector.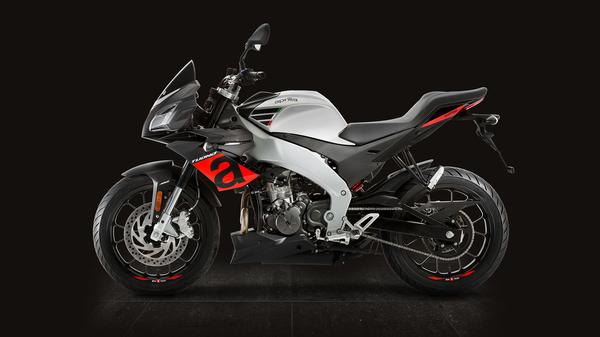 Why buy?
The RS 125 is known as the sportiest, sexiest 125 around, and this new variant is surely set to gain a reputation as the sassiest naked 125 on the market. The Tuono is great looking, fabulously well-equipped, great fun and easy to ride. Those are all things that popular rivals such as Yamaha's MT-125 and KTM's 125 Duke already deliver, but the Tuono seems to have even more style and class along with some extra big bike feel.