Expert Review
Aprilia Tuono 1100 V4 naked/roadster (2021 - ) review
Updated again for 2021 Aprilia's class-leading naked, the Tuono, now comes in two forms: the radical, extreme, £18K+ 'Factory' and this more road-focussed model – it's still superfast and sophisticated but now more practical and comfortable than ever.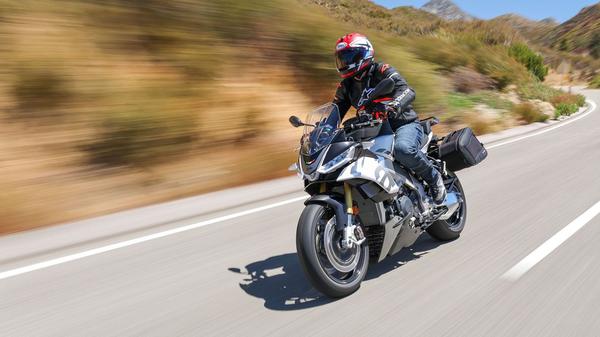 The Auto Trader expert verdict:
This £15K 'base' version may not have the brash style and ultra sophisticated spec of its sporty 'Factory' brother but it has almost as much performance with added practicality making it arguably the ultimate street bike.
Reasons to buy:
Phenomenal performance and handling
Slick sophistication and advanced electronics
Improved practicality and comfort
Design
Ever since the original 1000cc V4R version of the Tuono was first launched in 2011, Aprilia's RSV4 superbike-derived, V4 'naked' (it's actually half-faired, but most gloss over that) has been the supernaked to beat. With superbike performance, some of the most sophisticated electronics in the category yet upright, practical ergonomics it's proved an all-round package that's hard to beat. It's also been repeatedly updated, growing to 175bhp and 1100cc in 2016 and been offered in numerous guises including the ultra-sporty Factory and a more base, road-orientated version. For 2021 these have been updated and differentiated even more with this base version now called the Tuono V4 (previously it was the RR) and gaining roomier ergonomics, taller screen and extra pillion provision. It's proved astonishingly effective, too. Comfortable road bikes don't get much more capable.
Expert rating: 5/5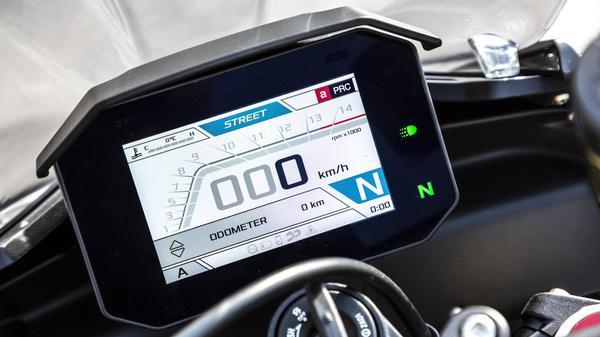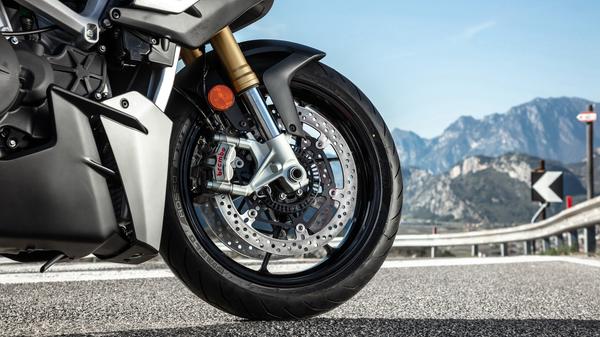 Riding position
The revised riding position is one of the key changes to the 2021 Tuono V4. There's slightly higher bars, a more substantial front fairing with conspicuously taller screen, a new tank which is slimmer at the rear while pillions also get more consideration via a larger pillion pad, substantial new grab rail and lower footrests. It all adds up to a superbike with genuine all-day comfort for two. If we had to be picky, the rider footpegs are still a little high but we doubt many will mind. Overall it's genuinely a superbike with true all-day comfort – for two.
Expert rating: 5/5
Practicality
Bikes as bonkers as the Tuono should have no right to call themselves 'practical', but the comfortable, upright, well-protected Tuono somehow manages it. That astonishingly meaty and curdly 175bhp is fully controlled and customizable via four riding modes, the updated TFT dash offers all the information you need, it's comfortable for two and it's refined and sophisticated, too. As a result it's not only a sports bike with few equals, it's great over distance, takes a pillion and is more than able around town as well. No, it's not really a commuter and it's tank range is arguably a little annoying at just 100 miles or so from its 18.5litres, but that's being picky, it genuinely can do it all.
Expert rating: 5/5
Performance & braking
This is what sets the Tuono apart from most nakeds. Although its 1100cc V4 has been significantly revised for 2021, mostly to meet Euro5, gaining an all-new exhaust with part-ceramic catalytic converter and uprated ECU, its peak power figure of 175bhp along with its meaty, curdly midrange is thankfully unchanged and remains enough to embarrass all other supernakeds barring, arguably, Ducati's Streetfighter V4 and KTM's V-twin powered Super Duke GT. On top of that the Tuono's got some of the best electronic riding aids in the business including traction control, anti-wheelie and customizable riding modes. The result is ballistic – but controllable, wild but refined and yet impressively flexible and characterful, too. Its brakes, meanwhile, are unchanged and remain some of Brembo's finest – twin, massive 330mm discs at the front grasped by four-piston radial calipers and assisted by cornering ABS which together give phenomenal power but also plenty of feel and refinement as well.
Expert rating: 5/5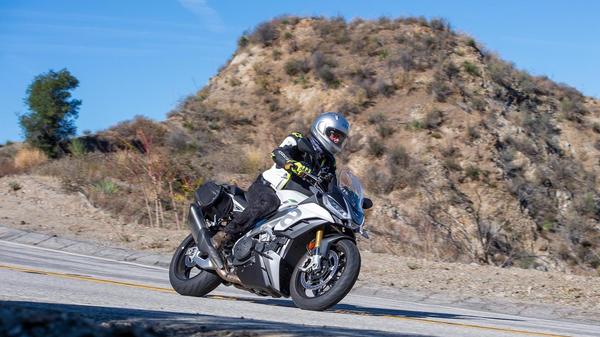 Ride & handling
Being the more 'basic' version of Aprilia's Tuono 1100 double act means this version, apart from the different fairing, pillion etc, also does without the Factory's semi-active Ohlins suspension, instead using Sachs units front and rear. On the road, however, you don't miss them. Both front and rear are fully-adjustable and give a smooth, controlled and refined ride few will find fault with. Handling, too, is just as impressive as ever – as you'd expect from a bike so closely related to the RSV4 superbike – stable and secure when mere travelling yet with sharp, sporty steering, precision and front end feel and rider will revel in. Few super-nakeds are so sportingly imperious.
Expert rating: 5/5
Running costs
Although the cheaper, more practical version of the Tuono, the latest 1100 is still true Italian exotica with the performance to match so it's never going to be that cheap to run. As before, that 175bhp results in an equally high hunger for consumables such as fuel, tyres, brake pads and chain, insurance is fairly costly, too, as is servicing, it's purchase price is pretty hefty in the first place (although a tempting three grand less than the more extreme Factory version) and, on top of all that, Aprilia's residuals are the best, either, which just goes to prove you can't have everything after all!
Expert rating: 4/5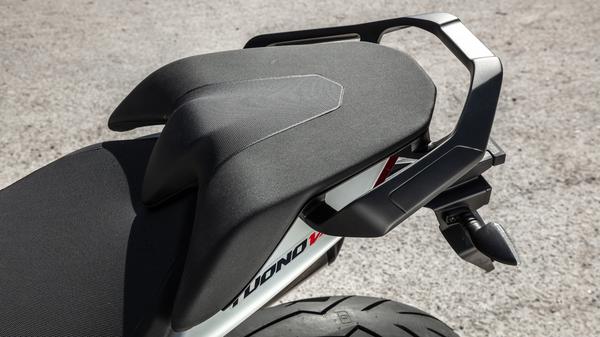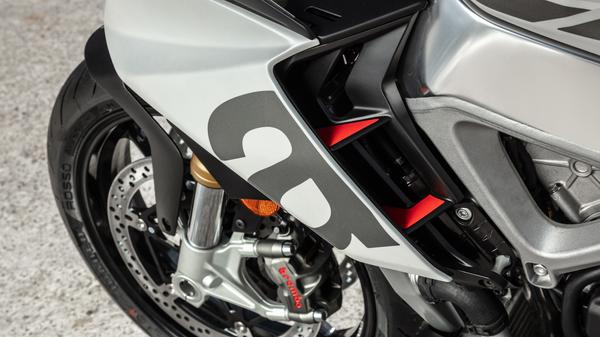 Reliability
Aprilias have historically often had something of a 'bad press' compared to some other mainstream bike brands for sometimes patchy aftersales in terms of spares availability and dealer back up and, although improved, the Italian brand still can't match the likes of BMW, Ducati or the best of the Japanese. Its big V4s, however, have largely proved reliable whther in superbike or super naked form and, although sophisticated and complex the Tuono is also now impressively refined with virtually all glitches ironed out. It's also worth saying that, although the more basic of the two Tuonos, this is still a premium machine with the quality build and components to match.
Expert rating: 4/5
Warranty & servicing
Despite the changes for Euro5, comfort and more, there's no change here. Warranty-wise, the latest Tuono benefits from a typical, industry-standard, two-year/unlimited mileage, manufacturer-backed warranty covering all parts and labour. In addition, the updates V4 engine's maintenance schedule is unchanged, too, with major services due a fairly typical every 12,000 miles – although there's still fairly pricey due to the V4 engine's intricate, compact nature and the Tuono's overall complexity and sophistication.
Expert rating: 4/5
Equipment
No, this latest base Tuono can't match its 'Factory' brother's fancy semi-active Ohlins suspension front and rear but it's hardly lacking. There's an updated, colour, 6.5inch TFT dash packed with info (although some might find the small digits difficult to read), new-style switchgear (as introduced on the Tuono 660), an equally impressive electronics 'suite' including riding modes, traction control, anti-wheelie, a shimmeringly-click chassis now with an under-braced swing arm, decent fairing, improved comfort and even cruise control. In short: it wants for nothing.
Expert rating: 5/5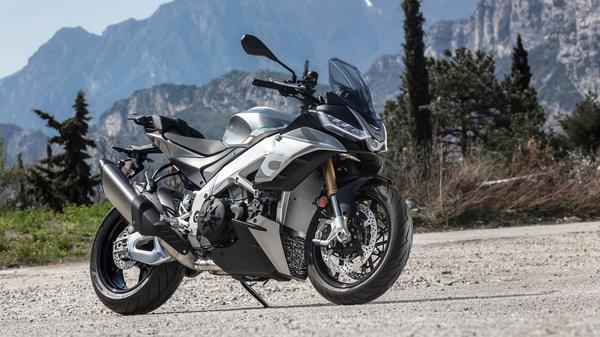 Why buy?
If you want true superbike performance but ride mostly on the road and would like more than a little comfort and practicality, this latest version of Aprilia's Tuono should be right at the top of your wishlist. Yes, it lacks the flashness of its Factory brother, and its Ohlins suspension, but this base version has better comfort and weather protection, is far more pillion friendly and you won't notice any downgrade in the suspension. For our money, without the garish, race replica livery, it even looks classier, too. The result is a true connossieur's streetbike that does it all and delivers a rush like little else.
Expert rating: 5/5