News
All-new Triumph Trident nearly ready!
As these pictures prove, Britain's biggest motorcycle manufacturer, Triumph, is on the verge of launching an all-new, novice-friendly roadster, in the style of Yamaha's hugely popular MT-07 but powered by the Hinckley firm's characteristic three-cylinder engine.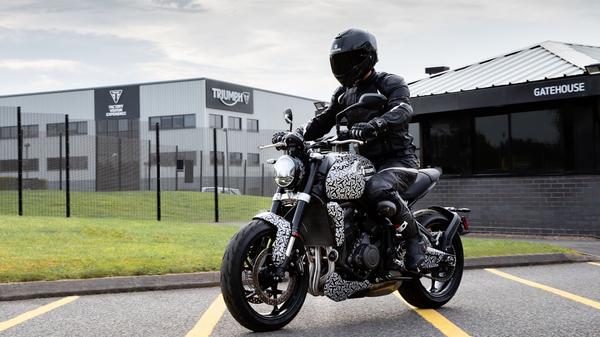 The new bike is to be called the Trident, so reviving the original, historic name given to Triumph's first triple back in the 1970s and, although many technical details have yet to be released, including engine size and power, the company have said the bike will be a "new entry point into Triumph's award-winning triple roadster line-up" and "will be competitively priced to deliver great value for a new generation of riders".
To compete with existing likely rivals such as the MT-07 and Kawasaki's recently updated Z650 twin, it's expected the new Trident will be between 650 and 700cc. The Yamaha produces 74bhp from its 689cc twin, the Kawasaki 67bhp from its 649cc version. Both are available, as the new Triumph is expected to be, with a conversion kit making them A2-licence compliant. However Triumph says its new Trident will have three key advantages in this category: "torque-rich performance" from its three-cylinder engine; "class-leading technology as standard" and "Triumph's accessible, agile and confidence-inspiring handling". The all-new machine was first teased back in August when design sketches, static styling mock-ups and the Trident's basic spec of being a middleweight, novice-friendly, three-cylinder roadster were first revealed in a launch event at the London Design Museum. But these new pictures show camouflaged prototypes in action for the first time and were taken during the machine's final road test phase of development near Triumph's global HQ at Hinckley, Leicestershire. Triumph say that the bike has been in development for four years, final fine-tuning is now taking place and the finished production version is expected to be unveiled later this autumn before the bike goes on sale in Spring 2021.