Advice
A Comprehensive Guide On Where To Park Your Motorcycle
The roar of the engine and rush of wind against your face! These are parts of the motorcycle experience that are pure joy! Sadly, the heady buzz such rides provide is often quickly dampened by the hassle and chaos of finding a parking space. We're here to help you get to grips with where you're allowed to park your bike...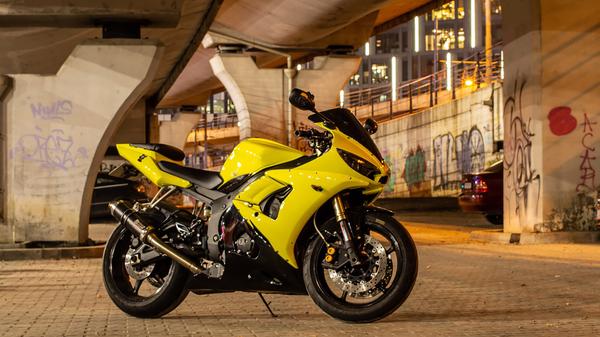 One where you know your precious steed will be safe, or where it won't incur a fine. In fact, it isn't that there aren't a lot of different options for parking your motorcycle, it's the sheer chaos of inconsistency across the UK that can be frustrating. Fortunately, we have taken the time to craft the guide below that should help you know exactly where to park it! (Your motorcycle that is!)

In a car park
Multistory, or open-air, the first place to consider parking your motorcycle is a car park. Now, you would think a carpark would be the easiest of places to leave your bike. Sadly that isn't always the case.
The reason for this is that most spaces are designed for cars rather than bikes. Something that means the bike parking spots are usually full at peak times. However, even if this is the case, all is not lost. This is because there are other spots you can stow your bike as well. One of these is the hatched areas and between bays. Although you must be sure that you do not get in the way of the cars parked on either side. Additionally, many proud motorbike owners are wary of leaving their bikes in such spots because of the risk of damage. Oh, and the fact that it is ultimately up to the car parking attendants as to whether its OK to use such a space or not means you could get in trouble and even be fined if you don't check with them first. Another option is to use a car parking bay for your motorbike. Although, be sure to chain up your bike if you do this. After all, you don't want it bumped out of the space, which can end up with you getting a fine for illegal or obstructive parking.
On the road
The second motorcycle parking option to consider is on the road. The most important thing to remember here is to obey the road signs that are around you locally. If they say 'no parking' or you can see double red or yellow lines you need to high-tail it out of there.
On the other hand, it is often possible to park your bike on single red and yellows lines. However, the times you are allowed to do this changes from place to place. Therefore you do need to make sure to read the signage in your location.
Pay and Display
When it comes to pay and display spots, there really is no standard as to whether you can use them or not. In fact, the only way you will be able to tell is checking the pay and display meters. The good thing is if they do allow bike, you may well be able to park there for free!

Bicycle bays
You may think that it makes sense for motorcycle users to park next to our velocipede brothers. Sadly, once again, doing so is not as clear cut as we might like.
In fact, technically there is nothing preventing motorbikes from being parked in spaces with push bike bollards stanchions. However, if these things are located on footpath or pavement, there is already an issue. After all, we cannot ride motorbikes on these to get to the correct space. On the other hand, it may be possible to dismount and wheel your bike to these areas. Although, do bear in mind that this isn't always regarded as the best parking etiquette by pushbike users.
On the pavement
Finally, when it comes to parking, your motorbike do not forget that in the UK, we do have the option of the pavement. Obviously though, just as we have come to expect by now, pavement parking for motorcycles is utterly confusing!
In fact, in some locations, you are fine to do this. Just as long as your bike doesn't cause an obstruction. However, in other, notably London, parking on the pavement is illegal no matter what. To that end, if you are not 100% sure, it is usually best to find an alternative. Oh, and do not even consider pavement parking for motorcycles in London, unless signs expressly permit it!
Summary
In summary, it can really help you to know the do's and don'ts of motorcycle parking, especially in the location in which you live. Also, always err on the side of caution, and don't park your bike there if you are unsure. Lastly, one final world or warning, do remember to lock your bike wherever you park it if you want to be sure it will be there on your return!