Expert Review
Vespa GTS300 HPE (2019 - ) review
Vespa's range-topping GTS has long been the definitive and most stylish scooter of all and the 300 variant the fastest and best of the bunch. Now it gets a new high performance engine (HPE) plus a host of updates to make it better than ever.
The Auto Trader expert verdict:
No scooter brand comes close to Vespa in terms of image, status or popularity, the GTS 300 has long been the most desirable of all and, with a new, uprated engine and detail changes it's better yet.
Reasons to buy:
Updated style
Improved HPE performance
Practical and effortless
Design
Vespa first introduced its retro-influenced Gran Turismo 'GT' in 2003, which evolved into the GTS soon afterwards. Ever since it's remained the definitive, classically-styled scooter due to its classic lines and quality touches – enough for it to repeatedly win our Scooter of the Year award. For 2019 it's been updated further with subtly reshaped leg shields and bodywork, given even more underseat storage, a new headlight and LED lights all round.
Riding position
The steel monocoque chassis construction of the big frame Vespa hasn't changed in eons, and neither has the riding position so there's no change to the perched riding position with a low seat and narrow running boards that allow most riders to get both feet flat on the floor. Arms are still set wide to allow for easy adjustment of the bars as you're filtering through traffic. Providing you're on friendly terms, there is a decent amount of rear space for a pillion with good supports and integrated rear footpegs.
Practicality
Although updated, this is little different to before – but then there wasn't that much wrong with it before. Yes, underseat storage space is slightly up but it's still not quite enough for a full-face helmet. There's a lockable front glovebox that features a USB port so you can charge your phone on the move and a centrestand that is a doddle to operate. Just as well really, as the sidestand is so flimsy, it's barely functional. It's also a shame that beyond the optional luggage holders, there aren't further useful accessories such as heated grips or satellite navigation.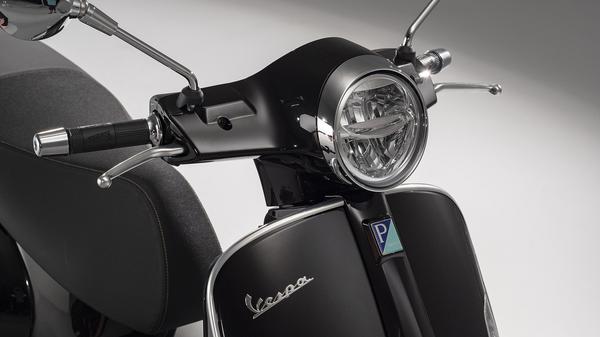 Performance & braking
The HPE uses a fully uprated 300cc, four-stroke single-cylinder unit that now produces 23.8bhp at 8250rpm, a useful 12% increase on the old version which not only makes it the most powerful Vespa ever makes a noticeable improvement to acceleration – which is just what was needed as the old GTS was conspicuously not the most powerful model in its class. It's also smoother and more fuel efficient than before. The brakes are good rather than great, but their adoption of ABS and Ant-Slip Regulation (ASR) – a form of traction control that uses sensors on both wheels to detect excessive wheelspin – helps extend appeal to less confident riders.
Ride & handling
Two-wheelers don't get much easier to ride than a 'twist 'n' go' scooter and the Vespa GTS remains among the best. A low seat, low weight and small wheels help make it change direction with the slightest shift of bodyweight, while high speed stability is reasonably good. The front suspension has been designed to react to both transverse and longitudinal movements, but as you'd expect from a pair of skinny 12-inch wheels, the ride quality isn't impervious to potholes.
Running costs
Being designed as a premium, classic, aspirational product means Vespas, and particularly the top-of-the-range GTS model, has never been cheap – and the same is even more true of this uprated HPE version. But on the whole you get what you're paying for, quality is good and, with used bikes in high demand, residuals are good, too. What's more, fuel consumption is improved and its hunger for other consumables negligible.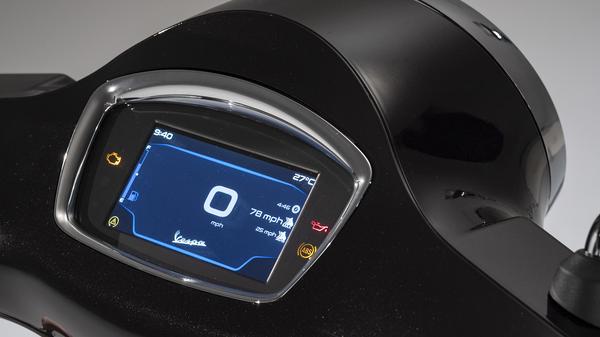 Reliability
The GTS, in various forms, variants and capacities, has now bee in production for over 15 years and reliability has been superb, with few faults reported beyond loose connections to the battery. That said, paint and chrome finishes can deteriorate quickly if not maintained regularly.
Warranty & servicing
All Vespa models receive a two-year factory warranty as standard. After the initial checkup at 600-miles that includes an oil and filter change, plus gearbox oil change, a service should be scheduled every 3,000 miles thereafter.
Equipment
Again, little changed from before, but not at all bad either. There's the same USB port and centrestand, you can also download Vespa's Multimedia Platform (VMP), a free mobile app that displays your average fuel consumption, average speed and engine revs, while Supertech version now gets a TFT display. Meanwhile the headlight and indicators are all new, too.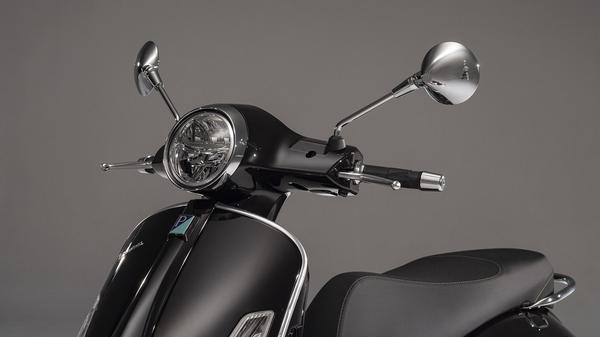 Why buy?
If you're after a stylish, round-town scooter, a Vespa GTS has long been the most aspirational one of all and the 300cc version the fastest, most thrilling of them all. That's why it's been repeatedly our Scooter of the Year. Now, for 2019, with the new 'HPE' and a few other significant modifications, it's better – and more stylish – than ever.