Expert Review
KTM 1290 Super Duke GT Sports Tourer (2019 - ) review
The old GT introduced 2016, basically a faired, more practical version of the ballistic, 175bhp Super Duke V-twin roadster, was already a brilliant bike. But this uprated, more refined version is better yet. A potent, near-perfect road machine.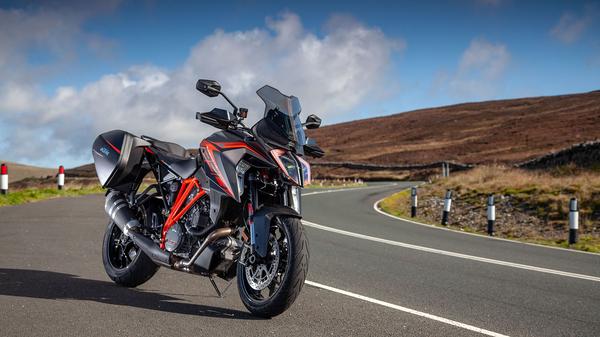 The Auto Trader expert verdict:
Available new from £16,250
As a phenomenally quick, road all-rounder the GT pretty much has it all: a punchy, 175bhp; svelte, electronic suspension-assisted handling; class-leading electronics, adjustable comfort, practicality and more. The only shame is the lack of a BMW or Ducati badge and their residuals and dealer experience.
Reasons to buy:
Flexible, 175bhp performance
Real-world handling and comfort
Quality specification
Design
Unless you're a hardcore KTM-ophile, the garish, angular GT's looks have never been its best feature and 2019's revisions, including a new fairing with revised, more easily-adjustable screen and LED headlights borrowed from its Adventure bike brothers, although effective and welcome, haven't improved its visage one jot. The orange white and black livery, although a KTM signature, don't help things either, especially when you consider its main rival is Ducati's swoopy, sexy Multistrada. In germs of functionality, though, it all works brilliantly.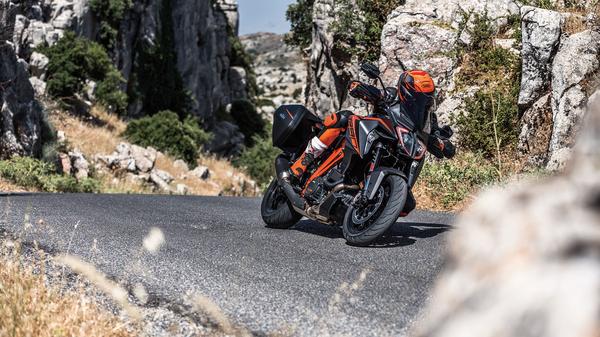 Riding position
Upright, comfortable and adjustable which, along with an effective screen and overall slightly aggressive posture that gives you the feeling of being completely in control, is beyond our criticism. Long distance comfort is good, too. It is worth noting, however, that shorter types may find the 835mm seat height slightly awkward and, contrastingly, being derived from the Super Duke means its riding position, though fine, isn't as roomy as, say, a Multistrada or S1000XR, either.
Practicality
For a 175bhp, 1301cc, ostensibly fire-breathing V-twin supermoto, the GT is brilliantly versatile. There's enough performance to satisfy any speed junkie; comfort (for two) lasts as long as the 200-mile+ tank; touring panniers are available and fit via a very neat mounting system; it's as slim and manageable as any upright V-twin and the superb electronics mean you can turn down the rage and rapidity for calmer cruising, too. You can even have heated grips and seat.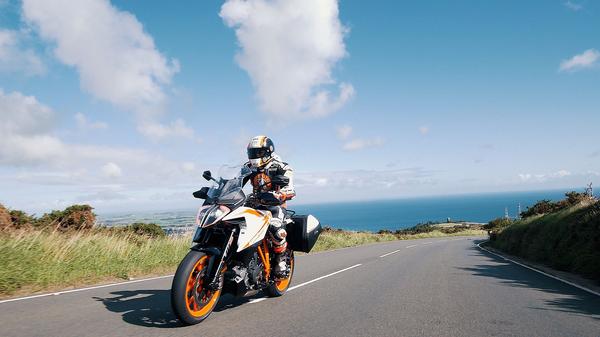 Performance & braking
As you might expect as a spin-off of the rip-snorting, 175bhp Super Duke (or 'The Beast' as KTM themselves dubbed it), this is the GT's real forte – but its true brilliance is the way all that performance doesn't compromise its all-round ability. In its sportiest engine mode its breathtakingly fast and lively, but 2019 revisions have also made it more refined and cultured and it's now assisted by an uprated quick shifter/auto-blipper that works as well as any, as well. It's also a V-twin at its best: high revs deliver brutal power but that 75-degree twin is also completely flexible with masses of low and midrange drive, as well. Braking, meanwhile, is taken care of by Brembo's top spec M50 four-pot radial calipers biting onto massive 330mm twin discs all assisted by KTM's brilliant cornering ABS. In short: it doesn't get much better.
Ride & handling
Second only to the GT's brilliant and real-world relevant powertrain is its chassis. Even the most basic bike from the Austrian marque handles but as it's road-going range-topper, the GT gets top-spec, electronically-adjustable, semi-active WP suspension, light wheels, grippy tyres and more. The result, simply, is beyond criticism as a roadster and both comfortable and easy-enough going AND with enough taut precision and finesse to be able to hold onto the coat tails of track-targetted superbikes.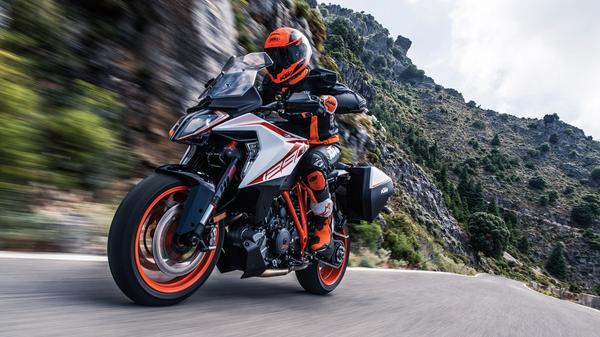 Running costs
At nigh-on £17K new, a figure easily bloated via KTM's Power Parts accessory catalogue and with a potency few conventional 'sports-tourer's can match, running a Super Duke GT was never going to be cheap. The appetite for consumables like tyres, chain, brake pads is pretty much the same as true superbikes. At the same time, the Austrian firm's residuals aren't as robust as, say, BMW, either, so depreciation becomes another cost to bear in mind. But there are worse bikes out there, too.
Reliability
The monster, 1301cc, Super Duke version of KTM's familiar RC8 75-degree V-twin has been around for a while now, with few reliability issues worthy of note (although there have been a few concerns over oil leaks), while the chassis is pretty solid, too. That said, we have also heard of a few issues of warped brake discs. This version is also a brand-new model so we have to be prudent. On the plus side build quality and fit and finish is noticeably up on the out-going GT so there's reason for hope as well.
Warranty & servicing
Like all KTM's the new 1290 Super Duke GT has a standard, manufacturer-backed, two-year/unlimited mileage parts and labour warranty, so nothing unusual there – although again it's worth noting that increasing numbers of manufacturers are now offering three-year deals. Service intervals are fairly standard, too, being due every 9500miles.
Equipment
Although that original new price of approaching £17,000 sounds steep, in terms of equipment it wants for virtually nothing, coming with heated grips, adjustable screen, electronic suspension and sophisticated riding modes, new, full-colour TFT display (which, incidentally, is one of the best and most intuitive to use in motorcycling), cruise control, new LED lights, neat pannier mounts, centre stand, the list goes on. Only things like luggage and heated seat are likely to be extra cost options.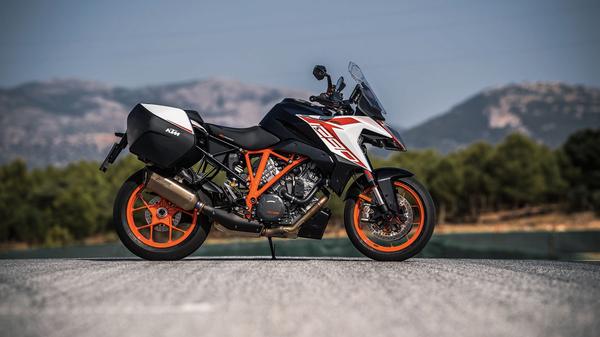 Why buy?
Look past the garish orange livery (plain black is a perhaps more attractive alternative) and 'crooked nose' looks and the Super Duke GT is a truly brilliant all-round road bike – very likely among the very best you can buy. It does it all, is well-equipped, comfortable, exciting and sophisticated. Ride one and you'll see it wants for nothing. The only slight down side is the fact it's a KTM, with the slight question marks against its looks, reliability, dealer experience and residuals that goes with it. If it was as good looking and desirable as a Ducati or BMW it'd be an absolute no-brainer.