First Drive
2016 Honda NC750X first ride
The Honda NC750X has received a raft of revisions for 2016. Phil West discovers if it's enough to keep this bike at the top of the commuting class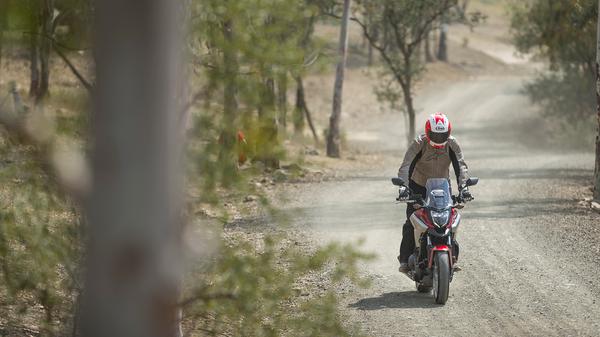 Location: Malaga, Spain
Pictures by Zep Gori, Francesc Montero, Felix Romero and Ulla Serra Video by Brendan and Dom Read-Jones and Rowan Muskin
Need to know:
Popular, adventure-styled, middleweight twin gets restyle and uprated spec
Optional 'DCT' automatic gearbox also now more sophisticated than ever
On sale now £6649-£7049
Auto Trader Verdict:
Honda's unconventional, low-revving, economical 'NC' twin family has proved a surprise hit since its launch in 2012 with the adventure-styled X becoming the Japanese giant's best-selling big bike in Europe. Novice-friendly, versatile and uniquely practical thanks to its 'in-tank' storage and optional 'DCT' auto-box, all it really lacked was style and a touch pf pizazz. That's significantly changed with this first major update: it's now better looking and performing yet still as practical and affordable as ever.
What is it?
Something of an oddball when first launched in 2012, Honda's three-strong NC700 family (all were increased to 750cc in 2014) has, to varying degrees, proved an unlikely success story. Comprising Integra S 'scooter', NC750S roadster and, here, the NC750X adventure-styled machine, all are based around the same, Honda Jazz-derived, low-revving, almost horizontal parallel twin which delivers easy-going, novice-friendly tractability along with impressive economy (Honda claim 80+ mpg) plus the option of Honda's unique, 'Dual Clutch' automatic transmission, which makes them all as easy to ride as a twist 'n' go scooter.
The 'X' has proved far and away the most popular, with 130,000 so far sold worldwide, despite a slightly drab image and pleasing rather than exciting dynamics. Both of these and more have now been addressed with this first major update. New styling including LED lights matches the rest of Honda's 'X' family of adventure bikes; suspension and brakes are improved, quality enhanced (most conspicuously via a new LCD console and more stylish exhaust) and practicality heightened courtesy of a taller screen and larger, novel luggage compartment in the fake 'tank'. Best of all, though, the DCT version, sales of which now almost match the conventional version, is now far more entertaining via revised settings.
What's it like?
The updated-for-2016 NC750 family story is a similar one to that of Honda's equally updated CB500 threesome earlier this year.
In other words: Big H has reviewed another of its already successful, affordable, worthy but, in all honesty, a little dull, middleweight offerings and improved them with a little added style, a few extra, classier detail touches, a smidgeon of additional practicality and, crucially, some welcome extra dynamism. And impressively, as with its 500 family, Honda has achieved just that without changing the engine or its characteristically lazy, low revving yet flexible power delivery. So, where the old NC750X, the most popular of the trio, had some adventure style but was also fairly dreary in conservative grey paint and a basic veering on budget spec, the new, improved version has: all-new sharper and more stylish bodywork more in keeping with the rest of Honda's X-model adventure bikes; five new, brighter and more colourful liveries plus zingy new LED lights front and rear. Spec-wise there's an uprated front brake caliper, improved suspension front and rear (of which more later), a fully-uprated and colour-customisable digital LCD display plus more tactile and pleasing finishes and surfaces. While extra practicality comes by way of its novel 'in tank' storage compartment (the real fuel tank is under the seat, scooter style) which is enlarged from 21 to 22 litres (and is more than enough to hold a full-face helmet), a 70mm taller screen and even the addition of handy 'L'-shaped tyre valves. Best of all, though, are the changes to the suspension and, particularly, on the version we tested at the launch in and around Malaga in southern Spain, the optional 'DCT' (standing for Honda's Dual Clutch Transmission) automatic gearbox system. With the suspension, although the same combination of 41mm conventional telescopics at the front with a rising rate monoshock at the rear is retained, both units are uprated. The forks are now what manufacturers Showa call 'Dual Bending Valve' type and are apparently the first to be used on any motorcycle. Essentially what it means is the internal metal damping valves are designed to be flexible, bending when the damping oil flows through them which, they claim, gives a more progressive, smooth, operation. The rear shock, meanwhile, has been updated with the addition of a new preload adjuster. I have to say, though, while the ride was fine, with no particular complaints, it was virtually impossible to discern any improvements the new suspension offered over the old without the benefit of a back-to-back comparison. More discernible, however, are the improvements to the already impressive DCT system. Where before there was basically a switchable choice between automatic (A) and manual (M – where you flick up and down the through the six-speed box, clutchlessly, via '+' and '-' toggles on the left-hand switchgear). Then, when in 'A' auto mode you had the choice (again switchable via a toggle this time on the right-hand switchgear) between 'D' (for Drive) and a slightly more aggressive, lively 'S' (for Sport) with gearchanges taking place a little higher up the rev band. Now it's more sophisticated still. First, clutch changes mean the whole system is now smoother and less jarring. Second, a new 'incline detection' system improves its operation on severe inclines and descents. But best of all there are now three different Sport settings to choose from – S1, S2, and S3, all displayed on the LCD console, with S3 being the most aggressive. It all adds up to a truly impressive system where you really can have your 'automatic cake' and eat it. Sure, it takes a little acclimatizing at first, and nor is it perfect – occasional downhill upshifts when a 'down' was required unsettled a couple of co-testers. But overall it's truly impressive: a twist 'n' go, if you like, where you can both choose from four different 'personalities' (incidentally, I preferred soft 'D' around town, 'S3' when the roads opened up) or literally switch to manual whenever you like. None of that changes the base NC750X, of course. The lazy 745cc twin remains useful, dependable and versatile rather than exactly exciting (although the new exhaust does sound sportier than before); the chassis adequate rather than inspired. But it also remains comfortable, versatile and good value and now, much more than before, it's also pretty good looking, entertainingly more engaging and even more practical, too.
Should I get one?
The sales success of the old model added to the extensive improvements bestowed on the new version means the new NC750X is worth serious consideration.
Honda's 'oddball' isn't for everyone, though. Hardcore sportsbike fans, experienced adventurers or those devoted to conventional machines are unlikely to be tempted by the NC750X. However, those after an easy, versatile 'first big bike', perhaps returning to motorcycling or after a well-priced middleweight all-rounder with uniquely useful features such as the 'in-tank' storage, class-leading economy and DCT gearbox, will be more tempted than ever. It may not set the world on fire, but the X definitely delivers as an easy, affordable all-rounder, plus now it's better looking and more engaging, too. Honda is committed to its DCT system and quick to emphasise that, after a slow-ish start, is now selling almost 1:1 with conventional models. Simply, this latest version is the best yet and arguably suits the NC750X better than any other. And if you DON'T like it, you can still get a standard NC750X for an even cheaper £6649. What's not to like?
Key Facts:
Model: Honda NC750X DCT
Price: £7049
Engine: 745cc liquid-cooled four-stroke twin, 'DCT' automatic gearbox
Power/Torque: 54bhp/50.2lbft
Top speed: 115mph (est)
Economy: 80.79mpg (claimed)
Range: 250.6miles (claimed)
Also consider:
Suzuki V-Strom 650
Straightforward but stirring all-rounder is starting to show its age and lacks rivals' features but is hugely versatile and has a great V-twin at its heart. £6999. Kawasaki Versys 650 Updated last year, Kawasaki's junior Versys is powered by a lively parallel twin, handles well and makes a good tourer. £6849 Honda CB500X 47bhp parallel twin qualifies for A2 licence and is more conventional and (slightly) more basic than the NC but temptingly priced and almost as versatile. £5599