Best Of
The top 5 electric vans
There might not be a big history of electric vans in the UK, but expect this to change rapidly as the number of battery-powered commercial vehicles is set to grow in the coming years. Here are our top 5 in the electric van category.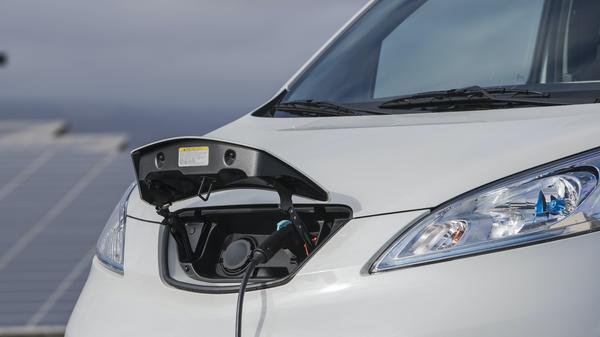 Words by: Tom Webster

Additional words by: Nimisha Jain
Last updated on 23 June 2021 | 0 min read
While you could count the number of electric vans on one hand in recent times, this will be very different in just a few years' time.
Electric vans provide the same benefits as electric cars, but there are some additional challenges that private drivers won't have to factor in. The obvious benefit of an electric van is the lack of emissions, with EV vans being able to drive around without producing any tailpipe emissions. These are the factors to consider when deciding whether an electric van will work for you or not. Related:
10 new electric vans coming in 2021 and beyond
ULEZ charges
An electric van won't be subject to any of the inner-city charges that are either already in place or are planned for the coming years. In London, electric vans are exempt from the Ultra Low Emission Zone charge that operates 24 hours a day and costs £12.50.
EV vans are also exempt from the
London Congestion Charge
(£15.00 a day as of 22 June) although that will end in 2025. As all the current electric vans are classified as light commercial vehicles, they are not eligible for the LEZ that applies to heavy duty vans and trucks. Future charge zones are designed to reduce pollution in urban areas above all else so it is highly likely that electric vehicles will be exempt from charges in other cities for the foreseeable future, too. Related:
Vans Guide To ULEZ
Range
The range that an electric van can travel between charges is the biggest barrier for many, and it is fair to say that a battery-powered van will not be able to replace a diesel model if you are going to do anything other than short-distance urban deliveries or predictable daily routes.
As it stands, the longest official range available in an electric van is 143 miles from the
Renault Kangoo
Z.E. 33, while many, like the
VW e Transporter
and
Mercedes eVito
offer an official range of below 100 miles. This range will be impacted by how fast you drive, how cold the weather is and, crucially, how much weight you carry in the back. Hauling around a full payload could reduce the range by around 10%, or 10 miles or more, so it is a notable factor. Related:
Electric Vehicle Range - How Far Will An EV Go?
Payload and weights
The extra weight of the batteries can have an impact on how much you can carry in the back of an electric van, and this is true to a greater extent on larger vans, which need more batteries to be able to provide an acceptable range.
Authorities have worked to mitigate this, though. Standard licence holders will be able to drive an electric van with a gross vehicle weight of up to 4.25 tonnes – the weight limit for normal vans is 3.5 tonnes. The catch is that drivers will have to carry out five hours of training to prepare for driving a heavier vehicle. The actual van is no different, but the classification allows it to carry more weight and therefore have a higher payload. Large vans, like the Renault Master Z.E., are able to offer a payload in excess of a tonne, so electric vans need not be relegated to delivering flowers and pillows. Related:
Reasons to buy an electric van
Charging time
One major factor with an electric van is how long it takes to recharge it – however rapid a charger you have it will still take longer than popping into a filling station and refuelling a tank of diesel.
However, with planning it is possible to fit more than one charge in a day. Rapid chargers can often provide 80% of charge in around 40 minutes, which could be planned into a lunch break or similar, and home charging stations should be able to replenish the battery overnight. A three-pin plug is a real last-resort option, though – it will likely take all day or more. The Kangoo Z.E. 33 will take 17 hours to charge on a standard domestic socket. Related:
Why electric vans aren't the expensive choice
Grants
The Government is currently offering a plug-in grant
to incentivise buyers to go for an electric van. Although the car plug-in grant has been reduced in recent Budgets, the van one has been left unchanged.
The grant will pay for 20% of the purchase price up to a maximum of £8000.
The top five electric vans
1. Renault Kangoo Z.E. 33
The Renault Kangoo is one of the most well-established electric van, and the latest version has the best range yet of any electric van with an official figure of 143 miles. Renault reckons that 75 miles in winter and 124 miles in summer is a realistic bet, though. Pricing starts at just under £25,000 (excluding VAT) once you have factored in the plug-in grant.
It's a smart van that is good to drive, although it doesn't have the most luxurious cabin or the biggest payload. At up to 640kg it is some way short of the 1000kg-plus payloads that conventional small vans are able to offer.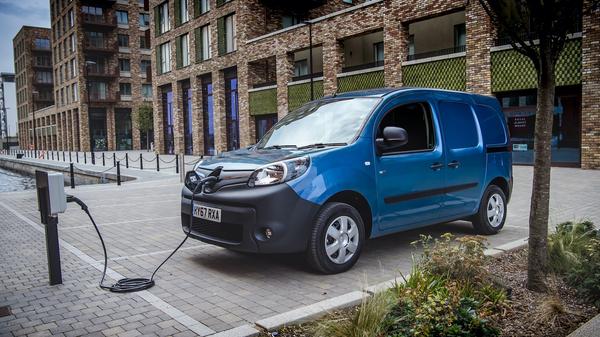 Renault Kangoo Z.E. 33
2. Nissan eNV200
The
eNV200
uses the same battery and motor as the Nissan Leaf and comes close to matching the Renault Kangoo for official range. The 124-mile range is still decent and will cover pretty much all urban routes, leaving enough to get back home to recharge for the following day.
It starts at just over £20,000 (excluding VAT and after the grant) but you have to step up to the mid-range trim to get the rapid charging ability.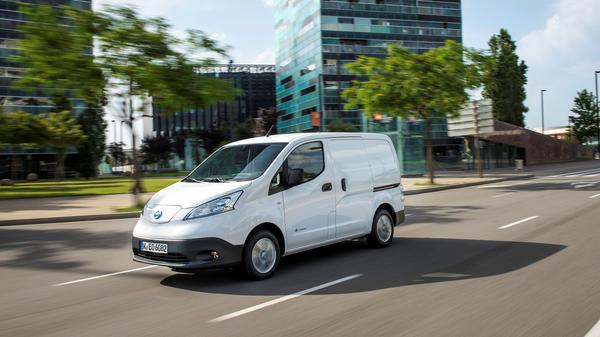 Nissan eNV200
3. Renault Master Z.E.
There are plenty of large electric vans on the way, with the
Volkswagen Crafter
,
Mercedes Sprinter
and
Ford Transit
among those due to get a battery-powered model in the coming years. Renault has stolen a march on them all, though, with a battery-powered model of the Master.
It is really only suitable for short, last-mile, urban deliveries though, with an official range of 124 miles that Renault reckons will translate to 75 miles in real use in the summer and 50 miles in the winter. Still, it has an impressive payload that is in excess of a tonne, so it still has a decent carrying ability. At just over £57,000 it is a sizeable investment, though.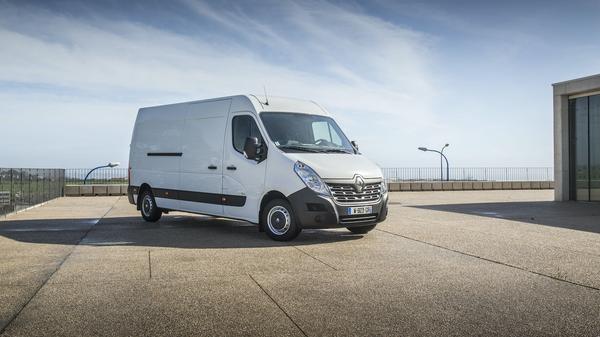 Renault Master Z.E.
4. Mercedes-Benz eVito
The
eVito
is Mercedes-Benz's first electric van, and the front-wheel drive model is available in a choice of two lengths and boasts a payload of up to 923kg.
All quite impressive, but the eVito isn't perfect. It only has an official range of 92 miles, which is a shame when the eVito Tourer has an official range of more than 260 miles – not needing to maximise payload means they can put more batteries into the people-carrying version. It's not cheap, with a starting price of just under £40,000, but it comes well equipped with fast charging as standard that means the range can be returned to maximum in six hours.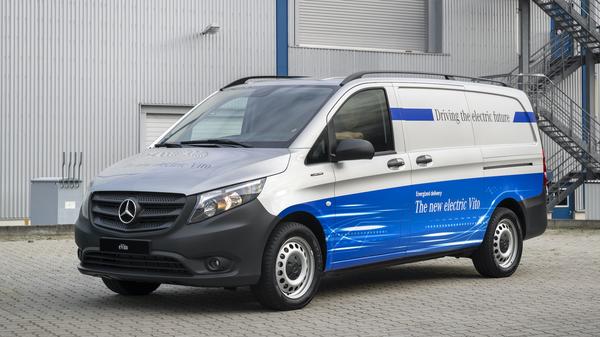 Mercedes-Benz eVito
5. Volkswagen ABT eTransporter T6.1
Volkswagen has plans for the future of electric vans – the large Crafter was originally designed so it can have a battery-powered electric van model.
The
Transporter
wasn't, but VW has popped some batteries and a motor into the existing model, with the help of tuning company ABT. The result is an all-electric range of up to 82 miles, a loading space of 6.7 cubic metres and a payload of just over 1000kg. It will set you back just over £42,000.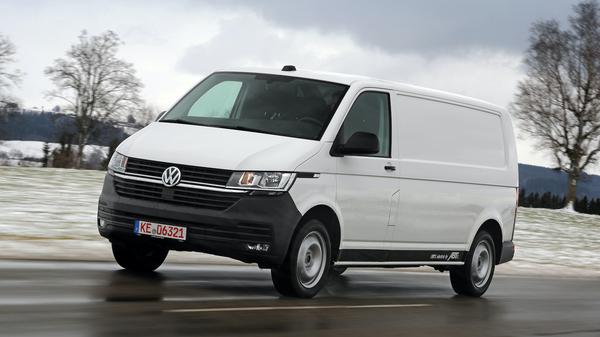 Volkswagen ABT eTransporter T6.1
Electric vans coming soon
• Maxus eDeliver 3, medium van up to 150 miles, coming in 2020
• Citroen Berlingo electric, small van, coming in 2021
• Peugeot Partner electric, small van, coming in 2021
• Toyota Proace City electric, small van, coming in 2021
• Vauxhall Combo Cargo, small van, coming in 2021
• Citroen e-Dispatch, medium van, 124-186 miles, coming in 2020
• Peugeot e-Expert, medium van, 124-186 miles, coming in 2020
• Toyota Proace electric medium van, 124-186 miles, coming in 2020
• Vauxhall e-Vivaro, medium van, 124-186 miles, coming in 2020
• Maxus eDeliver 9, large van, coming in 2021
• Mercedes eSprinter, large van, 71-93 miles, coming in 2020
• Volkswagen e-Crafter, large van, 68-71 miles, coming in 2021
• MAN eTGE, large van, 68-71 miles, coming in 2021
• Ford Transit Electric, large van, coming in 2022
• Citroen e-Relay, large van, 99-140 miles, coming in 2020
• Peugeot e-Expert, large van, 99-140 miles, coming in 2020
• Fiat Ducato BEV, large van, 136-223 miles, coming in 2020