Advice
Which motorhome layout is best for me?
Find the right motorhome layout for you with this complete guide. Includes motorhome bedrooms, bathrooms, kitchens and more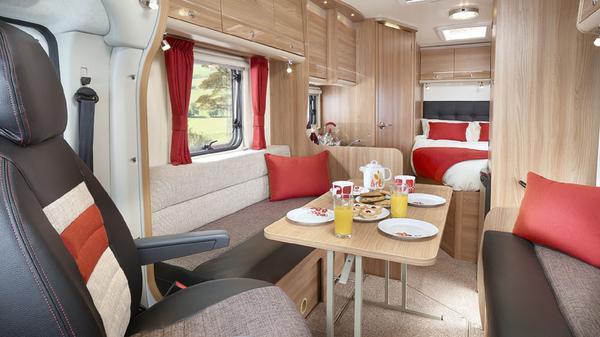 Words by: Auto Trader

Additional words by: Andrew Woodhouse
Last updated on 8 May 2019 | 0 min read
If you've been to a caravan and motorhome exhibition, you could easily have come away feeling overwhelmed at the large choice of motorhomes available, and be wondering which motorhome layout is best.
Well, the 'best' motorhome layout for you may not be the best for someone else as it depends on your own personal preferences and how and what you are going to be using the motorhome for; however, there are several popular layouts that most manufacturers know work for most people.
For a quick look at the most popular motorhome layouts, click here.
A motorhome means different things to different people as this classification covers a diverse choice of vehicles. It usually includes campervans and van conversions, as well as coachbuilt and A-class motorhomes, all completely different sizes with different 'best' or popular layouts to suit their size and purpose. If you're confused by these different types of motorhome,
our motorhome buyers' guide
might help.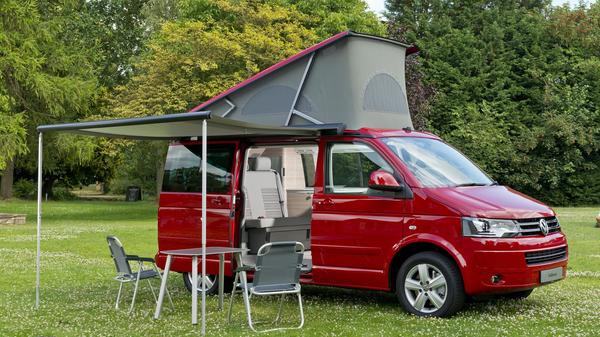 Obviously, campervans are smaller and have the least amount of space, which automatically restricts the layout permutations available, although manufacturers have tried various clever alternatives. The most traditional and popular layout is the kitchen and wardrobe unit on one side with a rear bench seat that converts in to a double bed and the option of a second bed in the pop-up roof. This layout won't have a washroom, but many have a cupboard for a portable toilet for emergencies.
The other quite popular campervan layout is a rear kitchen, usually with two single rear seats to enable access through to the rear, plus there are some models that fit a cassette toilet in the rear too. There are other alternatives, plus long wheelbase or high-roof models which offer a bit more space.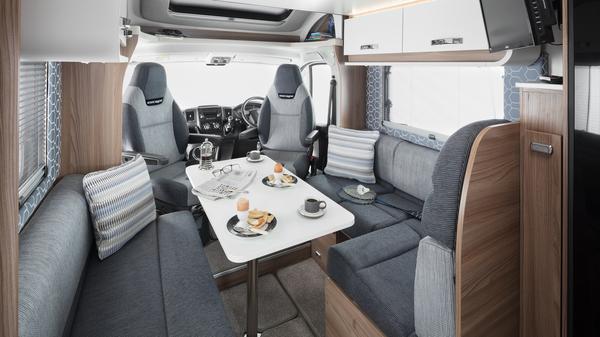 Next up the scale from a campervan is a panel van conversion, giving more interior height and, usually, a washroom. The most popular layout by far is a rear bed, which can sometimes be lifted to give access to put bikes inside for travelling, a centre (compact) washroom opposite a side kitchen, and a front seating area which makes a lounge by swivelling the driver and passenger seats round to face the rear. Most are two-berths, although the front seats sometimes make a third bed; four berths are possible if there's a drop-down bed over the rear double or in a limited number of models, an (optional) elevating roof (like a campervan).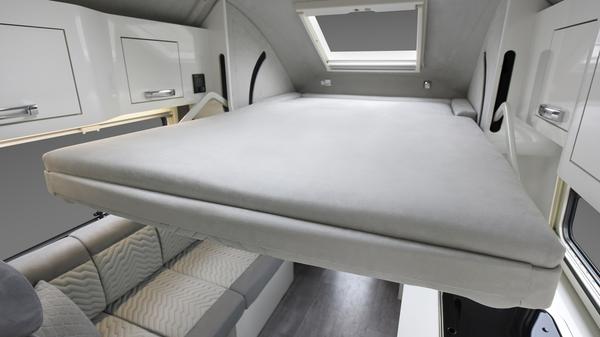 The choice of layouts with coachbuilt motorhomes is comparable to the multitude of choices in caravans, with end washrooms, fixed double beds, bunk beds and rear seating areas available.
Even motorhomes that may be a similar length to a campervan or panel van benefit from having more height and (usually) width to enable manufacturers to fit more in to the interior for added comfort and luxury. There's been a trend in downsizing recently, resulting in a growth in the number of more compact motorhomes under six metres in length. This has largely been made possible thanks to the introduction of drop-down beds over the front seating area. Although the majority of these are two-berths, you can sometimes make the front seating area into another bed, which could make some of them suitable for sleeping four (although it will be a bit cosy). Exterior storage is really useful on a motorhome. On larger motorhomes, you can get a rear 'garage' storage area, sometimes big enough for bikes. It might be a good idea to try one before you buy one, and the good news is that it is much easier to hire a motorhome than a caravan, so you can hit the open road in a campervan or a coachbuilt to see how you get on. Like caravans, motorhome layouts are usually based around the choice of location of the kitchen, washroom (if there is one), and beds or seating area. Whichever layout you decide you like, one final but very important consideration is how many travel seats you need. Even if you only occasionally take children or grandchildren, then they need seat belts. Every motorhome will have a driver and passenger seat with seat belts, but not all models and layouts have then in the rear. Let's take a look at some of the specifics which will influence your choice of motorhome layout.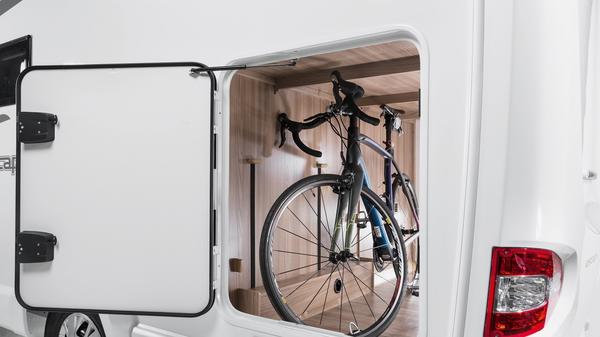 Beds
As we've already mentioned them, let's start with beds as motorhomes offer something not usually found in caravans – the drop-down bed – which lowers from the ceiling, either electrically or manually.
A drop-down bed solves the argument that a fixed bed (usually fitted at the rear of the motorhome) takes up a lot of living space. These are usually found above the seating area at the front of the motorhome, and occasionally over a rear seating area of bed. The definition of the term 'fixed bed' is a bed you don't have to convert from a seating area so will usually be in the rear of the motorhome, but in theory, some could define a drop-down bed as fixed as although it moves, once lowered, it is ready to use. Like caravans, fixed double or single beds are also popular in motorhomes, including panel van conversions. The fixed ones are usually across the back of the motorhome or in a rear corner with a side or end washroom. They may be accessed by steps if there is a large 'garage' storage area underneath them, and instead of a conventional double bed, may be two singles joined at the head end. The fixed bed could also be positioned to one side of the vehicle alongside a washroom, or across the motorhome with a washroom in the centre of the vehicle. Whatever the position, a fixed bed is a definitely a convenient and comfortable option.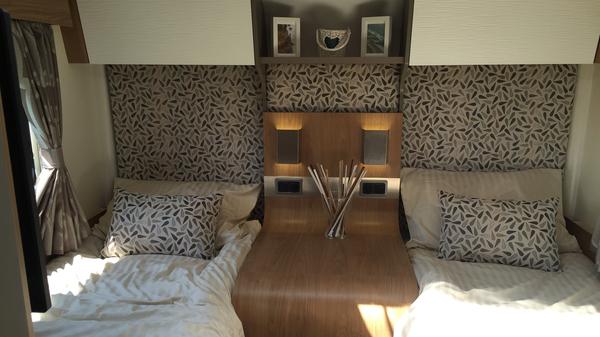 The layout with an end bedroom and washroom across the centre of the vehicle has recently transferred from motorhomes to caravans.
In campervans, beds are usually made by folding the rear bench seat (adjacent to the traditional side kitchen), or by creating twin single beds if the seating is configured as separate seats either side of the interior (with a rear kitchen). If it has an elevating roof, there is usually the option of a second bed up there. For families, there are models available with fixed bunk beds, while a more limited selection of motorhomes have overhead cabs providing an extra bed at the front. If it's a 'low-profile' motorhome, the family-friendly layout will probably have a front dinette that converts in to a bed and possibly a drop-down double bed over it.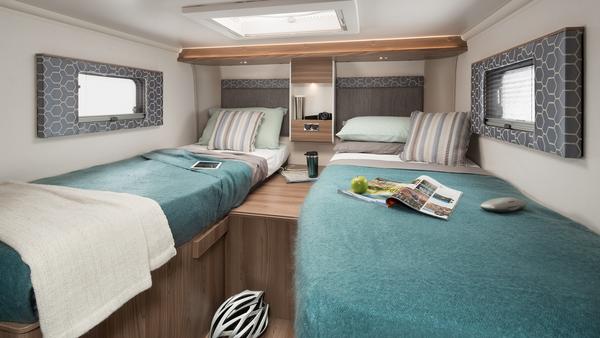 Lounges
A rear lounge in a coachbuilt motorhome seems to be a popular British layout and can be found in two-berths or family models. They say it's because we spend more time inside our motorhomes than owners who live in warmer climates, or maybe its people changing from a caravan that feel most comfortable with this arrangement. Once the rear seating area is converted in to a bed, it still leaves the cab seats available as a seating area.
The popular alternative is having a lounge at the front which combines with the driver and passenger seats which swivel to face the rear.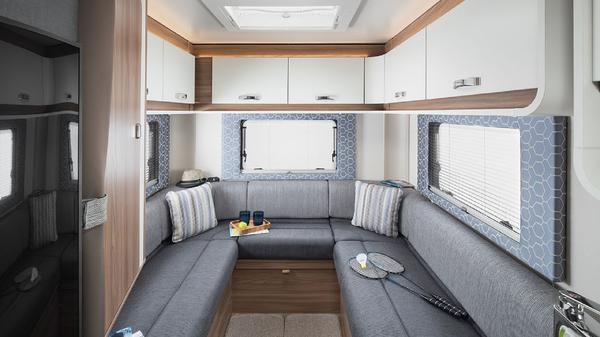 Kitchens
The majority of motorhomes seem to have the kitchen in the middle of the vehicle, as the rear is usually taken up with a bed or a washroom. There are a limited number of motorhomes and panel vans that have it at the rear with a rear, corner washroom.
Washrooms
Like caravans, end washrooms with separate showers are available in motorhomes, but this is possibly a less popular choice than in caravans. This is popular with a front lounge and drop-down bed over it.
It's more common to find washrooms in the centre of the motorhome, or across the centre of the motorhome, with a fixed bed at the rear. As mentioned, if the fixed bed is in the rear corner (a 'French bed'), then there will be a rear corner washroom with a shower. This will usually have a front seating area which will either be two long seats facing in to the vehicle, or one long seat and travel seat facing forwards with two seat belts.
Popular motorhome layouts
Fixed bed (also called island bed) motorhomes are popular with those looking for home comfort. These are most commonly found in larger motorhomes. Extra storage space can be found underneath fixed beds, but this normally increases the height and so makes it harder to sit up in bed.
Front lounge motorhomes offer more seating space, most of which is easy to turn into a sleeping area. When the beds are set up, however, access to the lounge and washrooms can be restricted.
Rear lounge motorhomes tend to offer large double beds and larger windows, which are great for letting light in. They can have less space elsewhere though, and therefore feel smaller. They sometimes only come with two seatbelts too.
More motorhome layouts
There's plenty of motorhome layout to choose from, including

Bunk-bed motorhomes – great for space, especially with kids.
Drop-down bed motorhomes – where a double bed drops down at the touch of a button
End kitchen motorhomes – which normally include a fully-fitted kitchen.
End washroom motorhomes – include built-in private washrooms, often with showers.
Fixed double bed and fixed single bed motorhomes – ideal for those who don't want to assemble a bed every night.
French bed motorhomes – a smaller-bed alternative to an island or fixed double.
Looking to buy a motorhome or campervan?