Expert Review
Swift Select review
Swift's seemingly humble three-berth Select could be the key to unlocking adventures anywhere thanks to easy driving and panel van practicality.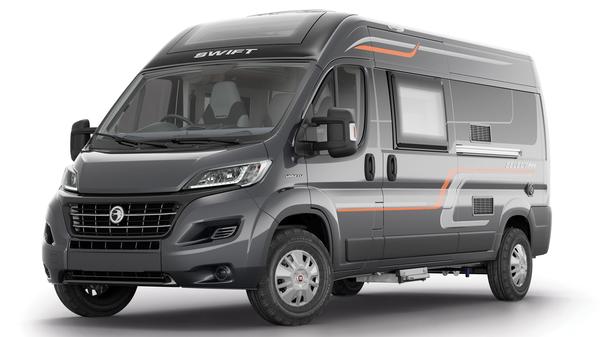 The Auto Trader expert verdict:
Evolved from the Autocruise offering, Swift's Select range offers a practical panel van conversion that features everything you need to find exciting adventures on the road.
Reasons to buy:
So many features for comfort and practicality.
Suitable for any driving license.
Fixed double bed offers luxury compact camping.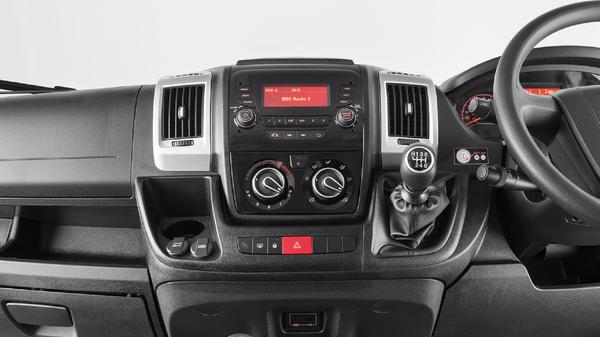 Drive
As someone that didn't have the B+E category on their license (I've since acquired it for caravan duties), I understand how important it is to find camping options that allow you to adventure regardless of when you passed your driving test. At 3,500Kg MTPLM, the
Fiat Ducato panel van
offers easy maneuverability and useability courtesy of its extra long wheel base, 2.3-litre engine and manual gearbox. If you really want to kick back on the road, you can upgrade to a nine-speed fully automatic transmission, while Swift's Eco Pack includes a start stop system and other energy saving options. The Lux Pack option (in conjunction with the Drivers Pack) offers DAB radio and Bluetooth, with reversing sensors to make pitching and parking that little bit easier.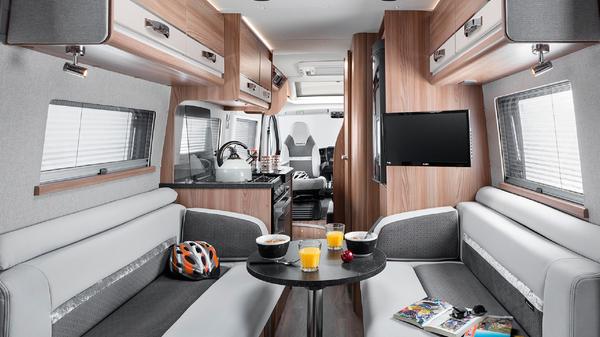 Design
Subtle tones, woodgrains and fancy fabrics make the Select a lovely place to be. Clean lines and clever graphic detailing on the exterior extend inside to evolve into a modern look combined with the practicality of scratch resistant flooring and stain resistant finishes. This is a vehicle that will take any activity and be ready to roll on to the next, all while impressing the neighbours. Comfort extends to more than just the visuals. Keep cosy with the Select's dual fuel blown air heating and Truma Combi 6 boiler, and don't forget the biggest tech benefit of recent years... Swift Command gives you the ultimate level of control at the tap of a touchscreen or smartphone app, whether it's power, temperature, humidity, vehicle location for security, battery level detail, radio control, alarm updates or weather warnings. Speaking of which, to shelter from lighter levels of rain or shine, Thule's pull-out awning comes fitted as standard, too.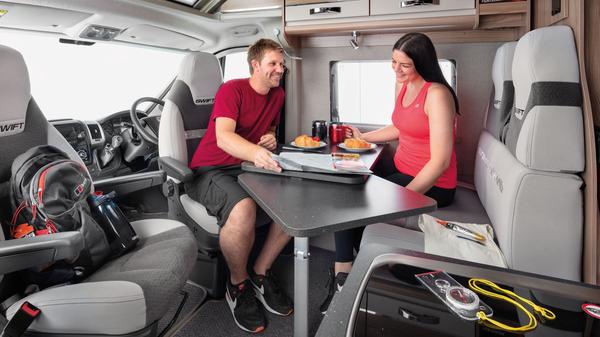 Living
Leaving the fixed bed model to one side for a second, the Select's living space is impressive thanks to the rear seating and feeling of two separate rooms. Either you can have your own space up front and in the back, or you can come together with friends on the twin settees to the rear that have a lot of space for laughs and a few drinks. Even in the
164 fixed bed model
, though, the separation of front and back by the washroom and kitchen space makes for enough of a distinction that you might even forget you're sharing a living space. The wet room shower and toilet leaves a little to be desired, but it has everything you'd need and expect to keep clean if you don't fancy using on-site facilities.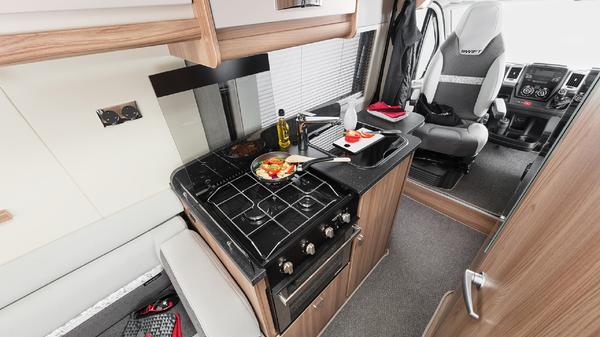 Dining
The kitchen features a Thetford oven and grill, with a three-burner gas hob (
Select 122
and
184
) or a Dometic two-burner hob
144
,
164
and
174
) with a Smev mini grill. The main positive point here is that both set-ups have enough space to maneuver pots and pans around without anything getting stuck in a corner. Aside from the double bed
164 model
, there's a main extending table at the front and a second to the rear. Not only does this give plenty of dining space, but it's a great addition to offer separate living space if one of you wants to rest or you just need to avoid cabin fever. The front dinette also converts into optional sleeping arrangements.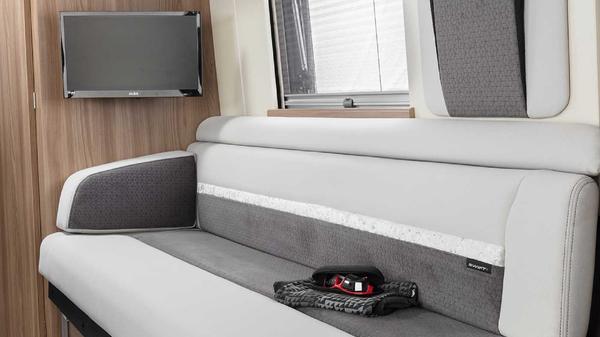 Sleeping
The
Select 164
has a double bed at the back for a little luxury and easy snoozing whenever you need it, while the front offside single is set up to bed status from the seating area. Alternatively, the
144
and
174
offer a transverse sleeping arrangement made up from the living area at the rear. While I appreciate that space is often a compromise and the wash room's obviously got to go somewhere, at 6ft 1in even the fixed double bed may prove to be a little cramped for the taller campers out there. No points lost though as the fixed option is a level of luxury that anyone would love to have after a long day's hike.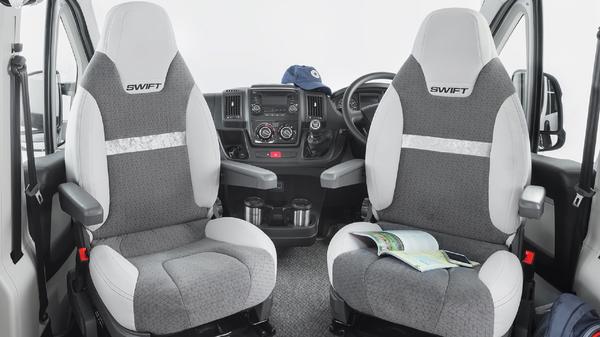 Value for money
The word "value" is key here. Starting at £49,015 OTR for the three-berth models, the Select is no thoughtless spending spree vehicle. However, for what you get and how you can use it, there's a lot here that makes your outlay last a lot longer from a motorhome that gives a lot back.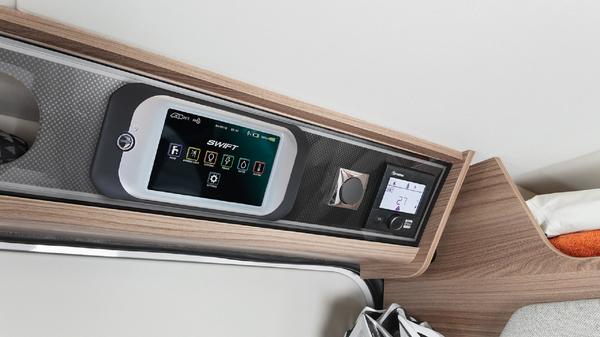 Why buy?
The Swift Select genuinely makes you want to get out there, exploring the countryside to satisfy newfound wanderlust or that itch to tour that you get every Bank Holiday. It's useable right from the get go and you can imagine yourself in it. Although it is a shame that some of the pack options aren't fitted as standard for a more impressive level of luxury straight from the factory.