Feature
More than a Volkswagen Campervan
In 'more than a', we look at ordinary vehicles that have been converted into something extraordinary. Here we catch up with the charity 'Forever Manchester' on how they're using a Volkswagen Campervan to drive their community outreach.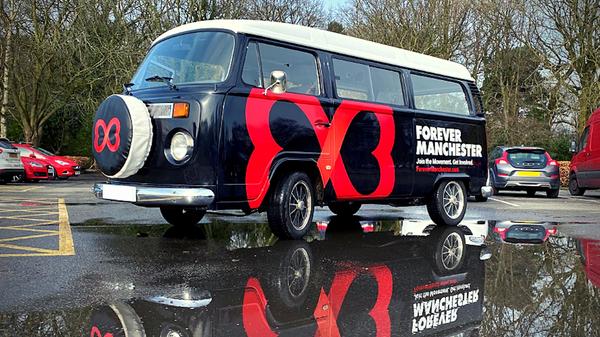 Words by: Fianna Hornby
Published on 1 June 2020 | 0 min read
When
Forever Manchester
started to think about how to make it easier for them to access the communities they serve, they decided to start their search on Auto Trader Motorhomes for an innovative way to get there.
Forever Manchester
identifies, connect and showcase community groups, organisations and physical spaces that exist in Greater Manchester. They start by discovering what interests and passions people have, then work closely with residents to turn their great ideas into reality. This, in turn, helps to make a real difference to the lives of others in their local communities. Nick Massey, CEO at
Forever Manchester
said "We are always looking at ways to reach more people and expand our support. When we shared the idea of using a Camper Van as a quirky mobile meeting space, Auto Trader stepped-in to help."
Forever Manchester
chose to buy a Volkswagen Camper, which they then refurbished into a mobile community meeting space. The custom-fitted Camper, which can seat up to six people and has tea and coffee facilities, will allow the Forever Manchester team to chat with small groups of local people over a brew and a biscuit without having to worry about the region's unpredictable weather. The Camper will also be used at community get-togethers and fundraising events, as well as helping to raise awareness of Forever Manchester across the whole of Greater Manchester.
Want to know more about Forever Manchester?
Visit their website
here.
Want to find a campervan?
Have have a look on Auto Trader
now.