Feature
More than a Ford Transit
In 'more than a', we look at ordinary vehicles that have been converted into something extraordinary. Here we catch up with Liam Allen from SSL Conversions, a camper conversion company based on the edge of the New Forest to see what they did with a Ford Transit..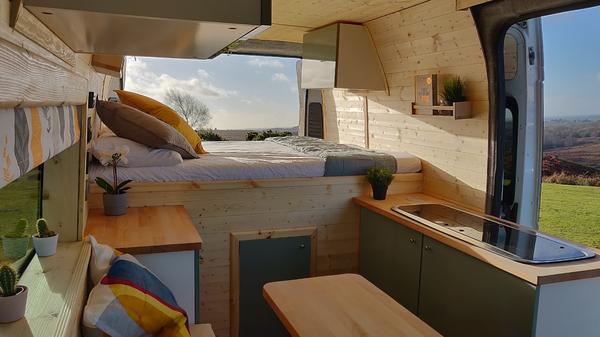 What did you do before you started to do van conversions?
Before I started to do van conversions I had several businesses in the automotive sector, I'd done lots of things including selling motorhomes, damp repairs, energy fitting, etc.
What made you get into van conversions?
I'd been involved in campers for the past 20 years as I had my own coachbuilt motorhome, which I toured Europe in. I loved the freedom that living in a van gave me and the connection with the great outdoors.
One day I realised my past experience, everything came together and it made sense to concentrate on van conversions, as this allowed me to do something I love and make other people's conversion dreams a reality. So we started
SSL Conversions
, where we now provide a 1 on 1 service to all our customers, creating high quality, unique conversions to suit anyone's budget.
What did your customer want their Ford Transit van converting for?
People want us to customise their vans for lots of different reasons. We get clusters of customers who are from Australia and New Zealand, who want to come over and live full time in Europe, whilst travelling.
We have other people who are looking for investment opportunities, the travel industry has changed so much over the last few years. People come to us to have their vans converted so they can list them on Airbnb, rather than having a traditional bricks and mortar bed and breakfast. We also get approached by a lot of business owners, who want a unique way to showcase their business on the road, using our conversions. This particular Ford Transit was bought by a couple. They wanted a way to spend more time together outside of the day to day life. They'll be able to use this to get away for a weekend, go to festivals and, an added bonus they'll be able to take their dog away with them too now!
Why a Ford Transit?
We tend to focus on converting these, Fiat Ducatos, Citroen Relays and Peugoet Boxers as these vans have very reliable engines and they do not rust.
They are the perfect height and width to put a good length bed, width ways across the vehicle (minimum 180cm up to 191cm). This allows us to free up space for a living area, without having a very long van.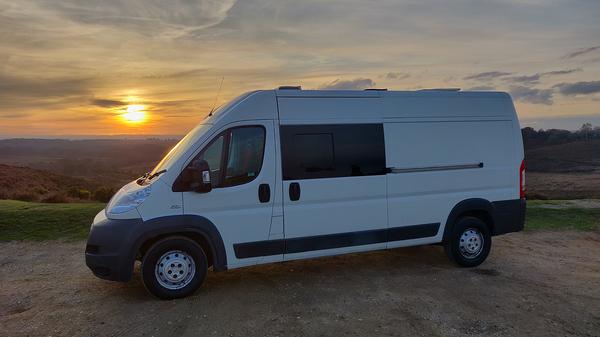 What did this Ford Transit do in a former life?
I source all our vehicles myself, this one came from a plumber. I try to find ex plumbing or electricians vans as they have generally had an easy life with little weight in them.
How do you go about the design process of converting a van into a campervan?
All our van conversions follow a similar design process which I started (literally) from the bottom up.
Some customers come to us with a firm idea of what they want, others come to us for our input. It is really important to us that our customers are informed in the design process and feel like they are part of building their dream van. We start every project by finding out how they intend to use their van and what they need it to do for them. We then offer some ideas, other things they maybe haven't thought of yet or things which are missing that they may need. We have a basic blueprint which we start with, sticking to this helps customers who have a limited budget, as it keeps costs down. Being in the industry for many years, I knew lots of campers suffer from damp. I wanted to make sure ours avoided this problem so I used my industry experience to find the best insulation and soundproofing for vans. The layout we work from just fell into place once I'd decided to have the bed running widthways. Our customers can choose the colour of their cupboards, handles, cushions, blinds, curtains and their flooring, at no extra charge. If a customer has a larger budget, we can design the van as they like. We've done all sorts like bike sliders, pull out beds, hammocks, wall mounted ipads, secret storage compartments and even bunk beds.
What inspired the design of this Ford Transit van conversion?
The wood interiors were inspired by the forests I've stayed overnight in while touring Europe. The smell of the trees and wood helps you feel calm, this inspired the interior look and feel we go for on our designs.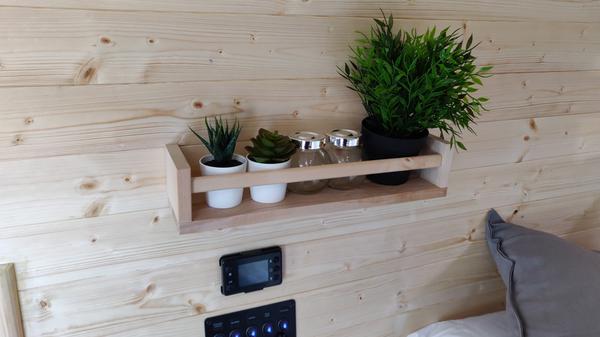 What is the most difficult part of a van conversion?
This most difficult part of a van conversion is certainly cleaning it up at the end - it's a very complicated process under the surface and we have to make sure all our vans leave our workshop 100% clean when they're complete!
What is your favourite thing about doing van conversions?
My favourite part of any van conversion is when the owners come to collect it. We get to see how happy the customer is with their new van, sometimes we even get tears (of happiness of course!)
Want to know more about SSL Conversions?
Want to find a campervan?
Want to find a van to convert?
Have a look on Auto Trader Vans
here.