Expert Review
Mercedes-Benz Polo review
There's no denying that this is a posh campervan but is it worth the cash – or are you paying for the badge?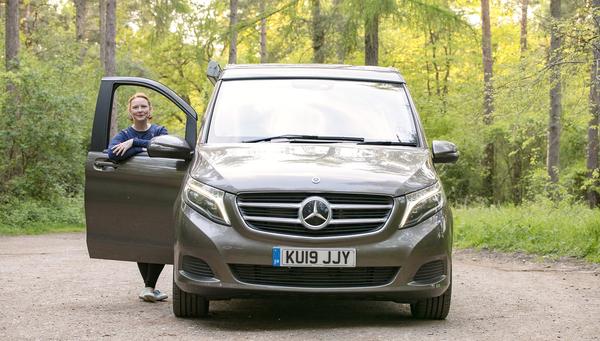 The Auto Trader expert verdict:
I was nervous about getting the keys for this vehicle – with a top spec, this particular model is worth close to £70K. I'd tested the VW California just a couple of weeks before which is similarly priced but there was something about having a Mercedes parked outside my house that made me feel like a bit of a fraudster. My neighbours don't really know what I do but if I'm seen in such fancy wheels, they might ask to borrow a fiver. When I was sure no one was looking out of the window, I slid outside to give it a proper look, opened some doors, closed some doors, sat on the front seat, sat on the back seat, that kind of thing. My initial impression was 'how do you turn this thing on?'. In an auto, I'd normally expect the controls to be in between the two front seats but these were on the right hand side of the steering wheel. You press the button in to put it in 'park' mode and flick it up and down to 'drive' and 'reverse.' I'm heavy handed and it took me a while to get the hang of it. Maybe I'm lacking dexterity but felt like I was playing a fruit machine. I'd planned a weekend in Devon staying at Leonards Cove and knew that would give me a fair bit of time to give it a thorough testing. With a six hour journey ahead of me, I took about ten minutes' to work out the Sat Nav and was on my way.
Reasons to buy:
Loads of storage
Comfortable to both drive and sleep in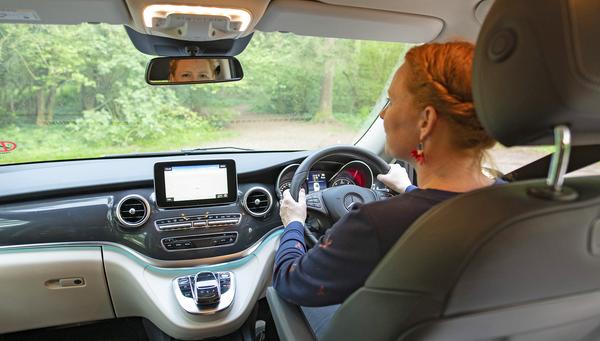 Mercedes-Benz Polo review
Drive
It won't come as a surprise that driving this van is a plush experience. Who goes to Devon on a bank holiday for just two nights? Me. Spending six hours in traffic is pretty rubbish but it would have been a lot worse if I'd not been behind this wheel on a comfy leather seat. The seats are soft leather and there's plenty of emphasis on safety with warnings appearing on the dash if someone is getting too close or you're chancing it by pulling out into the fast lane. Mercedes call it Collision Prevention Assist, I call it backseat driver but in the nicest possible way. I know a lot of newer vehicles will alert you if you've been driving too long without a break but it's still a novelty to me. Do I need any incentive to stop for a cup of Yorkshire Tea and an M&S iced spiced bun? No, but it was nice to feel like someone was looking out for me. I could bore you with how fast it goes but you need to remember that you're buying a campervan here and not a sports car. Safe to say, you could easily get yourself in a spot of bother if you're not paying attention to the speedometer. That's the occupational hazard of an auto, it's demands less decision-making of you as a driver.
Expert rating: 4/5
Design
This is a good-looking van with plenty of three-pronged stars to remind you that you've got yourself a Mercedes. Lucky you! What you might not know fact-fans, is that these three prongs represent land, sea and air and it's been the logo for Mercedes since 1909. Back on the ground though, the exterior of the Marco Polo is fluid, more curved than the more boxy California. The bodyshell is so smooth it's almost liquid. The mirrors let it down a little, they feel far more flimsy than I'd expect with a van of this calibre. Inside the van, there's a lot of leather and you've got yacht wood flooring which you might not find in similar sized campervans. Lighting has been given a lot of thought too, it's 'ambient' and can be adjusted via the central console which I need to talk to you about next. Gadgets are plentiful in this van – for me, it's too much but if you're really into your tech, you'll love it. The central console known as COMMAND is controlled via a mouse-like object. Is it superfluous? I'd rather it be a simple touch screen. From this central console, you can set your Sat Nav, connect your phone and find out loads of stuff about the van.
Expert rating: 3/5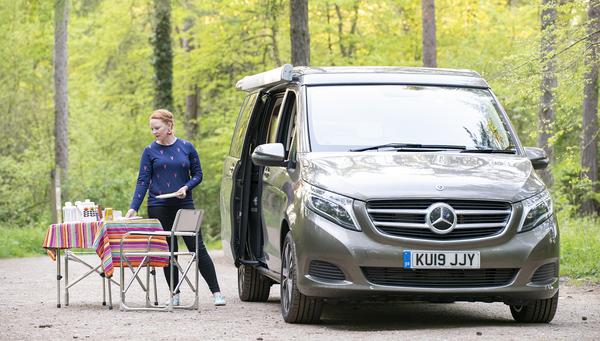 Mercedes-Benz Polo review
Living
For dining outside, make use of the table and chairs which are stowed away neatly in the back. Everything here has its place and discovering where it all is is part of the fun. The two front seats swivel around to face inside the van so if there's four of you in the van, you've all got somewhere to sit. The awning is easy to erect if you want to eat al fresco and once again, the vast amount of storage means you can keep all your gear tucked away rather than sitting on top of pots and pans and other camping kit.
Expert rating: 3/5
Dining
It's a cute kitchenette and likely more generous than some inner-city studio flats – there's a fridge and two burners for cooking up a simple supper and a small amount of room to prepare your meals. If you're dining inside, slide out the small table which lives inside the kitchen unit. While I was away, I used the hob for making scrambled egg (local and free range, naturally) and used to socket to plug my kettle into. I wouldn't be making a three course meal in it but if you're buying this van, chances are, you like the finer things in life such as eating out in nice restaurants and not doing your own washing up.
Expert rating: 3/5
Sleeping
I slept in the roof bed which had the comfiest mattress I've ever experienced in a motorhome. On the first evening, I slept really well but I'd been to a music festival and had some local cider so I couldn't be sure if it was anything to do that. On evening number two, however, I had not had any local cider and had another great night's sleep. The controls for raising the roof (and other things including heating) are not immediately apparent but are located below the central COMMAND console. It's not that intuitive as far as kit goes and is a little bit basic, but it does the job well enough – you just need to keep your finger on the button until the roof is fully up. If you don't like sleeping in the roof and it can be a little noisier up there, then opt to do your dreaming downstairs. The two-seater sofa turns into a double bed and when not in use, store your bedding in the large luggage compartment.
Expert rating: 4/5
Value for money
A brand new Marco Polo starts at around £57K so it's not something you're going to rush into buying. Opt for one that's a couple of years old and you can expect to pay around £45K but sometimes much more. These vehicles are desirable and hold their value well but the question you need to ask is how much you will use it. If you're planning on using it often for quick getaways then it probably is worth paying the hefty price tag.
Expert rating: 2/5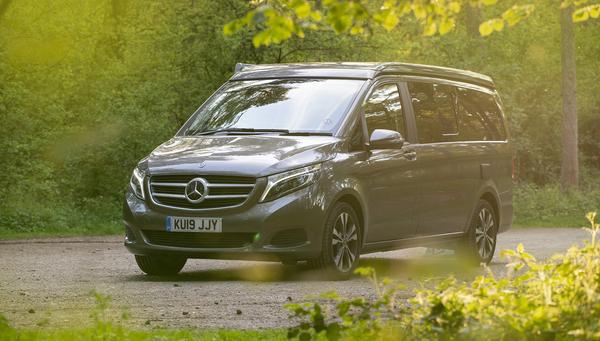 Mercedes-Benz Polo review
Why buy?
You're more of a glamper than a camper and want something that's fun to drive but grown up, too. Photography by Kingsley Singleton. Thanks to Leonards Cove Holiday Park.
Expert rating: 3/5