Guide
Mastering a motorhome
Motorhomes and campervans come in all shapes and sizes, from compact to enormous. If you've never driven anything bigger than a family hatchback before, it's perfectly understandable to be curious, or maybe apprehensive, about what driving something that's also your holiday home from home is going to be like.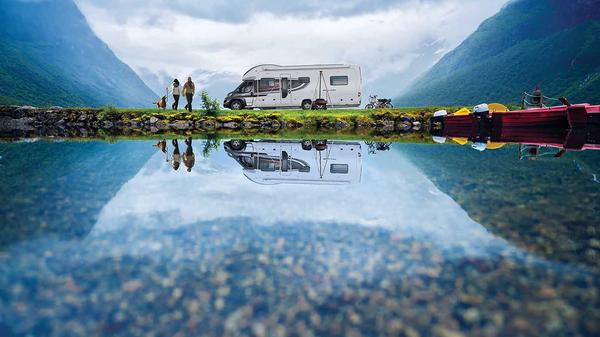 Motorhome and campervan design
Apart from A-Class motorhomes, every campervan and motorhome shares a body, or at the very least a cab, with a commercial vehicle (van) derivative. This means they're designed to be comfortable and easy to drive for, potentially, many hours a day. Even A-Class motorhomes will have the same underpinnings with a motorhome body designed over them.
When you sit in your first campervan or motorhome, the first thing you're likely to notice is that you're likely to be sitting in a higher driving position, but you might feel more at home than you expect. That's because, vans are being designed to look and feel more and more like car models in the range; jump from a Volkswagen Golf to a Transporter van or California campervan, or a Mercedes A-Class to a Vito or Marco Polo campervan, and you'll see the many of the same dials, controls and infotainment available. It's similar for any Citroen, Fiat, Peugeot, Toyota-based camper you try. Most vans have passenger-carrying variants developed at the same time, rather than as an afterthought of the converting a van to be a people carrier. This means they utilise (or have available) the same safety technology and features as car models from the same brand; however, the specification of a campervan or motorhome will depend on what the converter has ordered, or offers as options.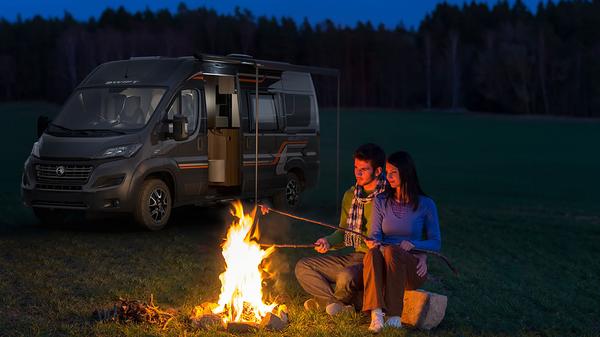 Differences to driving a car
Most van manufacturers describe their models as 'car-like' to drive. They're certainly easy to drive, and more like a car than they used to be, but you're going to notice some key differences in handling and levels of road noise.
Additional road noise is unavoidable compared to a car. Packing carefully and wrapping things in tea towels can help reduce the amount of rattles and squeaks while you're on the move, but the sheer volume of internal space, and poorer sound insulation from the engine, etc., is noticeable on most makes. Just go slower, or turn the radio up! Remember that you are driving a bigger, heavier vehicle, not a hot hatchback, with poorer handling and rear and over-the-shoulder vision, so drive with extra care and attention. Try to avoid breaking heavily and anticipate the road conditions ahead, and be ready for a bit of buffeting if it's a windy day or if overtaking a high-sided bus or coach. You just have to get in to the holiday vibe and drive less aggressively!
Motorhome and campervan sizes
There are a few 'micro' campervan conversions of smaller vans, such as the Citroen Berlingo or Volkswagen Caddy, which genuinely are like a car in size and driving position, but the most popular campervans are based on vans like the Volkswagen Transporter and the Ford Transit Custom are bigger. These are about five metres long, so similar to the size of a large estate car or 4x4.
You sit higher than in a car, which gives you a better view of the road ahead. The driving position will probably feel a bit more upright, but you do get used to it. This might be bigger than you're used to, but it's not as intimidating as it sounds, as it should still fit in a standard car parking space. They have large mirrors and usually have good rear vision to make like easier. Parking sensors will come in useful though! Look out for height barriers at car parks, etc., but most campervans (with elevating roof) are under two metres to try to avoid this being too much of an issue. Van conversions have fixed high roofs, so definitely won't fit under height barriers. They are also longer, from just over five metres up to six metres, and some go slightly beyond that. Visibility on-the-road won't be as good as a campervan, but most still have rear windows so you can see what's happening behind you. That's less likely to be the case when driving a coachbuilt motorhome, unless it has a rear lounge with a large rear window. Most don't have a rear window at all, which will feel a bit disconcerting when you drive one for the first time, but if it worries you that much, you can get rear view cameras. Motorhomes usually still have a rear view mirror though, so you can check the interior, or any passengers, while travelling; or maybe it's just somewhere to dangle an air freshener or hang one of those ferry reservation labels. You will feel more confident driving a coachbuilt motorhome if you know its width and height. Some are virtually the same width as the cab, but others are (noticeably) wider to create more living space inside. Make a note of the height of the motorhome and stick it somewhere obvious so you never have a mishap at low bridge or height restriction. Don't laugh, it can be surprisingly easy to forget you're driving a motorhome! If you're a novice, or just want to make your driving even easier, it's probably easier to go for a motorhome the same width as the cab it's based on; that way, you know that if the cab goes through a gap, the rest of the motorhome will safely follow, so you might have less damage to repair. Longer motorhomes often have the same wheelbase as smaller models, but will have more overhang behind the rear axle, so watch out for grounding on steep drives or ramps, etc. They will also need more space if you need to turn round, or when manoeuvring on site, especially if they have a longer wheelbase.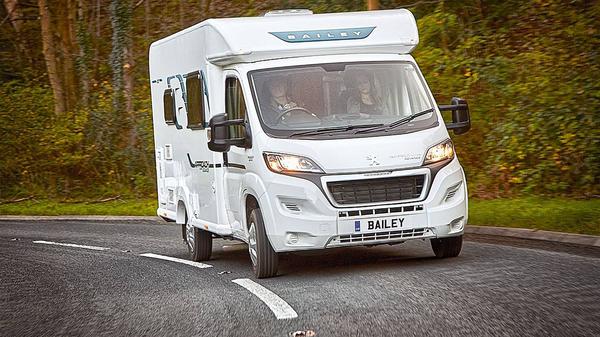 A helping hand
Don't worry. Help is at hand. You don't have to drive off in to the sunset as a complete novice and nervous wreck. There are ways to try a motorhome before you take the plunge.
Look out for free motorhome manoeuvring sessions usually offered at the bigger exhibitions at Manchester or Birmingham's NEC. Check their websites for details. You will need to take your driving licence, and check if there is the option to book in advance. Another suggestion is just hiring a van locally. Better to spend £40 on hiring one for a day rather than £40,000 on a motorhome! Even better, both the Camping and Caravanning Club and the Caravan and Motorhome Club offer motorhome courses to give you more confidence in a safe environment, with the help of an experienced instructor.
No regrets
If you're still a bit dubious about driving your mobile home, remember that sales of campervans and motorhomes are still growing steadily each year, so clearly people are finding them easy to master on the road.
If, after driving a van or motorhome, you don't like it, or your confidence isn't improving, then there are two options: buy a smaller, compact motorhome, or buy a car and caravan instead. That way, you'll still have a car to drive, and a towing lesson will show you that towing is easier than you think.