Expert Review
Lunar Cassini EL review
Prepare for cosiness on any campsite, courtesy of Lunar's compact Cassini.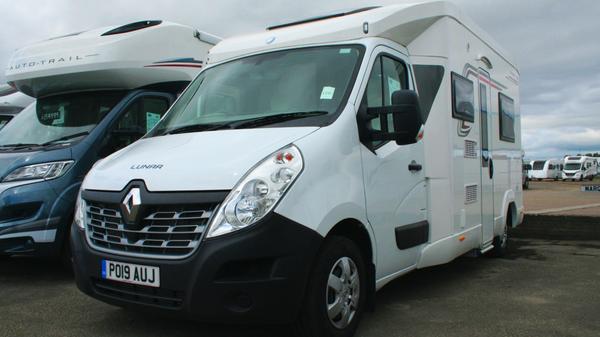 The Auto Trader expert verdict:
The Cassini's somehow incredibly spacious in spite of its diminutive proportions. For motorhomers who know exactly what they're after on holiday, the low profile Lunar cuts anything but a low profile in practicality for a couple. The motorhome for sale in this review was provided by Marquis South Yorkshire.
Reasons to buy:
Compact convenience that's perfect for two.
Great space for lounging and sleeping.
Driver's pack offers improved comfort on the road.
Drive
Built on the Renault Master 2.3 dci (130ps), power assisted steering and an MTPLM of 3500kg means this maneuverable motorhome provides a stress-free experience on the road. What's more is that it also comes fitted with the optional driver's pack, including cab air con, cruise control and speed limiter setting. Sorted.
Expert rating: 5/5
Design
Swivel seats in the spacious cabin are a highlight in an otherwise standard configuration up front, but it's the large panoramic sunroof from the cab backwards that really makes the difference in atmosphere. Three large windows around the seating area and a total of three rooflights throughout make for good natural light wherever you are in the motorhome, while frosted glass on the driver's side of the living space offers privacy when it's needed, without the light sacrifice.
Expert rating: 4/5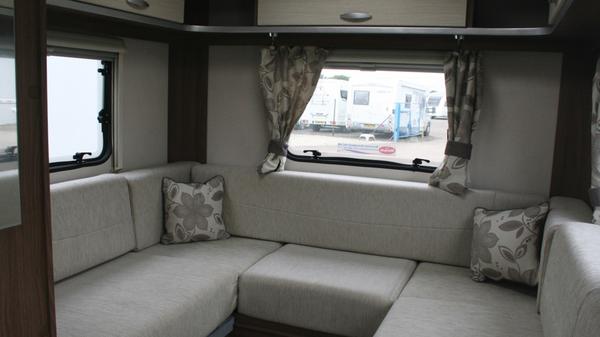 Living
The U-shaped living area at rear offers up plenty of space for lounging, but it also means that you can entertain with ample room for others for a two-berth, or just move around to get different views from the many windows throughout. There's also plenty of overhead locker storage space here. What's more, the three ample-sized sofas mean that you're never faced with the options of either having a face full of sun or sitting in the shadows, too. A wardrobe towards the front of the vehicle plays host to a handy hanging rail and houses the Cassini's pop-up dining table. When it comes to getting clean, I'm not a huge fan of wet room combo washing facilities, but the toilet and shower has everything you could need, with a folding shower door to protect the panelling.
Expert rating: 4/5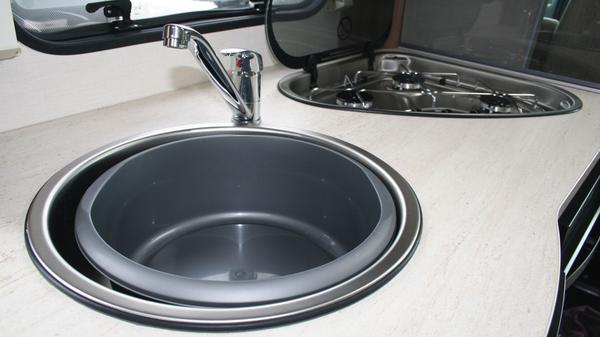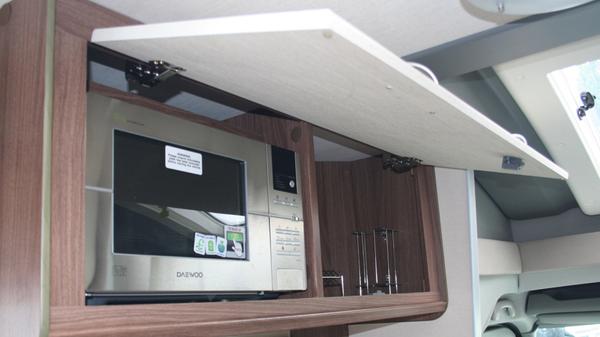 Dining
Whether it's milk for the tea of your favourite evening tipple, you won't be short of chill space with the Cassini's 120-litre fridge/freezer. The Thetford three-burner hob can be a little cramped for some pans, but an additional duplex oven, and a microwave in a top cupboard collectively give you plenty of options when it comes to a full meal. A stainless steel sink with domestic-style tap completes the attractive worktop kitchen space, surrounded by adequate storage for all your holiday eating essentials.
Expert rating: 3/5
Sleeping
The lounge space makes for a large pull-out bed. While access could be a challenge for some due to the need to make up and put away the bed every day, once it's made then this sleeping space is huge for the size of the motorhome. Of course, you've also got the option for singles if it's your preference.
Expert rating: 4/5
Value for money
At £39,995 it's still a considerable cost, but you're getting a nearly new two-berth motorhome with the additional driver's pack, and someone else has taken the initial depreciation hit. There's not really a lot that could go wrong for you if the layout works for your needs.
Expert rating: 4/5
Why buy?
Small but almost perfectly formed. If you're looking at this for anyone other than a couple, it's cramped. But that's not what the Cassini is for. As a two-berth motorhome it has with plenty of lightness in visibility, maneuverability and overall feel. This is hard to ignore as a holiday option. Enjoy the lounging! To discover all of our Lunar Cassini EL motorohomes for sale click here. Browse all our new motorhomes here.
Expert rating: 4/5