Feature
Lights, camper, action: The Camping Cinema.
This is how you can create the ultimate cinema experience in a motorhome, caravan or camper.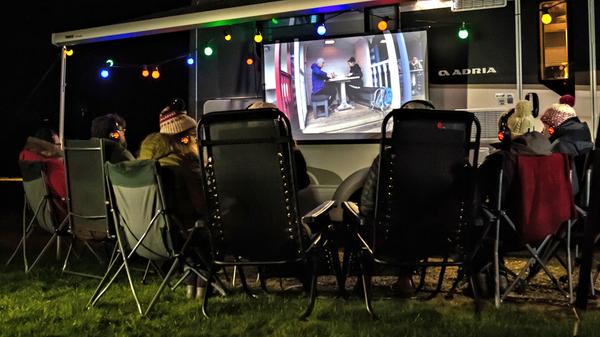 Words: Ben Hackney-Williams
A good film on a motorhome, caravan or camping holiday is right up there with the perfect glass of wine, friendly neighbours and good weather. But there's more to cinema success on-site than propping your smartphone up and straining to see the screen.
This is how you do it properly. Get your popcorn and kick back as we speak with Andy and Claire, creators of Camping Cinema, a perfect entertainment solution for movies on the move.
How did you come up with the idea?
In the summer of 2018, we went camping and had one of those "lightbulb" moments. I decided just as we were about to leave home to pack the work's projector, an old pull-up projection screen, some headphones, a few DVDs, and a laptop computer.
One evening we popped up the large screen, put our headphones so as not to disturb our neighbours, chose a DVD to play via the laptop and sat down with a glass of wine to watch our chosen film. We loved it! It was truly a brilliant way to chill out in the evening. We received some fantastic feedback from fellow campers walking past who thought it was a great idea and, sitting there chatting afterwards, Camping Cinema was born. In fact, we were so excited we spent the second week of our holiday on the campsite researching to find that there was no one providing portable cinema experiences – an off the shelf on-the-go experience. So we registered our new business – Camping Cinema. We felt the trailing cables everywhere had to go, and the package needed to be self-contained. Six months later, lots of hard work and late nights and it was ready to launch at the largest camping exhibition in the UK, the Caravan, Camping and Motorhome Show 2019, at the NEC in Birmingham.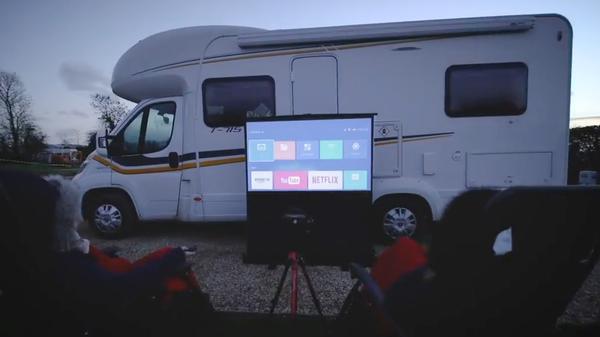 Tell us about the set-up in a campervan cinema.
We make various portable projection kits for motorhomes, caravans, camping and relaxing the garden, but one of our kits is an after-market kit for VW campervans, which can also be used in other manufacturer based conversions, too.
We call it the "VW pop-top kit" – it consists of two removable boards made from the same light weight material as the interior furniture is made from. A screen board holds the pull-up screen; this board is placed at the front of the roof opening and sits on the ledge that runs around the pop-top roof. The projector board is placed behind the viewers, also on the roof ledge. This board supports the projector. The preferred projector we use for this system is the ViewSonic M1+. This is an amazing piece of equipment that gives a brilliant picture along with stunning sound from it's two Harman Kardon speakers. All the components of this system are removable for transit, and are stored safely in a padded storage bag, which is supplied as part of the kit.
Can it be used day and night?
The system can be used in the day time too, just depends on the vehicle blinds in use.

What's the tech spec of the equipment used?
Projection System: 0.2" WVGA
Native Resolution: 854x480 Brightness (LED Lumens): 300 LED Lumens Contrast Ratio: 120000:1 Display Colour: 1.07 Billion Colours Light Source Type: LED Light Source Life (Normal): up to 30000 Lamp Watt: RGB LED Lens: F=1.7, f=5.5mm Projection Offset: 100%+/-5% Throw Ratio: 1.2 Optical Zoom: Fixed Image Size: 24"-100" Speaker: 3W Cube x2 Harmon Kardon HDMI: 1 (HDMI 1.4/ HDCP 1.4) SD Card: Micro SD (32GB, SDHC) USB Type C: 1 (5V/ 2A) USB Type A: 1 (USB2.0 Reader, share with power) Wifi Input: 1 (5Gn) Bluetooth Input: 1 After scouring the projector market and trying many projectors from well-known manufacturers, we narrowed our selection down to just two. However, we are continuously reviewing projector development. Our main criteria were: 1. Ease of use 2. Projection time 3. Brightness of the projection lamp 4. Picture quality 5. Connection versatility 6. Build quality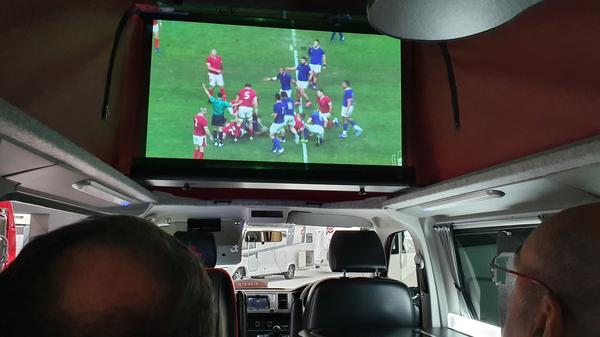 How is the Camping Cinema powered?
The projector has its own internal battery and can last up to six hours, dependent on brightness and volume). I find that it generally lasts for approx. 3.5 hours on standard setting, which is long enough to watch your average film.
The projector can work running off the electric hook-up as well, via its charger. Many manufacturers only allow the projector to operate from it's internal battery, and not while charging. Lastly, there's the option of a special power adapter to run the projector from 12VDC for some truly off-grid viewing!
What kind of feedback have you had from people on-site?
People absolutely love the kit. We have had such great feedback form our customers, and we intend to maintain this by providing total support of our customers in any problems or questions they have.
We tell them to ring us with their queries, questions and suggestions, and we mean it! I have even visited one of our customers at his home to help with initial setting up of one of our kits. I like to offer as much advice as possible so there's no chance of a holidaymaker missing out. For example, I tell our customers who have bought this package to use it outside of their vehicles, too. This projector is capable of producing an image greater than 100 inches diagonal. With a larger projection screen and our wireless headphone system, it does make a great evening for friends and family.
What's your favourite film?
Claire's favourite film is A Star is Born, starring Lady Gaga and Bradley Cooper. Mine is Oblivion, starring Tom Cruise.