Advice
Is a campervan or motorhome best for you?
Campervans and motorhomes instantly conjure up visions of road trips, surfing and freedom. It's a cool image that's hard to beat, right? But what's the difference between a campervan and a motorhome, and which is best?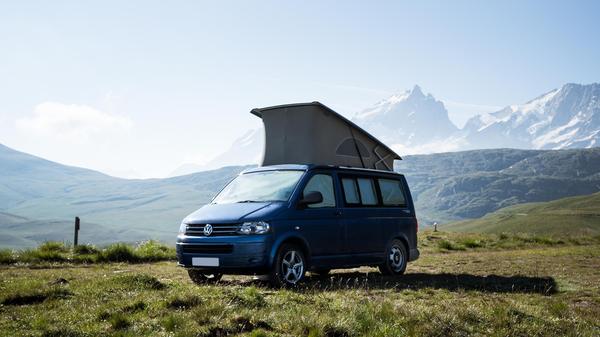 Essentially, campervans and motorhomes fulfil the same purpose of providing a 'home is where you park it' place to stay, eat and sleep; but there's a huge spectrum of different types, so it is worth considering some important differences between them.
Ultimately, your choice of campervan or motorhome will depend on how you're going to use it and how often, how many people it needs to accommodate and where you're going to go. Let's look at some different types of campervans and motorhomes.
Campervans
The classic definition and iconic image of a campervan image and would a van with a pop-up roof, and probably a Volkswagen, right? Well, it's not quite as simple as that. Today's definition of a campervan has become more varied as there are so many different types of conversions and some that have high, fixed roofs are still called campervans.
Most people would think of a campervan as being smaller than a motorhome. A pop-up roof probably means it will fit under most car park height barriers (usually around 2m), be about 5m long so they fit in a regular car park space, and therefore be compact enough to be used as everyday car for commuting to work or going to Sainsbury's. Living and storage space inside a campervan will be more limited than most motorhomes. You probably want to be spending time outside and just using the campervan for sleeping in and a spot of cooking. You can get a 'drive-away' freestanding awning to attach to the campervan to create more living space, or somewhere to leave bikes and outside paraphernalia.
Do campervans have washroom?
Another way of classifying a campervan is whether it's got its own washroom, or not. Traditionally, it wouldn't have one as the most popular campervan layout is a side kitchen/wardrobe unit and a rear seat that folds to make a double bed – so there's no room for a washroom; people 'make do' with using a portable toilet for emergency night-time visits, either inside the vehicle somewhere, or in a dedicated toilet-tent outside (but you don't see many of those these days). Choosing somewhere to camp that has facilities might be essential.
However, some campervan converters offer alternative layouts with toilets and a high roof. A popular alternative layout, with a pop-up roof or sometimes a high-top roof, is one with two single seats behind the cab (that convert to two single beds or a large double) creating a central space to walk through to a kitchen at the rear; here, there might be a cupboard with the popular cassette-type of toilet installed; or, if it's a conversion of a long wheelbase version, there can be room for a shower or proper washroom, but they'll have a high roof instead of a pop-up one.
Is it a Volkswagen?
The iconic image of a campervan is always aVolkswagen. The Volkswagen Transporter has been by far the most popular and longest-running campervan base vehicle, so they hold their value well on the used market. That means your budget will usually go further looking at a conversion on a different base vehicle, such as the Ford Transit Custom, Renault Traffic, Mercedes Vito or Hyundai i800, and more recently, the new Toyota Proace (and its Citroen/Peugeot cousins).
Most vans from almost every manufacturer have been converted to campervans at some stage. Smaller variations, possibly for a maximum of one or two people, include the Volkswagen Caddy, Nissan NV200, Fiat Doblo, Citroen Berlingo or Nemo, and the Renault Kangoo. Just to add confusion, these have been referred to as micro-motorhomes instead of campervans!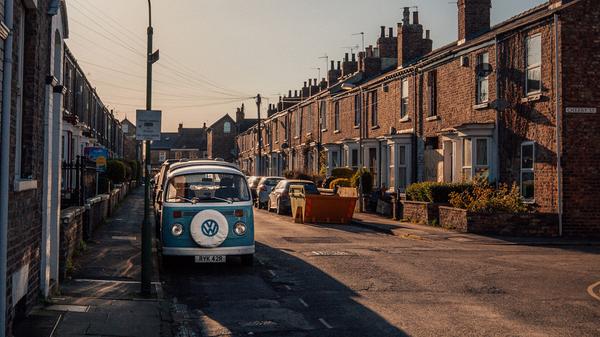 Is it a van?
There's been an explosion in the number of campervan and motorhome manufacturers producing van conversions. The vast majority are based on a Fiat Ducato, or sometimes the equivalent Citroen Relay or Peugeot Boxer, with short, medium and long wheelbases. The new Volkswagen Crafter is also proving popular, and the Mercedes Sprinter is also used.
The advantage these all have over a pop-top campervan is having enough space (and height) to have a washroom, usually with shower, yet are still easy to drive and usually less bulky as a traditional motorhome. Their advantage is that as they're a one-piece body, the risk of water leaks is avoided, and any accident damage could be easier to repair than a coachbuilt motorhome; however, their smaller dimensions (and body shape) will provide less space and storage, and they may not has as much insulation as a motorhome. Van conversion will usually be on a longer wheelbase (up to 6.5m) than a pop-top campervan and definitely won't fit under car park height barriers, as they will all have high roofs. There is at least one manufacturer that offers a van conversion with a high roof and a pop-up roof to add extra sleeping capacity. The most common interior layout for van conversions is a rear bed (either transverse double or longitudinal twin singles) that probably fold up so you can load bikes in (etc.); then a side kitchen by the sliding side door, with the washroom opposite, and a front seating area with a two person seat and table behind the cab seats. The front seating area sometimes converts to make a single bed, making three-berths. There are, of course, other variations available, including a side lounge seat and rear kitchen and washroom, and a rear lounge with central kitchen and washroom with or without a front seating area. Fitting a family in a van conversion is more challenging, but there are some with rear bunks or, as already mentioned, a pop-up roof for two people.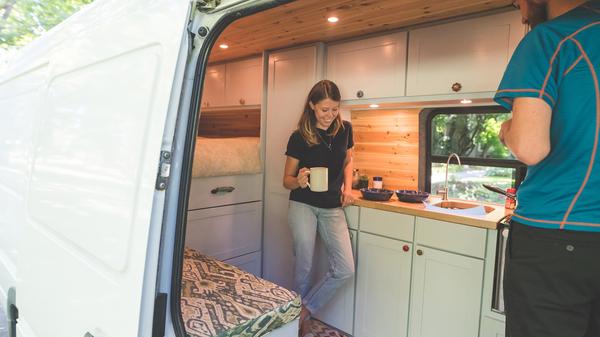 Motorhomes
Motorhomes are easier to describe and define. They still come in a huge variety of sizes though and, importantly, weights.
Remember that you can only drive a motorhome with a maximum weight over 3,500kgs if you have a driving licence with B+E classes. If you passed your driving test on or after 1 January 1997, your licence won't have B+E entitlement, so you'd have to pay to do an extra test. A motorhome will either be a body built on a chassis behind a cab, or what is known as an 'A-Class' with a full body structure over the vehicle's dashboard and engine. Most motorhomes are built on a Fiat Ducato cab. The alternatives also used are the Peugeot Boxer or Mercedes Sprinter, with a limited number using the Volkswagen Transporter or Crafter. Prices for new motorhomes start from around the same price as many campervans, usually around £45,000-£50,000, so a motorhome can look like yout get a lot more living space for the same cost; but motorhome prices can go way, way higher. A motorhome will have a washroom (and toilet), which gives owners more flexibility for wild camping, or staying at simple places like Aires in France.
Advantages and disadvantages of buying a motorhome
The advantage motorhomes give over a van conversion is more living and storage space. The motorhome's 'coachbuilt' structure is more box-shaped than a van conversion, so there's naturally more internal space. Some, especially A-Class motorhomes, may have a raised internal floor with storage space underneath.
Like caravans, motorhomes have a bigger choice of interior layouts than van conversions; however, like van conversions, one of the more popular layouts is a rear bed, often over a storage 'garage' with a central kitchen and washroom, and a front lounge.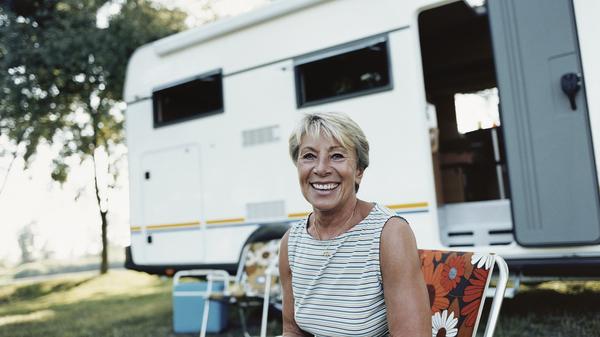 Can you try before you buy?
It might not be very easy to get the opportunity to test drive a campervan or motorhome at a dealer, but before you make your choice, but there are a couple of options to consider.
The big exhibitions at Birmingham's NEC, Manchester, etc, usually have free motorhome manoeuvring lessons available. It's best to book in advance, if you can (and you'll need to show your driving licence). The other option is hiring one for a week or weekend. Campervans and motorhomes are available to hire from companies across the UK. It's the best way to get a feel for what they're like to drive and the layouts that suit you best.