Advice
Important things to check before your motorhome holiday
When you're heading off on a trip with your motorhome, it's important not to get caught up in all the excitement and forget to check important essentials before you leave. To help you make sure you haven't forgotten anything, we've compiled a list of things you need to check before your motorhome holiday!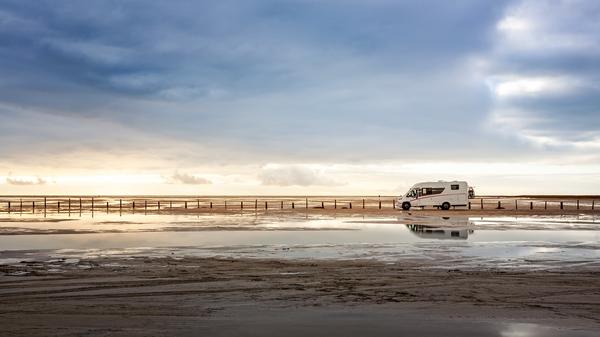 Words by: Auto Trader
Published on 15 February 2022 | 0 min read
1. Ensure your motorhome is road ready
Before you set off on any motorhome holiday, you must check you've got insurance on your motorhome, the correct registration plates and road lighting for your vehicle, and breakdown cover (just in case!).
If all those essentials are sorted, then you're off to a very good start!
2. Plan beforehand
Before heading off on your next adventure, you should plan your holiday with some thought and precision. Of course, you don't need to remove the adventure element of your motorhome holiday, but you'll certainly feel frustrated and disappointed if you run into a few issues that could have been avoided. Some common things to plan ahead include:
Planning your route to avoid any low bridges or narrow roads where your motorhome might struggle (this is especially true if you're visiting the Highlands in Scotland, or the South Coast of England, such as Cornwall). Booking your pitch sites before you go (particularly in high season to avoid disappointment). If you're wild camping, make sure you've researched some spots beforehand or downloaded useful apps that can help you find quality wild camping locations.
3. Avoid over-packing
We are all guilty of overpacking. It's easy to take clothing and accessories for all seasons, especially if you're visiting areas where the weather can be a little unpredictable. However, it's a good idea to work out the type of activities you'll be doing, and areas you'll be visiting, then you can pack what's necessary and save on space.
4. Plan some driving entertainment
Long drives can be a struggle, and even more so if you're travelling with children. It's a good idea to stock up on games, or items that will help keep the whole family entertained while on the road. Download some podcasts and create a personalised music playlist for when on the road. Then for those wet days, make sure you pack a few board games, puzzles or even an iPad to keep the whole family entertained.
5. Make sure you've packed the essentials
Space is limited on a motorhome holiday, so when it comes to clothing and food stock, you should pack only what you need since you can easily re-stock on the road. However, there are some essential and practical items that it's important to make sure you have with you from the start. This includes a first aid kit, cutlery, crockery, a spare gas bottle, plug adaptors, phone chargers, extra batteries, and a torch!
6. Check the technical aspects of the motorhome
It's important to check all the important parts of your motorhome are working before you head off. This includes:
Checking the tyres: ensure you've checked the tyre pressure, and make sure you've got a spare
Don't forget to switch off your LPG gas canister and make sure it's securely locked in place
Fasten the travel catch for your cupboards and fridge, and make sure to secure any loose items when driving
It's often a good idea to empty your water tanks, or at least reduce the weight in them before you start driving. Full water tanks while driving can put you at risk of overloading.
Ensure you set your 12V control panel to "off" or "car" setting, depending on how your motorhome works
Check all your road lights are working (carry spare lights too, just-in-case!)
Check your brakes and brake fluid levels
Once you've gone through this list of important things to check before your motorhome holiday, you should be ready to go! It's always a good idea to check these things ahead of time so that there are no last-minute changes or surprises before your trip. Once your motorhome is ready to go, it's time to get off on your adventure and start enjoying your holiday!
Considering buying a new or used motorhome?
If you're thinking about buying a motorhome for your next adventure, then now that you've got your motorhome holiday checklist sorted, why not check out what's on offer at Auto Trader. Look
on our website today
for inspiration on a wide range of new and used motorhomes.