Feature
Drama to dream Camper Van - a couple's VW Camper Van conversion
Many dream of buying a VW Camper Van and converting it for an exciting project but Aaron and Stacey didn't get off to a great start. Read about how they managed to turn it around to launch the "Bonnie & Rose" cocktail bar here...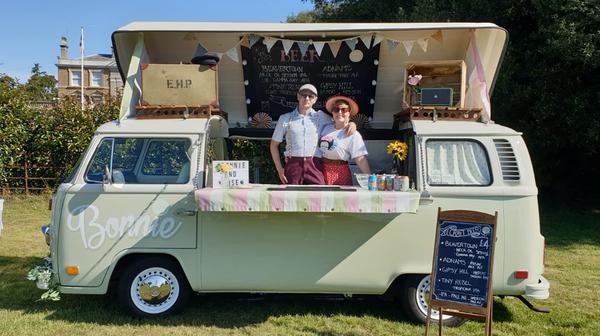 Where it all started
Aaron and Stacey had always dreamt about having a Volkswagen Camper Van, they spent many evenings looking for their perfect vehicle.
At first, they were just going to use this vehicle to travel in but then they decided shortly after to pack in their 9-5's and turn their Camper Van into a business after they got engaged back in 2015. The couple were inspired during their wedding research when they started looked at quirky Camper Van bars and thought - why not do it ourselves!
Choosing their Camper Van
They started to do some research and found a place, based in Kent, that could do a Camper Van conversion for them. When they went to meet the converters, they were told they were due to get a van in very soon from California, a good runner in great condition, which could be theirs if they wished. They decided to go ahead.
Where things went wrong
Unfortunately this is where it started to go downhill. They were originally quoted 3-6 months as the timescale for the conversion to take place, after paying a huge deposit it didn't turn out quite like that.
Weeks went by with no contact with the convertors and there was still no vehicle. They managed to get hold of the third party who the converters were buying the Camper Van from, and they told them they hadn't been paid for the vehicle yet. They confronted the conversion company who let them know he was having cash flow problems. The van didn't arrive for a whole six months. When it did, it was poor quality - there were duck feathers in the engine. Aaron and Stacey were devastated, but they knew they had to do something, their wedding was getting closer and they realised it wouldn't be ready in time to be part of their special day.
Driving forward
They cut their losses and found a garage who could do their Camper Van justice. They found 'Pristine Body Works' based in Essex, who was amazing. They took on Stacey's designs and transformed the Camper Van interior and exterior to make it into their dream bar.
They found 'Harry Harpics & Sons' who are VW specialist, they undertook all the mechanical work, making sure their VW Camper Van was road-ready. They finally felt like they had the dream team. Aaron and Stacey were over the moon when they finally got to drive the Camper Van out of the garage for the first time. You'll be pleased to hear they are now the proud operators of the
Bonnie and Rose bar.
It might not of made it to their wedding but their camper has served drinks at lots of other peoples!
Their advice
Anyone who embarks on a project like this should go for it, but be careful. Research, look at reviews so you know who you are dealing with and make sure you have a quote broken down into detail and a solid legal contract in place which explains the expectations of the project.
Looking to convert a Camper Van?
What would you do with a VW Camper Van if you had one?
Would you run a business? Use it for holidays? Or just have it on your drive to make your neighbours jealous until the festival season comes round?
You'll never know if you don't start your search browse
Camper Vans here.
Watch Aaron and Stacey's story