News
Choose Leisure win People & Culture Award at Auto Trader Retailer Awards
Now in it's 12th year, the Auto Trader Retailer Awards celebrate the best in automotive retailing and Canterbury based new and used motorhome dealer Choose Leisure are ecstatic to have won one of the most sought-after accolades.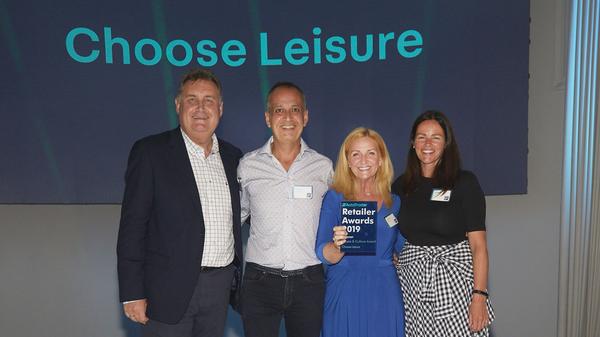 Words by: Auto Trader
Published on 26 July 2019 | 0 min read
The People & Culture Award (stocking under 200 vehicles) recognises businesses that put its people first and have created a dynamic, open and diverse workspace. A new addition for 2019, this award highlights the importance of new ways of thinking to create a culture where colleagues feel motivated, rewarded, included and encouraged.
The winners of the Auto Trader Retailer Awards were determined by a comprehensive judging process, which featured an esteemed panel of experts, the opinions of thousands of car buyers, and an in-depth analysis of millions of data points from across Auto Trader's market place, as well as the largest mystery shop among auto retailers in the UK. Award judge Alison Ross, Platforms & Operations and People Director at Auto Trader, said that what really impressed her about Choose Leisure was, "the honesty about the pains and difficulties of scaling a family business and the way of overcoming that are heartfelt and inspiring. The commitment to culture and quality over short term growth is commendable. I love how personal the stories are for induction, really communicating how special the business is. I can believe that turnover is low, working for a business with such heart is very motivational. They really are setting the benchmark." A total of 18 trophies were awarded across seven categories during the awards ceremony on the 18th July, each representing the central pillars of modern automotive retailing.
Choose Leisure
founders and owners, Paul and Jenny Santos, outlined just how much the award means to their business, and said: "We're proud to have been recognised in our niche motorhome industry by automotive giant AutoTrader for the importance we place on our people and culture here at Choose Leisure – it's something we work very hard at and I know our customers and suppliers feel the benefits too. This is a win for the whole team". For a full list of winners, please
visit the Auto Trader Retailer Awards website.