Review Burstner Ixeo TL 728 G review
Ease of accessibility and more means the Ixeo TL 728 G is four berths of accommodation excellence, bringing design and functionality together for holidays to remember.
View gallery
The Auto Trader expert verdict: ★★★★★

★★★★★
4.0
Switching the sleeping arrangements from widthways to lengthways brings drop-down bed brilliance to an already well-equipped motorhome in the Ixeo TL 728 G. It's balanced innovations with a time-served practicality that combines for a usability throughout, delivered at a good price.
Reasons to buy
Spacious sleeping arrangements.

Incredibly practical and offers longevity in use.

Great storage options throughout.
Drive
There's a lot to be said for sticking with what you know when it comes to engine options in motorhomes. Tried and tested, the Fiat Ducato 2.3 TD 120hp is the standard engine option for this model. For a 4250kg motorhome it's more than capable. Burstner offer upgrades available from £2280 for the 140hp engine to £6060 for the 180hp variant.
Design
This Burstner's low frame chassis, high headroom at almost two metres, and plentiful storage solutions makes for a host of plus points when it comes to design. While practicality is important, so is the feel of where you're living. The upholstery throughout is beautiful, whether you've plumped for the Sahara Style real leather or four other special fabric options.

Amidships on the nearside and offside respectively, the kitchen and washroom separate the two sleeping areas while remaining convenient for each. A hinged wall in the wet room toilet/shower transforms the space from loo to shower cubicle, without allowing water to get everywhere.

For storage, a rear bike garage can be found at the back of the Ixeo, suitable for almost any equipment you could wish to carry on board.
Living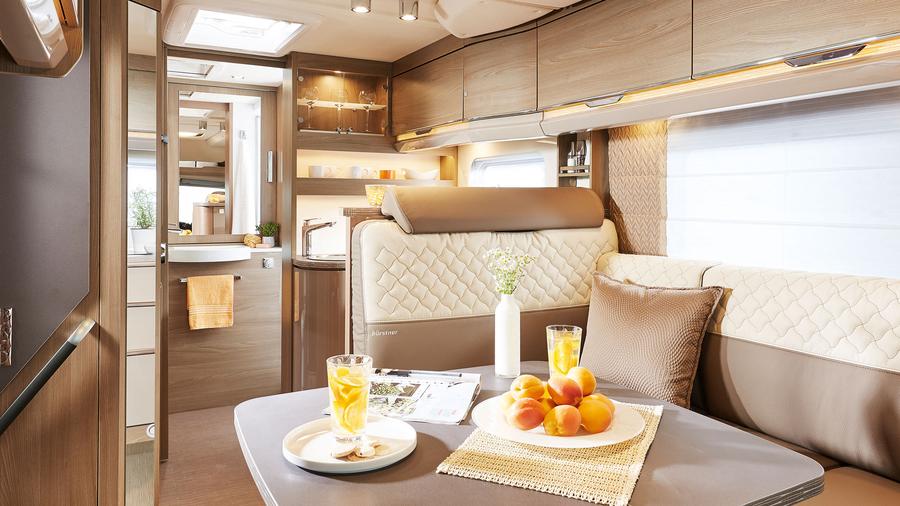 The Ixeo's spacious L-shaped living area is somewhere you can instantly imagine sitting comfortably for work, rest or play. Diamond-stitched seating is deep enough to get cosy, with two swivel cab seats and room in total for friends to sit around the adjustable table for when you want to get sociable on site. The living space in this motorhome may not be the most innovative aspect of it, but it does the job perfectly well.

Another neat touch is the tidiness of the central service unit, housing the controls for utilities and waste. Having everything in one place makes it easier to remember and use whenever needed.
Dining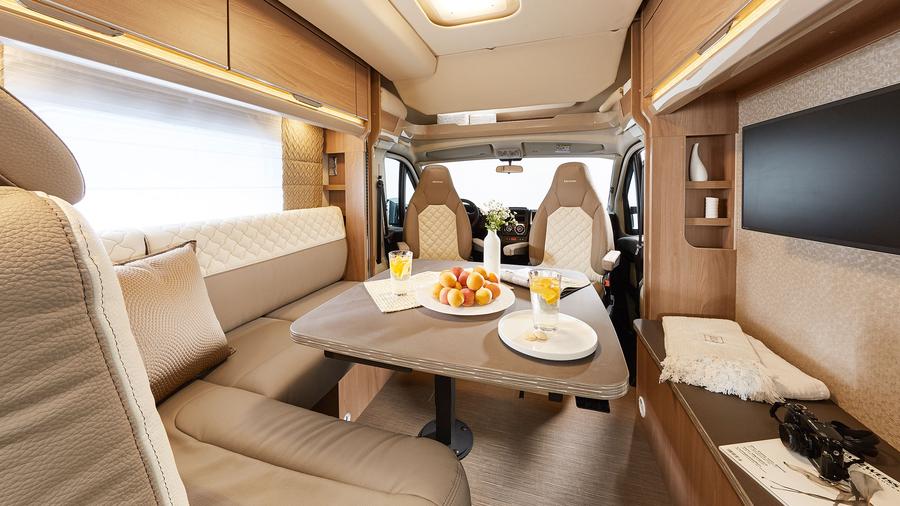 The three hob rings in the kitchen, a conveniently low oven/grill, and a 145-litre fridge freezer make for dining convenience to suit any cuisine. Worktop space will certainly be in demand, but there's enough usability here to make meals and wash up conveniently. Where the kitchen comes into its own is with its storage, thanks to cupboards and drawers that are perfectly placed for ergonomic access.
Sleeping
Lower the table in the living area and the bed electronically descends to rest on top. Ergonomics and the lengthways layout means there's a more spacious feel here and comfort is at a premium.

Fixed beds at the back are raised to accommodate the spacious bike garage below. The twin singles offer more than enough novelty for younger generations; the step up into the dedicated bedroom area means that they'd be perfect for the kids or grandkids to feel that they have their own space while on holiday.
Value for money
Even at entry level from £74,995, the Ixeo TL offers a lot, with familiar features done incredibly well, and innovation for that added value on-site. If you're on the lookout for size and space with room for family members or friends that holiday with you, this is an incredible buy.
Why buy?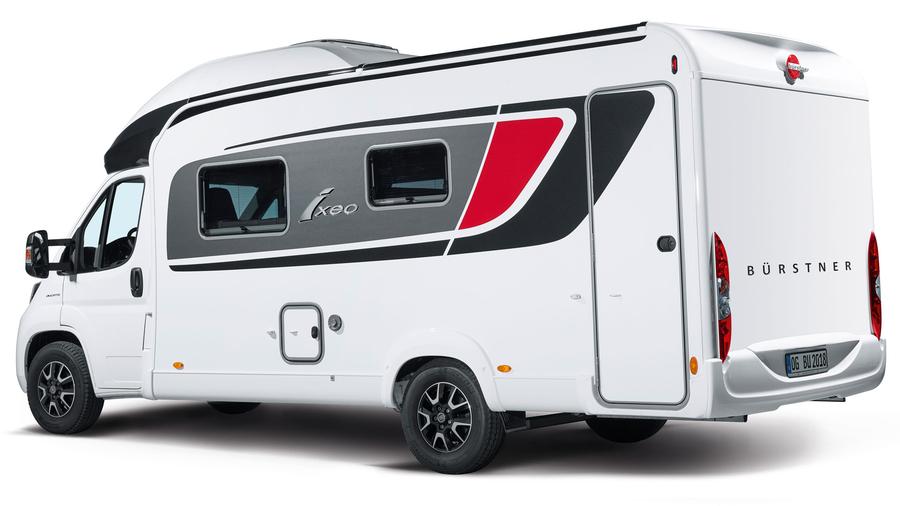 It's a motorhome that's not only got holiday fun and functionality together in good measure, but there are great examples of accessibility both inside and out that will ensure this buy is useable for years to come, wherever you want to take it.