Guide
A weekend in the Lake District
Curious about where to take your motorhome next? Check out our guide to spending a weekend in the Lake District.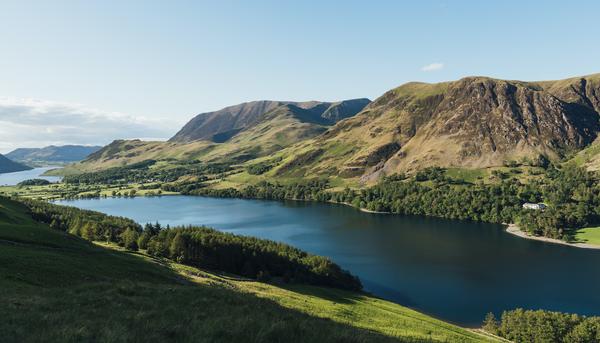 Words by: Auto Trader
Published on 23 July 2020 | 0 min read
Where is the Lake District?
The Lake District is a popular holiday destination in the northwest corner of England, in the county of Cumbria. The Lake District is home to mountains, valleys, villages, towns, coastline and of course lakes!
There are several market towns such as Kendal, Ambleside and Keswick located in the Lake District, with lots to explore.
Where should I stay?
We've found 3 great places for you to pitch up your motorhome in the Lake District.
1. Fisherground Campsite - Eskdale
Set right in the heart of Eskdale, one of Cumbria's loveliest valleys, Fisherground Campsite was once recognised as one of the 50 World Best Campsites as chosen by the Independent Newspaper.
One of the great things about Fisherground Campsite is it is just a short walk away from 'The Green' train station, meaning if you would like to ditch your motorhome and pop out for a drink, you can not only get to the pubs close by but also go further afield. If you are planning on staying on site, Fisherground Campsite is one of the few campsites in the Lake District who allow you to enjoy the pleasures of an open fire, so make sure you pack your marshmallows ready for toasting!
Book a stay at Fisherground Campsite here.
2. Church Stile Farm Holiday Park - Seascale
Church Stile Campsite nestles in a traditional lakeland oak woodland setting with stunning views to the Screes Mountain Range.
This large site, covering 7 acres in total is a family run campsite perfect for families, couples and walkers. For many years,the site has been awarded the David Bellamy Gold Conservation Award for continued commitment to conservation and the environment. The Church Stile Farm Holiday Park has an on site farm shop, where you can get everyday essentials and local produce for your stay.
Book a stay at Church Stile Farm Holiday Park here.
3. The Quiet Site - Ullswater
This site huddles in scenic seclusion in the fells above a lake and boasts lovely views of Ullswater.
The Quiet Site has lots of great facilities including family-sized bathrooms, an on-site shop and a large playground. The thing that really sets this site apart from others is the Quiet Bar, based in an original building erected in 1648. This building was converted into a bar in 1963 and little has been changed to the main structure since the original conversion. Often described as 'the best campsite bar in Britain' it is certainly worth a visit!
Book a stay at The Quiet Site here.
What should I do when I visit?
Want a stop off?
Why not pop in the "Best Motorway Services in Britain" before you even get to your site?
Opened by local farmers back in 1972, Tebay Services was the first and is still the only family run motorway service station in the UK. The services has a small 30-seat café serving home cooked, locally sourced food and two farm shops. You won't leave hungry.
Find Tebay online here.
Looking for something a bit different?
The Lakes Distillery produces whiskey, gin and vodka, they offer tours of the site where you can learn about the process of making these drinks.
The site is also home to Alpacaly Ever After, a social enterprise where you can book a Meet and Greet with the alpacas and their babies. You have the chance to feed them, get up close and personal, take selfies and learn all about these beautiful animals. We'd recommend meeting the alpacas first, as the distillery tour comes with tasters!
Find Alpacaly Ever After online here.
Love the beach?
When people say Lake District, beach holiday doesn't normally spring to mind but the area does offer some lovely beaches. If you want to visit the beach while you're in the Lake District why not head to Ravenglass Beach?
This village is based on a coastal estuary where 3 rivers meet, before joining the Irish sea. The beach here is a mixture of mud, shingle and sand.
Feeling adventurous?
Crags Adventures are a small, family run outdoor activity company, who offer ghyll scrambling, gorge walking, canyoning, abseiling, & dry scrambling.
Their mission is to provide you with fun and exhilarating experiences of the highest quality, for the lowest possible price.
Find Crags Adventures online here.
Want to take your dog on a day out?
Be sure to visit Keswick- they have been awarded the 'Most Dog Friendly Town' in Britain by the Kennel Club a whole 3 years in a row.
Keswick is home to lots of dog friendly cafes, pubs and hotels. Our top dog friendly attraction is The Puzzling Place, an attraction with illusion exhibits, holograms and 3D images - we would love to know what our furry friends think of it!
Where should I go for breakfast?
Folk - Bowness
Folk are a coffee house, restaurant & bar serving all-day brunch, locally sourced craft beer, ale and cocktail using the best ingredients from the Lake District. Their bagels are delicious and are certainly worth visiting for.
Find Folk online here.
Fresher's Café - Ambleside
If you're after a traditional British breakfast, Fresher's Cafe in Ambleside is your place. They're open for a Full English 9-5 everyday but Monday.
Find Fresher's Café online here.
Where should I go for lunch?
Gandhi's Cafe - Ambleside
Gandhi's cafe serves vegetarian & vegan world cooking inspired by their travels. This place has a friendly, relaxed atmosphere with funky tunes. Dishes include thali (lots of different bits of Indian food), burgers and lots of different sandwiches. Gandhi's cafe is due to reopen on 5th August 2020.
Find Gandhi's Cafe online here.
Yard 46 - Kendal
Yard 46 bake all their own breads on site, so you definitely want to order anything bread related - alongside their breads, they also bake fresh pizzas too. This courtyard cafe is tucked away, so make sure you find it on Google Maps before you set off, you don't want to miss it.
Find Yard 46 online here.
Where should I go for dinner?
1863 Restaurant - Pooley Bridge
1863 is an intimate 32 cover restaurant with a warm and friendly atmosphere - so good it was awarded 2AA Rosettes. Their eating experience offers a relaxed fine dining experience with seasonal menus made with local produce.
Find 1863 Restaurant online here.
Four and Twenty - Penrith
Four and Twenty is a casual bistro, they use local produce to make flavorful and unfussy food based on seasonal British recipes with some inspiration from further afield flavours. They offer a great value set dinner menu priced at £20 for 2 courses or £25 for 3.
Find Four and Twenty online here.
We hope this offers you the inspiration you needed to get off for a weekend in the Lake District, enjoy!