Best Of
5 best new motorhomes
These are the 2021 motorhomes to consider for peace, practicality and performance on any pitch.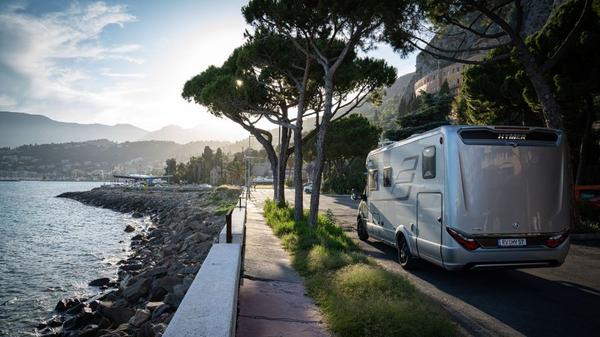 Our independence has never been more important than we've realised over the past few months, so the 2021 launch of new motorhomes for sale offers some of the most important developments for both our staycations and our wellbeing.
Below you'll find some highlights from the new models now available or ready for purchase soon.
1. Hymer's luxury head turner for 2021.
Based on the Mercedes-Benz Sprinter, the Hymer B-Class MasterLine T 780 combines sport and splendor on the exterior with spacious comfort and convenience inside. Compact and aerodynamic bodywork with aesthetically impressive graphics make this 2021 motorhome a head turner on the road. You can also pick a 177hp diesel engine to pull the Mercedes chassis cowl and Hymer SCL chassis. Gearbox choices come in the way of a six-speed manual or nine-speed auto, for low noise smooth transitions and optimised fuel economy.
At 2.35m wide with an interior headroom of 1.98m, both cab and living quarters are more than roomy enough for living and lounging, with a loading compartment that can also accessed from the inside and a garage for up to 450kg of camping essentials. In addition to the practicality, the B-ML T 780 is a wonderful motorhoming experience both inside and out.
2. Swift Edge motorhome
First time buyers can forget any B+E fears thanks to Swift's Edge, as the 3500kg MTPLM makes this a motorhome that's accessible for all.The Edge motorhome brings with it a level of standard equipment that goes beyond its entry-level price tag. Four high and one low line models ranging from four to six berths, with a new layout added for 2021 that's perfect for exciting family life on the road.
Available from February 2021, the Swift Edge 466 features rear bunks, to complement the options of fixed rear beds and twin singles elsewhere in the range. Redesigned exterior graphics are met by light and airy interior style, based on a Fiat chassis with a Euro 6D 120bhp, 2.3-litre engine and manual gearbox. There's more than enough to excite both kids and parents alike in the Edge range, and the starting price tag of under £50,000 makes sensational staycations available for the family, for years to come.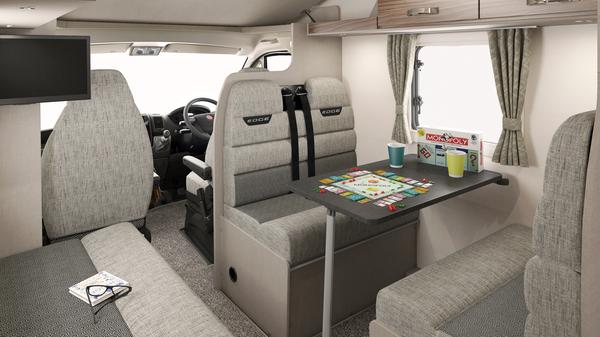 3. Adria new motorhomes for sale
Slovenian manufacturer Adria has given its Matrix motorhome models a fresh new design both inside and out for the 2021 season. What's more, the already impressive panoramic window has been increased in size by 15% to flood even more natural light into the living space.
Four layouts are available for the Matrix Supreme, all of which are four berth options. There are five options in the Matrix Plus line, four four-berths and the 600 DT that can sleep two or four people. All models in the Matrix range feature an electric drop-down bed, and improvements have been implemented to make it lighter, with more standing height available when the bed's not in use. You can also control almost everything within the motorhome thanks to Adria MACH, a downloadable app that gives access to monitor water and gas levels, electricity, as well as providing user manuals, navigation data and more.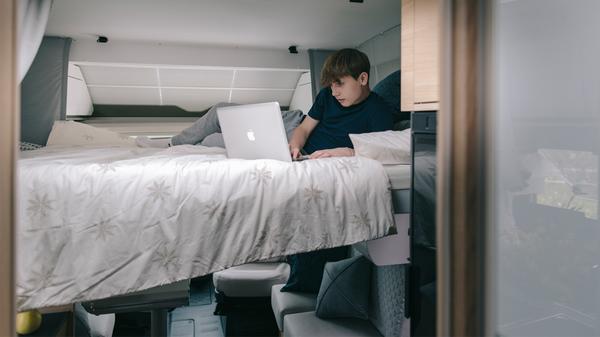 4. VW California range additions for 2021
Volkswagen Commercial Vehicles has reintroduced the California 6.1 Beach campervan following a surge in demand for staycations this year. The model reintroduction is available in a choice of two variants – the Camper and the Tour.
The Camper features four seats but can be upgraded to seat five. It also has a pull-out mini kitchen and hob, with a pull-out awning for protection from the elements. The Tour can seat up to seven people, which is more than any other factory-produced camper on the market. A set of sliding doors on either side make access easy and solve any ventilation concerns while on site. First deliveries are expected in March 2021 for this duo, with interesting additions that will make every holiday special.
5. Fall in love with Bailey's new Adamo motorhomes
Bailey has launched a new range with unique layouts to replace its entry-level Advance series of motorhomes. The Bristol-based manufacturer's latest addition, the mid-market Adamo range, is set to bring joy to staycationers nationwide as it's named after the latin word meaning to fall in love with or admire greatly.
Contrary to Euro political trends, the new range is continentally inspired, bringing together the best of British and manufacturing approaches of our neighboring countries. The most noticeable addition here is garage space at the rear of all three models (the 69-4, the 75-4I and the 75-4DL). All three models in the range are under £60,000 on the road, and all have a 3500kg MTPLM, meaning access to Adamo holidays for all drivers. All also come with Truma Combi heating, an 80w solar panel, a well equipped kitchen and a tower refrigerator as standard.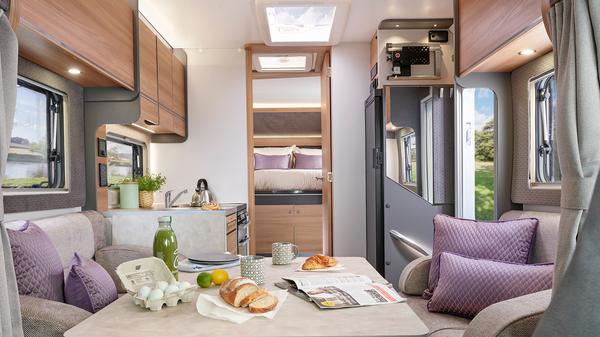 Not found what you're looking for?