Review Toyota PROACE CITY Panel Van (2019 - ) review
Toyota has joined the small van market and does so by offering a version of a vehicle that is available in different guises as a Citroen, Peugeot and a Vauxhall. The Proace City offers a smaller selection of options versus the others, but stands out in other ways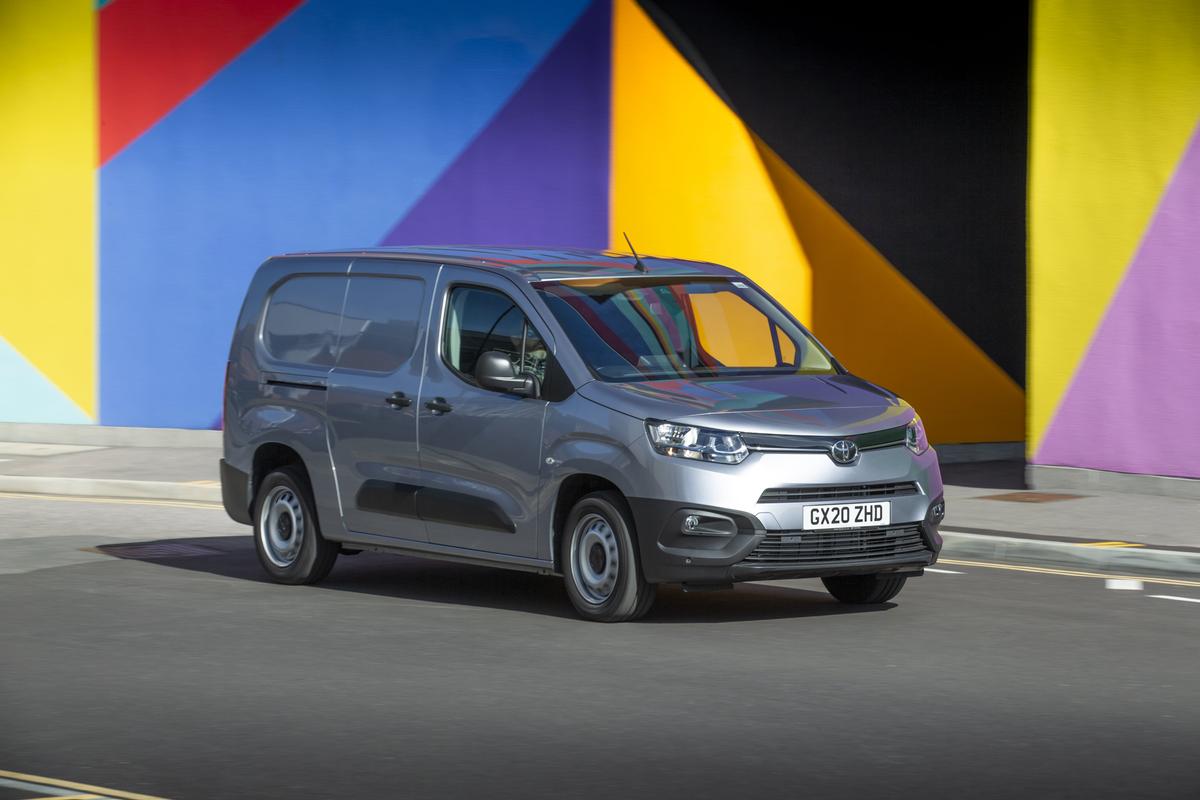 View gallery
The Auto Trader expert verdict: ★★★★★

★★★★★
4.2
The Toyota Proace City marks Toyota's determination to take the van market seriously, and it has taken the sensible route of offering a vehicle that has already been shown to be one of the best that you can buy.

The Proace City is essentially a rebadged version of a small van that is also available as a Citroen Berlingo, Peugeot Partner and a Vauxhall Combo Cargo. It offers a smaller selection of options and engines than those three, but it still finds ways to stand out thanks to its servicing and warranty offering.

Reasons to buy
Longer warranty than its direct rivals

Easy to drive

Excellent payload
Cargo & practicality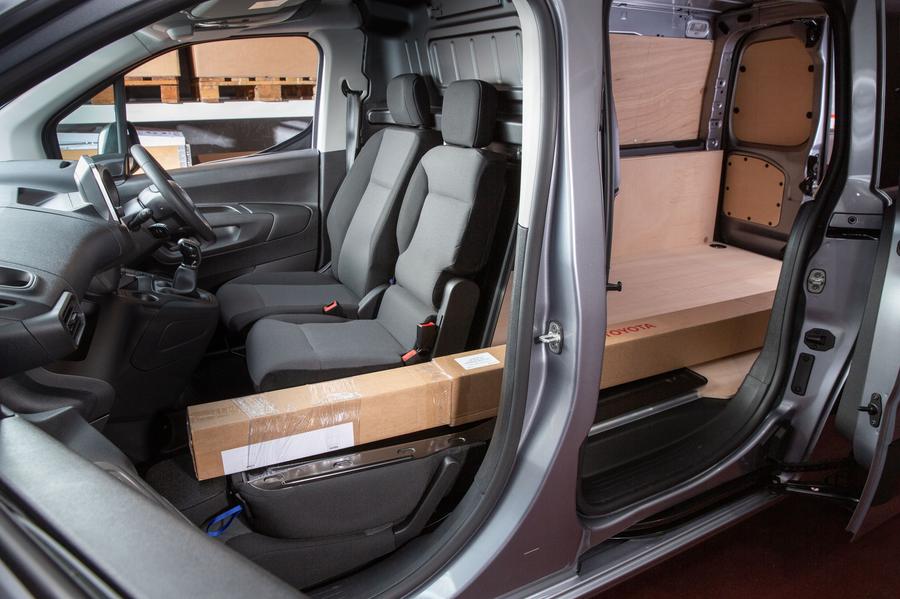 The Proace City might offer a smaller, more focused range than other vans in this segment, but Toyota has chosen which models to offer wisely. The more powerful of the two engines (the 100hp model) boasts a payload of 1,000kg, which is a crucial and welcome marker in this sector.

If carrying ability is crucial, then this model is the better bet – the lower powered engine can carry up to 650kg, which is still impressive but some way short of the best in class.

With just two trims to choose from, Toyota has chosen to make sure that even the entry-level model is well equipped. This means that every Proace City will come with twin-sliding side doors (something that you have to go higher up the range for on most rivals like the Citroen Berlingo and Peugeot Partner etc) and a rubber flooring in the rear loading bay.

Six load-bay hooks, cargo-bay lighting and a solid bulkhead are all offered as standard, too.

The higher of the two versions also comes with the Smart Cargo system that allows you to slide longer items through into the cabin. This also brings a third middle seat in the cabin, although this is something that is best used for the occasional trip rather than relied upon as a regular seat for an adult colleague.
Interior
The cabin in the Proace City is almost indistinguishable from the rest of its siblings at Citroen and Vauxhall (the Peugeot's small steering wheel is the one that stands out from the others the most). Were it not for the badge on the steering wheel then it would be hard to mark this out as a Toyota. The wheel and the gear lever are the main bits where Toyota has been able to put its mark. It's hardly gone for an outrageous approach, though, with the design about as sensible as you can get.

Otherwise you get the same high quality, durable-feeling materials and decent array of storage around the cabin that you do in the Berlingo etc. This means a couple of little cubby holes on the dash, a decent sized glove box, good storage in both doors and several slots above the sun visors.
Running costs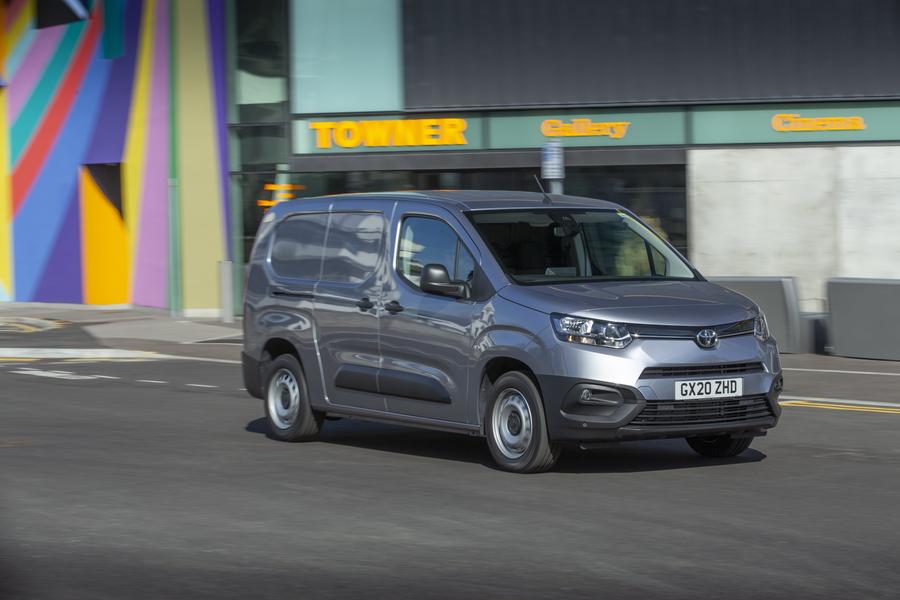 Because of the high level of kit you get as standard on the Proace City, you do pay a little more for the entry-level model than you do for the basic version of other vans, but like for like it works out as good value.

Toyota's big selling point for the Proace City is service offering. By offering a five-year warranty as standard, Toyota's covering is two years longer than the other three brands. It also promises to be able to carry out a regular service within seven days or it will reduce the price of the work by 50%.
Reliability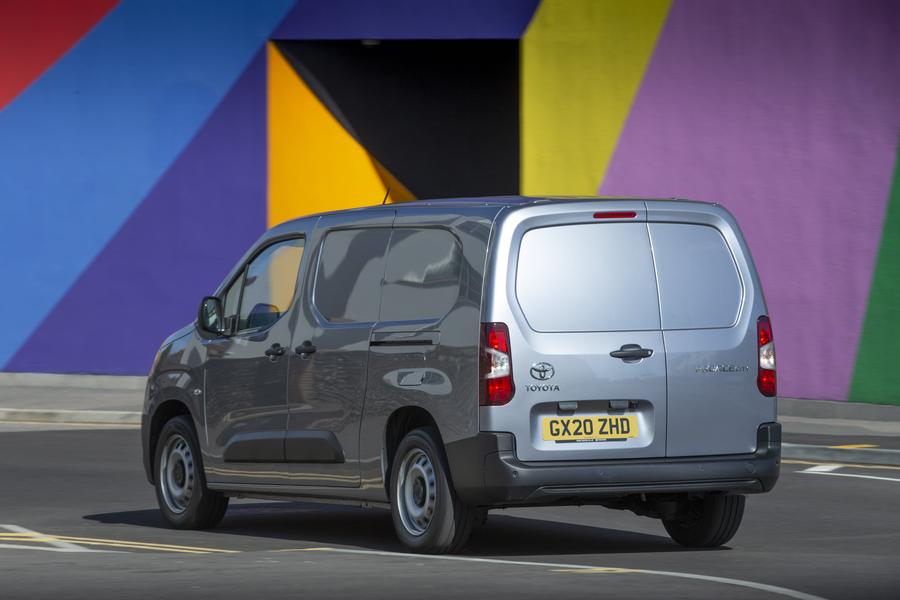 Toyota might have an excellent reputation for reliability but the Proace City is mechanically identical to the Citroen, Peugeot and Vauxhall equivalents.

However, Toyota makes a point of treating every van to a detailed technical inspection before it allows it to go out with its badge on the bonnet. If it is good enough for Toyota's fastidious inspectors then that should provide some extra reassurance.

The service intervals are the same as its equivalents – every two years or 25,000 miles.
Performance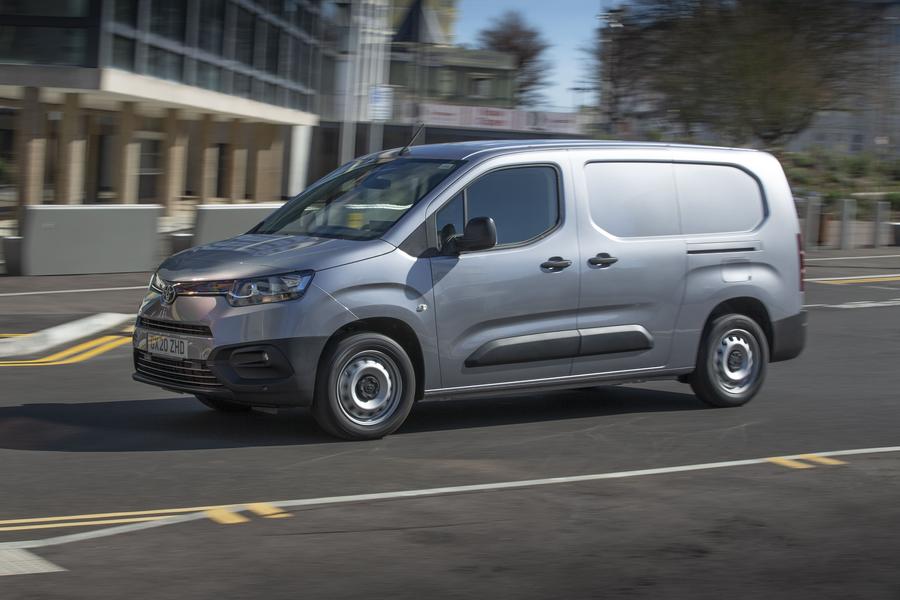 There's a reason why Toyota is putting the majority of its eggs in a 1.5-litre 100hp basket – it is a very capable and versatile engine that, truth be told, will suit most buyers' needs.

The 100hp is happy both around town and relaxed enough on the motorway to be the all-rounder that most will be after. There is enough urgency to attempt overtakes and deal with bigger payloads, too.

The only real downside is the gearbox – there is just a five-speed model available. This means that things get a bit noisier on the motorway as it has to sit at slightly higher revs, not massively so, but enough that you have to stop yourself from reaching to the gear lever to change up to a non-existent sixth gear.

The lower powered engine will suit those who know that they are going to spend the majority of their time around town. It is likely to struggle a bit more if you are going to head off on motorway trips or up and down hills with a fully-laden loadbay.
Ride and handling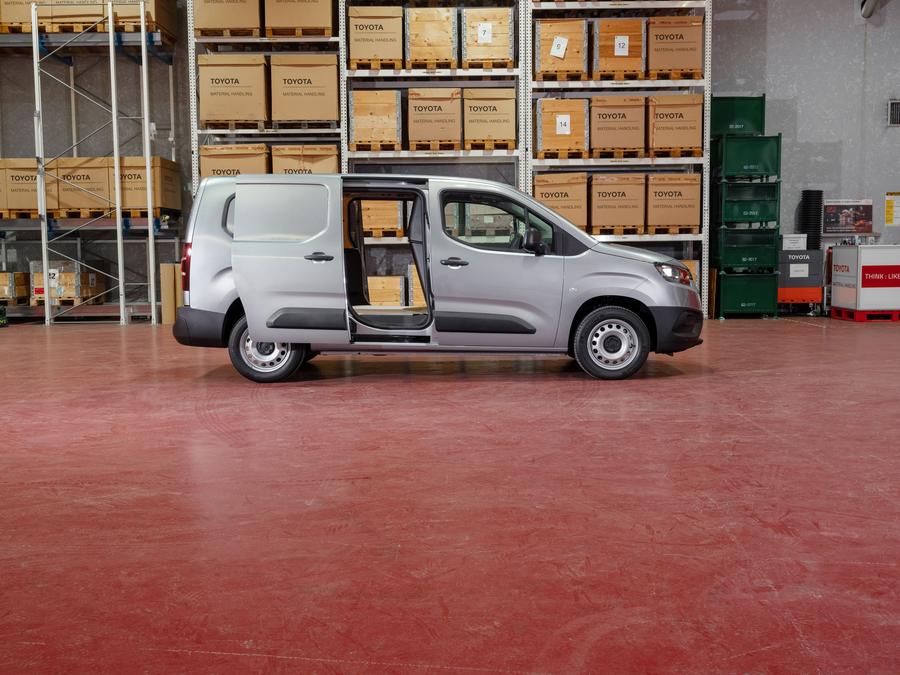 The Proace City's car-like underpinnings mean it is a gloriously easy van to drive, especially around town. It does a fantastic job of ironing out the usual rough surfaces that an urban driver will familiar with, meaning that your load won't get thrown around.

The steering is light enough to make threading through city streets easy, too, but it offers more resistance at higher speeds so you don't accidentally drift out of your lane on the motorway.
Safety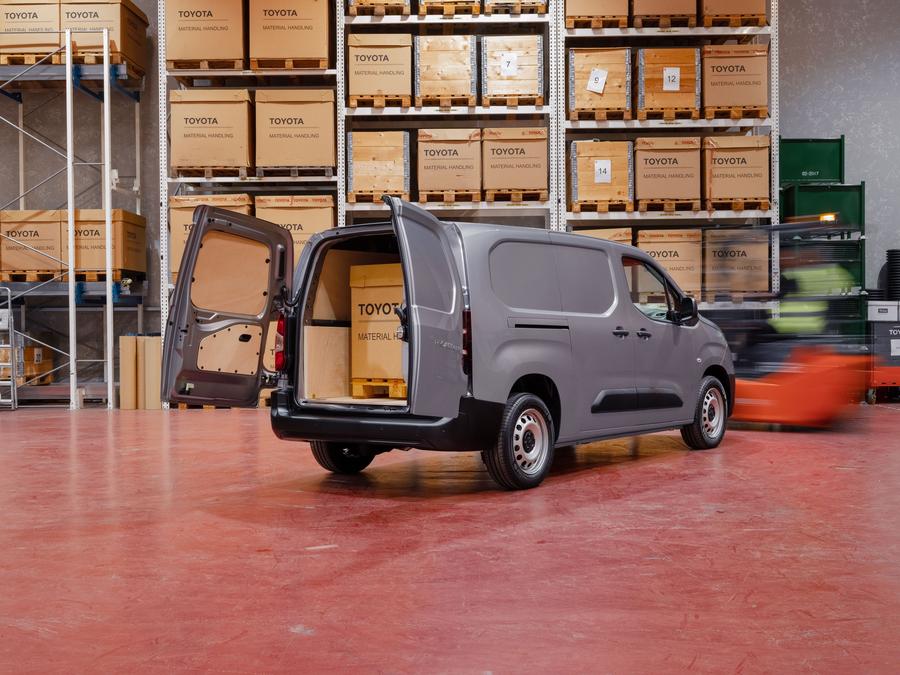 The good news is that you get pretty much the same level of standard safety kit regardless of whether you go for the Icon or the Active trim, with an adjustable speed limiter and a tyre pressure monitoring system (rather than a system that just warns you when the tyres need inflating) the only upgrades you get by going up a trim.

What is less good is that the safety sense pack, which brings pre-collision assist, lane departure alert and the road sign assist is only available as an option. Less good again is that you have to go for the top trim to even add it as an option.
Equipment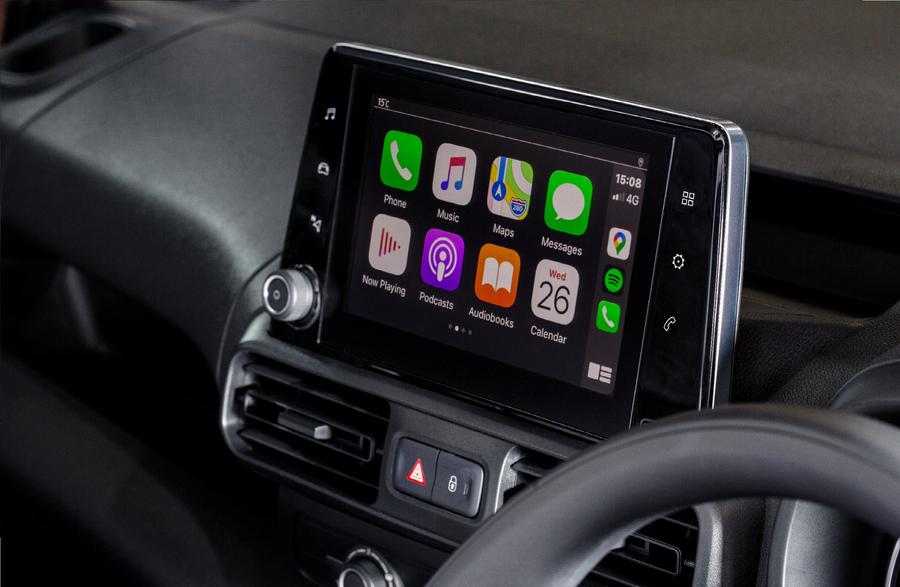 The Toyota's range is simple, with just two trims on offer – Active and Icon. Because Toyota is looking to keep things easy and offer good value for money, even the entry-level Icon comes with a good level of kit as standard.

This includes DAB digital radio with USB and Bluetooth connectivity, automatic headlights and heated mirrors, which are all a bonus, but air conditioning as standard is something that is all too often left off a base van.

The Icon adds pretty much all the basics you would want from a van, including an eight-inch touchscreen with Apple CarPlay and Android Auto, front and rear parking sensors and a rear parking camera.

One thing you can't get is the off-road kit, like a raised ride height and grip control system, that you can get on the Proace City's siblings.
Why buy?
The Toyota Proace City doesn't stand out from its rivals physically, and its smaller range will mean that not everyone will find the model that suits, but its long warranty and generous standard equipment are key elements in its favour.