Review Mercedes-Benz eVito panel van (2020 - ) review
Mercedes' first electric van promises some of the benefits of zero-emission motoring but a few caveats mean that this isn't the total solution just yet.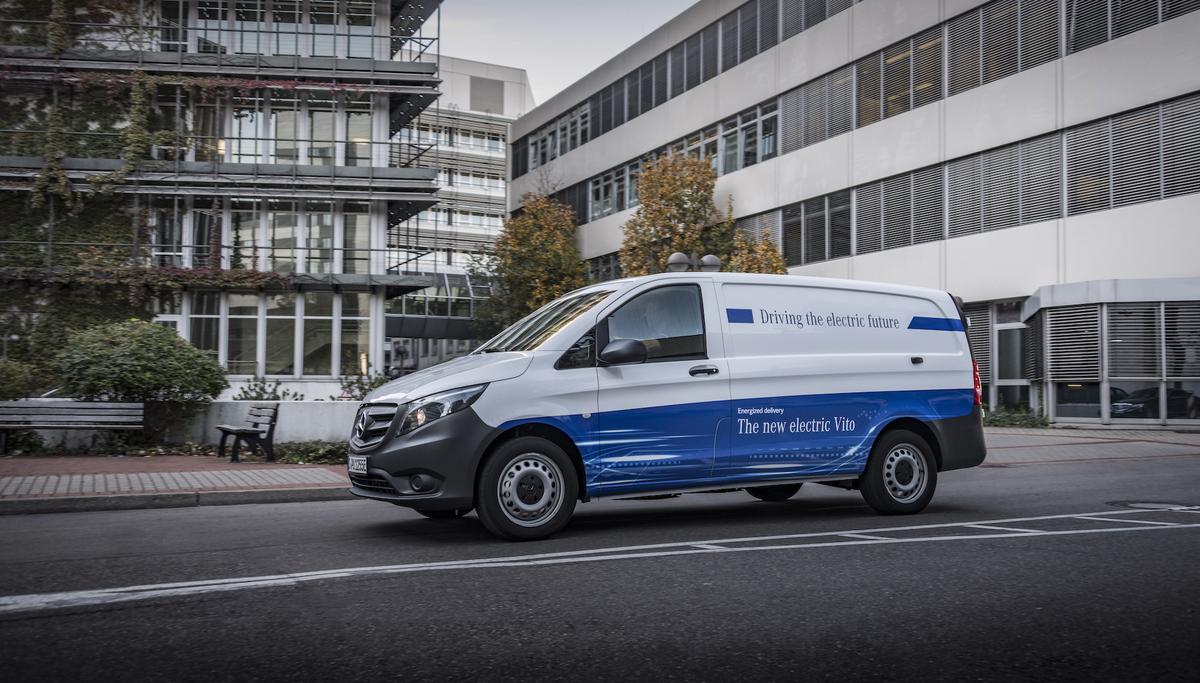 View gallery
The Auto Trader expert verdict: ★★★★★

★★★★★
3.1
The Mercedes-Benz eVito is the first fully electric van from the German brand, and the first medium van to come with a battery-powered version. It certainly won't be the last electric Mercedes van and there are plenty of rivals of a similar size from other brands on their way.

It makes a great alternative to diesel in many ways, but it doesn't feel like the whole solution as the range isn't great, it's expensive and you still have to deal with the old Vito quirks.
Reasons to buy
Relatively quiet to drive

Decent payload for electric van

No change to interior dimensions
Cargo & practicality
Despite adding a chunk of extra bulk in the form of a selection of hefty batteries, the eVito offers as much loading space as the more conventional diesel models.

You get a good amount of space too, as you can only get the eVito in the two longer of the lengths – L2 and L3 – and the shortest L1 isn't offered. As with the standard version, you can only get one height, too. At just under 2m, this height means that the eVito will fit under the majority of restrictions in UK city centres but it does restrict the number of things that the eVito can be used for ever so slightly. Mercedes is presumably working on the basis that if you need much more space then the forthcoming electric Sprinter will be a better fit.

The interior space starts at 6.0 cubic metres for the L2 and goes up to 6.6 cubic metres for the bigger version. The internal load length is 2,290mm for the shorter model and 2,520mm for the longer but you can slide thin items in under the front seats, which adds another 370mm of length to both versions. It's not loads of room but it is tall enough to take things like ladders or poles.

Getting into the eVito's loading bay is done via a pair of sliding doors, one either side, and a pair on the rear, which open out to 180 degrees. The payload is acceptable, but not great, as neither the L2 or the L3 version offers a carrying capacity of over a tonne – the L2 offers up to 923kg of payload while the L3 tops out at 898kg. If you go for the higher spec version then this dips that bit more, but only by a few kilos in each case.

This might well be sufficient for many urban deliveries, but it is over 200kg less than forthcoming rivals from Citroen, Peugeot and Vauxhall are promising.
Interior
The downside of putting a new electric powertrain into the Vito without changing much else is that you don't get the sort of equipment or luxury that you would hope for. The cabin doesn't really do justice to the technology under the bonnet.

The Vito's cabin is a slightly idiosyncratic place, with a low roof that makes it feel a little cramped and a dull feeling to the materials on the dashboard. You also get an odd key location – it's tucked over to the left of the wheel – and the gear lever that is mounted on the steering-wheel-column. The benefit is that it frees up some space in the centre of the cabin, but it is something you have to learn to get used to and occasional drivers might find themselves cursing it as they pull the lever thinking they are going to turn the windscreen wipers on.

The other oddity is the parking brake, which is applied via a foot pedal in the left-hand side of the footwell and released via a lever tucked down to your right. Again, you'll get used to it eventually but it does produce a slightly unnerving clunk when you release it.

That lack of central gear lever and brake means there is more space for a middle passenger, and it makes for a clean front dash. However, the dash is a very outdated looking one with an infotainment system that is very old fashioned in look and functionality. You can plug a phone in to charge it, or to play music, but there is no DAB digital radio unless you pay extra for it, the optional satellite navigation is old and basic compared to modern rivals and there is certainly no Apple Carplay or Android Auto included as standard.
Running costs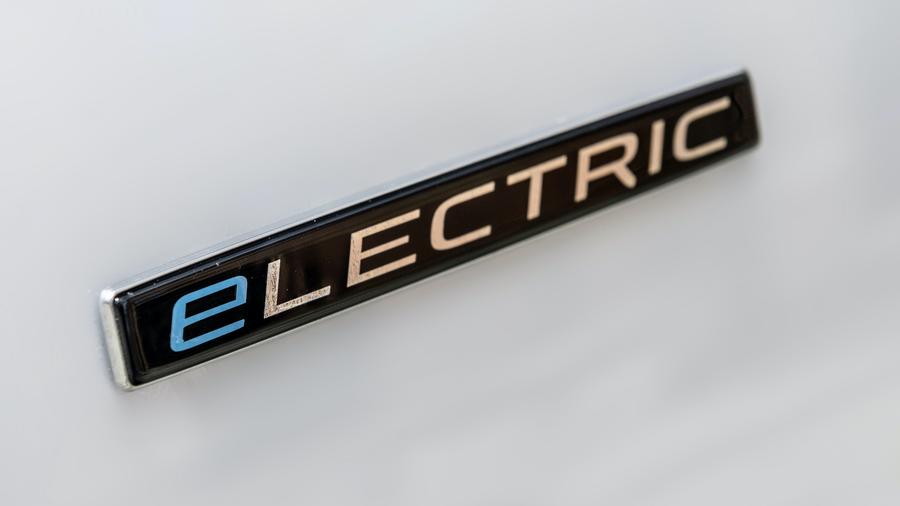 The eVito's absolute selling point will be how much it costs to run – versus a diesel an electric van will prove its worth several times over, particularly if you are heading in and out of the London charging zones. There is nothing to pay if you drive into the Congestion Charge or in the Ultra Low Emission Zone, nor is there any VED to pay.

There is only the one power output on offer, which means that the range is largely dictated by the amount of stuff you carry and how effectively you drive. The official range is 93 miles, but this dips to 92 miles if you step up a trim or go for the longer model, but the longest model in the highest trim still claims 91 miles. This might be ambitious if you plan on maxing out the payload on a regular basis, but based on a lower weight the indicated range remained consistent with the miles driven on testing so 90 miles, or at least something in the 80s, might be a realistic hope if you are delivering, say, balloons or flowers. Again, the forthcoming Citroen, Peugeot and Vauxhall equivalents are promising much more – more than double in some cases.

The motor is an 85kW unit that takes six hours to recharge to full using a standard 7kW wall charger, which seems a fair while given the limited range that you get, but it is a distinct improvement on the 20-odd hours you are looking at if you plug in using a three-pin plug. Sadly, there is no fast charging option, as there is on the people carrying Tourer model.

There are two cables to choose from – a four metre or eight metre one. Given the charging slot is on the left of the van, where the fuel cap would be, the longer one might be a better bet as many charging points are set up for vehicles that have front-mounted spots.
Reliability
One problem with the eVito being the first electric van from Mercedes is that there is nothing to look at in terms of predecessors when it comes to assessing reliability. Theoretically, though, an electric vehicle should be softer on its components than a diesel equivalent – the engine braking will ensure that there is less strain on replaceable elements such as brake pads and discs and there are fewer parts that will need replacing come service time.

The batteries come in three separate parts, so should be easily replaced if they need to be, but they are warrantied and is expected to maintain 70% charge for eight years or 62,000 miles.
Performance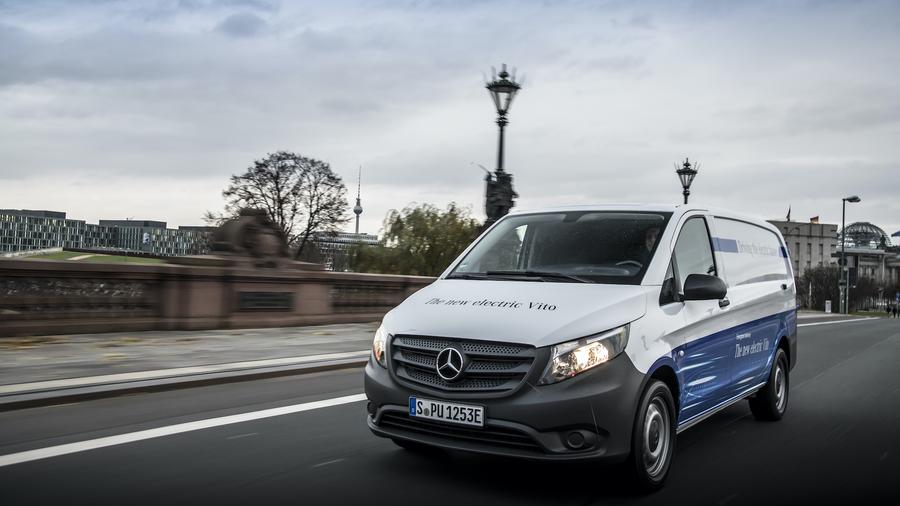 The eVito is very much geared towards town driving, as evidenced by the fact that a speed limiter is part of the standard kit list on the higher trim. It limits you to 75mph, so technically you could get up to motorway speeds, but that is really not what the Mercedes is about.

One of the joys of an electric vehicle is the instantaneous and smooth power delivery, which normally means that you can zip away from the lights and get up to speed without any delays for gear changes and the like.

The eVito doesn't deliver the same immediate hit of pace that you get in an electric car, or in some other electric vans, but this won't be a bad thing in some senses as it will not only preserve some power but also reduce the chances of your load flying around in the back.

You can tweak these by adjusting the driving mode using a button on the dash – there is the choice of Economy, Economy Plus and Comfort. Comfort gives a little more go, but the eVito doesn't feel quick enough to warrant using it much – just sit in Economy and enjoy the extra few miles

One notable feature of the eVito is the engine braking modes, which range from D- to D, D+ and D++. D- adds the most engine braking of all, which means that you can simply lift your foot off the accelerator for most stop-start traffic conditions, although it doesn't slow you down to a total stop. This means you can't quite drive the van using one foot alone, as you can in cars such as the Nissan Leaf, but it is more relaxing than switching your foot from brake to accelerator all the time.

If you're driving around town there seems little need to come out of that mode, but if you're doing any prolonged faster driving then the extra engine braking would be an annoyance every time you take your foot off the accelerator.

The noise levels are generally decent, and certainly better than the equivalent Vito diesel, but it isn't as silent as you might hope for from an electric vehicle. There is a bit of whining and whirring, but it is still a quiet atmosphere overall.
Ride and handling
The standard Vito's ride is firm yet comfortable even when you don't have anything in the back to weigh it down and keep the suspension in check and the eVito is arguably even better. The ride is aided by the fact that the batteries are located low down underneath the loading bay, which means that the van's weight is spread more evenly.

This has the added bonus of lowering the van's centre of gravity, which helps with keeping it stable around corners. There is comparatively little body roll as a result of this, and the eVito is a neat-handling van.

The steering isn't as sharp and responsive as rivals such as the Ford Transit Custom or Renault Trafic, with it being a little dulled, but it is accurate enough that parking the eVito is easy enough – especially if you get the optional, if expensive, rear parking camera.
Safety
You get a little more than the bare minimum safety kit on the eVito, but not vast amounts, which is a bit of a shame given the eVito's hefty starting price. You do get two airbags, rather than just a driver's 'bag, which is more than the entry-level model of some vans, but not much more. Tyre-pressure monitoring, a full height and width bulkhead, hill start and auto headlights are about all you get otherwise.

As ever you have to head to the options list for extra kit, with side airbags, an alarm and a reversing alarm to warn passing pedestrians when you are driving backwards all available. There is little in the way of modern systems, though, with no crosswind assist or autonomous emergency braking, which are becoming commonplace among vans these days.

You do get Mercedes' CanTrack vehicle tracking module, though, which works with Mercedes ProConnect. This lets you do things like lock or unlock the vehicle remotely, look up its location and put a geofence on it so you get alerted if it goes out of a set area.
Equipment
The general kit list in the eVito is ok, but there are a few things missing that will irk given the amount that you are shelling out for it.

There are two trims, Pure and Progressive. Pure gets a (very) basic stereo with Bluetooth and USB, aux and SD card inputs, air conditioning, a heated driver's seat, dual passenger seat, panelling and flooring in the load bay, a loading hatch at the base of the bulkhead, two side sliding doors, automatic headlights and a Type 2 charging cable.

Step up to Progressive and you get a colour screen for the stereo, lumbar support for the driver's seat, metallic paint, body-colour front and rear bumpers, front fog lamps and a speed limiter, which restricts you to 75mph.

If you want DAB digital radio or satellite navigation then both are extra, but the system is a poor one so you may not feel you get value for your additional investment.
Why buy?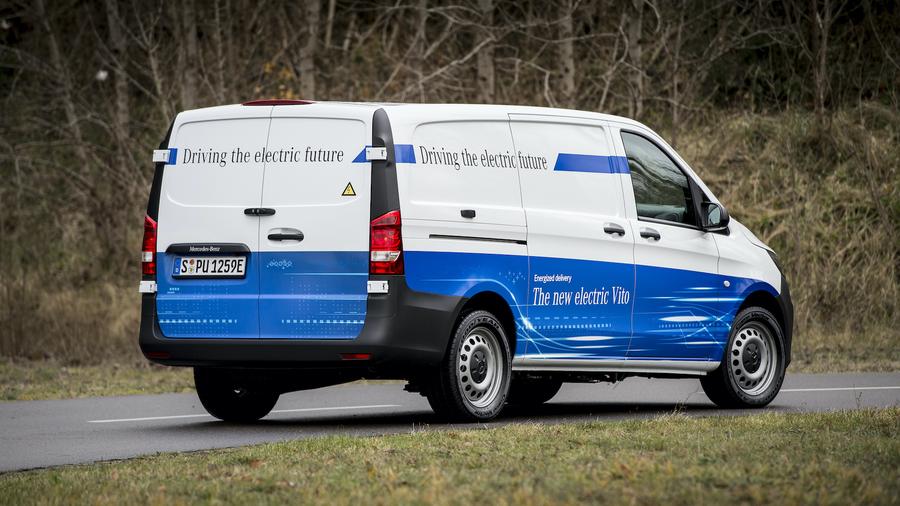 There are reasons for buying an eVito – if you want an electric medium van then it is the only option as of summer 2020, but this won't be the case for long. There are rivals due that will make the Mercedes look underpowered in terms of its range, performance and payload.

Those rivals from Vauxhall, Citroen and Peugeot will have the eVito beaten on price, too, so it will only get harder to justify paying more for less. That said, the Mercedes is a decent performer in the low-speed environments where electric is best suited. If you have a predictable daily route and can make the numbers work then it will serve you well enough.