Mileage 5,732
Costs: 0 Unlike most of the Auto Trader team, I spend a lot of my time writing about vans and all things related to commercial vehicles. This means that I spend more time pootling around in vehicles designed to carry things such as tools, rather than people. The majority of the time this isn't an issue, but occasionally I have to take my family with me when I go out, and as the littlest person in our small family is yet to hit her first birthday, this presents a problem – vans tend not to be set up for child seats and the like. I think I might have found the perfect solution, though, in the form of the Volkswagen Transporter that I've been living with for the last six months. It's
the Kombi version
, which means that there is space for five adults up front but there is still plenty of room for whatever gear you want to sling in the back, be that tools or toys. Essentially, it is a
massive estate car
. There is a serious business-case justification for such vehicles, though. Much like pick-up trucks, business users qualify for some really favourable Benefit-in-Kind rates on a van, so something like the Transporter could do a double job and be a working vehicle in the week and a family bus at the weekend and provide some serious tax savings in the process.
This version certainly has more than half an eye on the lifestyle user, as the Highline trim comes with a glorious array of kit. It gets fancy climatic air conditioning, cruise control, a heated windscreen which clears ice wonderfully rapidly and heated front seats, as well as 17-inch alloy wheels, hill hold assist, rear parking sensors and full body coloured mirrors, door handles and bumpers. One of my favourite details is the two arm rests either side of both front seats that make this VW much more relaxing on a long drive.
It also gets Bluetooth and USB connections that link up to an optional navigation system that comes with Apple CarPlay and Android Auto. Normally van drivers get the short straw when it comes to in-car entertainment, but this is the sort of tech that appears in the passenger car range and is of the standard the commercial vehicle market would once have only been able to look at enviously. Add in the Isofix fittings on all three seats across the back row and the small storage details, including a little bin that fits into the door pocket, and this is very much a vehicle aimed at drivers who want to at least pretend they are in a car come family time.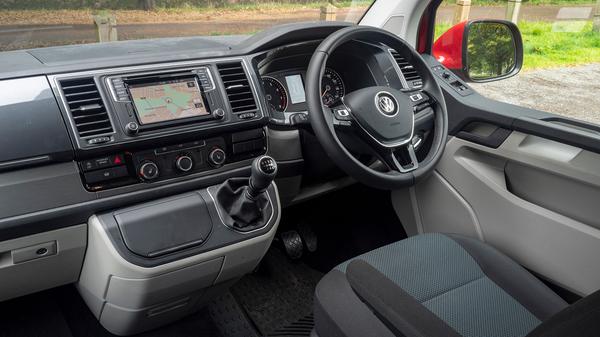 With that in mind, there are a couple of options boxes that I wish I had ticked. This version only has the one sliding door on the passenger side, which means that the small person has to go on the seat closest to the door. This then blocks anyone from being able to get into the back seats, so you have to clamber in the front and then squeeze between the driver and passenger seat to get into the back. A second sliding door at the cost of a couple of hundred pounds would have been a worthwhile solution.
Although I am still undecided, the door on the back is one thing that I think I would change – it is top-hinged so it swings upwards. While this is great at providing a temporary rain shelter for getting stuff in and out of the boot, it is slightly tricky in town – I park on the street and often get back to find other cars have jammed up close to my rear bumper. Side-hinged doors would be easier in those situations. You'll notice that there is one big thing that I haven't mentioned about this Transporter yet – the engine. It's a bit of a rarity, in that it has a petrol engine tucked under the bonnet, rather than a diesel as most vans do. The 150-horse-power engine is a lovely unit – it is relatively quiet, deals well with most overtaking requests (it only struggles when it is fully laden and you ask it for on higher speed overtakes or those uphill, but a lower powered diesel would suffer in the same way). It's got an impressive turn of initial pace, too, with 0-62mph coming in just 11.5 seconds. It even sounds nice when you do put your foot down, and the manual gearbox is smooth and entertaining enough to make those first few changes enjoyable.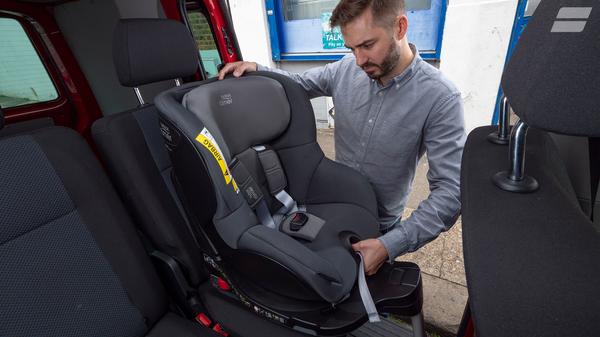 But (and it is a big and predictable but) there is a reason that businesses have tended to favour diesel over the years. Fuel economy. The bad news is that this Transporter's official economy is just 30.4mpg, which is pretty poor by modern standards. The good news is that that is a fairly accurate figure – I've been getting within 10% and have averaged 28.7mpg over almost 6,000 miles, and some tanks with lots of motorway cruising crept up to the 32mpg mark.
Even though that looks great next to the official figures, that isn't a fantastic return and an 80-litre tank has resulted in some painful bills when I've come to refuel. Even if you are doing lower mileages, that is going to be a painful reminder of the cost of running this vehicle each time you fill up. This is a glorious all-round vehicle in many ways, but I can't see it being fit for purpose for those that want their van to pull its weight on long-distance business trips as well as the weekend family runs.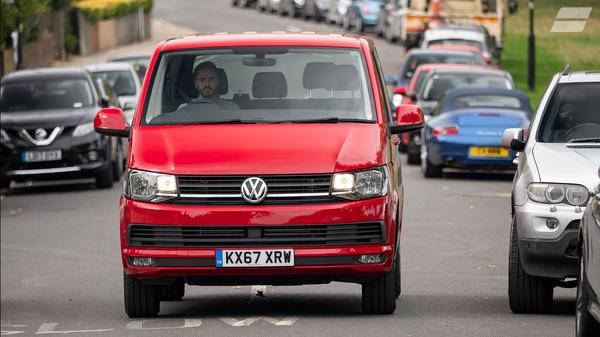 Key specs:
Model: Volkswagen Transporter Kombi Highline T32 SWB 2.0 TSI 150PS 6 speed manual List price: £34,801 OTR inc VAT Price as tested: £37,519 OTR inc VAT Engine/gearbox: Power: 150 horsepower Torque: 280Nm Top speed: 113mph 0-62mph: 11.5 seconds Economy: 30.4mpg combined (claimed) CO2: 212g/km Payload: 1,116kg Everything extra fitted to our long-termer: App Connect £162 Carpet flooring in cab £96 Comfort dashboard with wide centre console and bottle compartment £492 Discover Media navigation system £1,116 Folding wing mirrors; power adjustable and power folding £234 Heated driver and front passenger seats £318 LED tail lights £162 Two-seater bench on the drivers' side and individual seat with Easy Entry feature on the passenger side £138