Expert Review
Iveco Daily Panel Van (2014 - 2019) review
Iveco's brand might be more commonly seen on the front of big trucks and lorries, but the Daily is an established name in the large van sector.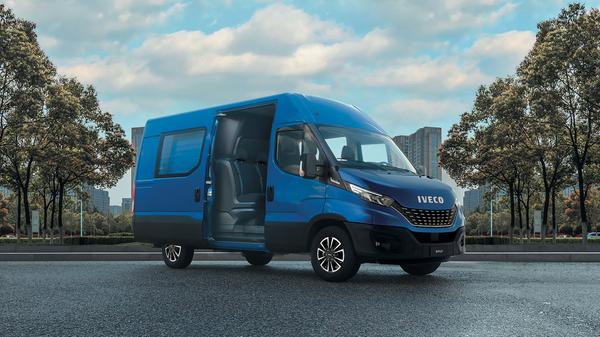 The Auto Trader expert verdict:
The Iveco Daily lacks the glamour and technology of its rival large vans, but it certainly manages to offer a compelling package in many of the other areas that will be of greater importance to those who are after a working tool. It's backed by the sort of warranty and servicing care that you would expect of a company more used to dealing with haulage firms, and it has a tough and powerful set of engines. The raw approach means that you don't get a huge dealer network, though, and there is, somewhat oddly, no official fuel economy data.
Reasons to buy:
Long warranty and service intervals
Huge cargo space
Strong engines and gearbox
Cargo & practicality
Despite being a distinctly large van by any measure, the Daily is the smallest model that Iveco does. It is built in a different way to most large vans, too – the body is strapped onto a chassis, rather than it being an all-in-one creation. This, and Iveco's experience with making big hardy trucks, means that it has the ability to carry a serious amount of kit. There are three different heights and five different lengths to choose from and loading bays that range from a decent-sized 7 cubic metres up to a frankly massive 19.6 cubic metres, which is the biggest available in the class. This comes courtesy of the longest and tallest model, which is just over 7.5 metres in length and over 2 metres tall. This translates to an internal loading bay that is 5,125mm long, which should be enough space for a huge range of needs. Iveco is a little reticent when it comes to publishing payload data but the stats on the front-wheel drive models can reach up to 1,900kg, although the core models are around the 1,200kg mark. You have to be careful when picking your Daily, though, as you can get it as either a light-duty or heavy-duty van, with gross vehicle weights of up to 7.0 tonnes and those heavier versions are the ones with the bigger payloads. The heaviest van that you can drive on a standard licence is 3.5 tonnes. Thankfully even the longest and tallest is available as a lighter version, although they don't get the same hefty payloads.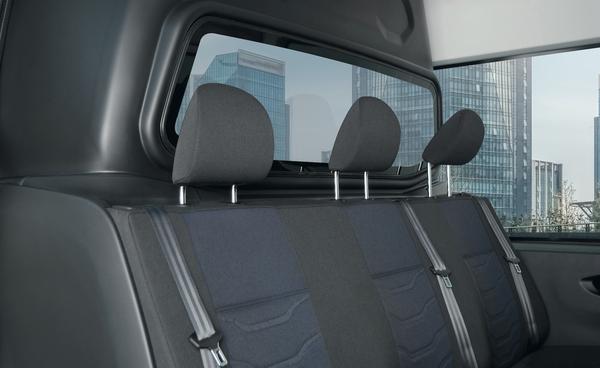 Interior
The cabin is one area where large vans have moved the game on notably in the last few years but the Daily has been left behind slightly. Where rivals like the VW Crafter and Mercedes Sprinter both offer a high quality and well-laid out cabin, the Daily's is more basic and less attractive. The most recent update, in 2019, brought about some welcome changes such as a steering wheel that is smaller than before and that you can move up and down – this wasn't possible before. This brings a little more legroom around your knees than there was previously, although there is an odd lack of room to the left of the driver's footwell. Also, the shape of the dash means that you might still bash your knee on the section where the gear lever is. The automatic parking brake helps free up a little space though. The rest of the cabin is slightly unglamorous with a mixture of practicality. There are a few storage spots dotted around, with a compartment on the top of the dash and a flip-down middle seat available to act as a writing table. The biggest storage spots are in the door, though, so things can be easily tucked out of sight. The lack of overhead storage is a disappointment though – it's an optional extra only. The look is rather tired, too. The central screen is a long way behind the rival systems in the likes of the VW and the Mercedes, although it is a bonus that you get Apple Carplay and Android Auto. The physical dials for changing things like the heating might be practical, but they, and the blanked off switches that you are likely to get unless you tick every options box, are outdated in their appearance.
Running costs
Fuel economy is a tricky subject when it comes to large vans – use them as they are designed to be used and they won't be returning fantastic figures. That said, the Daily is just about below average for the class when it comes to the official figures. According to the tests it should be capable of about 35-36mpg, which is just short of what the best in class will do – the likes of the VW Crafter will nudge closer to 40mpg for example. The aftercare is reassuring on paper, with a five-year warranty, while service intervals are a huge 60,000km, or 37,000 miles. This is the longest in the sector, which should help to give the Daily an edge over the competition. The most recent update brought about some welcome changes to elements such as the bumpers, which are now three-piece units. This means that you can switch out part of it should you have a bump, rather than having to replace the whole thing. The headlights have been moved, too, so they are less likely to get destroyed in the case of a small bump.
Reliability
The Daily comes with the back-up of a servicing network that is more used to looking after heavy-goods vehicles and their demanding owners. The downside is that there aren't as many of those dealers as there are for more mainstream manufacturers. The engine that is most likely to feature in your Daily – the 2.3-litre diesel – is one that has been used elsewhere in vans like the Fiat Ducato, and has been around for a while. It has a decent record of reliability and is well regarded.
Performance
There are three engine choices in the Iveco Daily, all different takes on a 2.3-litre diesel. They go by the names 120, 140, and 160 but (slightly confusingly) their power outputs are 116hp, 136hp and 156hp. All three come with a choice between a six-speed manual and an eight-speed automatic, dubbed Hi-matic. The latter is the more popular among those who get to choose their own Daily, while the manual is more popular with those bought by big fleets. There is logic in this – the auto is a preferable choice and is a smooth and relaxed gearbox on the whole. The exception to this is when you are setting off. The Daily never gives over much of a sense of urgency when you pull away from a standstill, with the stop-start system taking a moment or so to fire up. Once it is on the move the mid-range engine is strong and powerful, with plenty of mid-range pull – it's just getting it going. The lower-powered engine is only available with the manual, but the lower power output shouldn't prove a big handicap as all three engines offer a remarkably similar level of pulling power to one another, so they should all be similarly adept when it comes to hauling about heavy loads. Whichever one you go for there will be a fair amount of noise, largely from the engine but there is also some kicked up by the wind, too, thanks mainly to the large door mirrors. The crew van, which is created by a third-party conversion company, lacks the same insulation as the standard panel van so is a little noisier.
Ride and handling
The Daily's ride and handling setup is one of firm competence rather than comfort. The suspension tends to be a bit crashy when it comes to navigating potholes and speed bumps at lower speeds. This makes it a bit less relaxed to drive at lower speeds than some of its more refined rivals. This is the case even with a 500kg load in the back, which means you will bounce around even more with an empty loading bay. You can get a suspended seat for both driver and passenger to add a touch of comfort though. The steering feels pleasingly light around town, though, and this is aided by the 'City Mode'. Prod a button on the dash and it gets even easier to spin the wheel, making parking and low-speed manoeuvres much simpler than they should be for a vehicle this big. Leave it in the standard setting and it is not the sharpest system, with a little numbness when at higher speeds. It's easy enough to keep it going in the direction you want it to, but it isn't as accessible and car-like as the best big vans.
Safety
The latest updates bring more safety kit to the Iveco Daily to the extent that it comes with an impressive level of equipment. The systems on offer include the emergency city braking, adaptive cruise control and crosswind assist. Perhaps more notable are the Queue Assist, which will bring the van to a halt in stop-start traffic, a hill descent control, which is a rarity in a large van and a traction control system that is adaptable for different surfaces such as mud, sand and snow. The lane keep assist system is adaptable to the extent that you can set the distance that you want to be from the centre lanes. The downside is that a lot of this kit has to be added on as optional extras, even the crosswind assist. Thankfully Iveco has added some packs that make doing so easier and more cost effective.
Equipment
Iveco has traditionally made adding options onto the Daily a tricky process – you essentially start with a basic van and add on what you want. Thankfully the most recent update has made things a bit easier, as it has brought out some packs that mean you only have to tick one box rather than many. There is still an element of the bizarre to the packs, though, as Iveco has created three categories with subsections in each – Equipment, Functional and Mission. The Business pack, in the Equipment section, is the bare minimum, as it brings air conditioning, cruise control and LED headlights. Oddly the manual version gets a Business Premium pack while the auto gets Business Exclusive. Both add much the same kit, with the suspended driver's seat, DAB digital radio, a leather steering wheel and fog lights. Functional has three sub-sections, with Winter, Hi-drive and Digital packs, which bring more in the way of safety and comfort kit and the connectivity function that allows remote diagnostics and fleet management while Mission adds wider opening doors more lights in the loading compartment and a reversing sensor. It's complicated, but a lot simpler than scrabbling around with one long options list and potentially forgetting something that you later regret leaving off.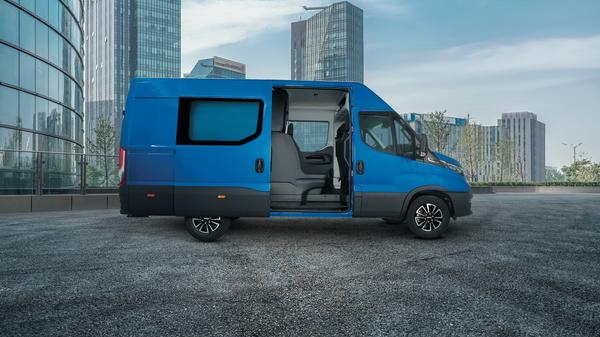 Why buy?
The Daily has a slightly different approach to the other large vans you can buy, which in itself is a good reason to go for it for many. The truck approach to building and selling the Daily means you get a strong and well-built van, but there are fewer dealers and you don't get the same clarity as you get with the brands more used to selling cars. It's a solid workhorse, but there is a little more in the way of comfort available from more modern rivals.