Expert Review
Ford Transit Panel Van (2013 - 2016) MK5 review
We test 2013's version of Ford's legendary van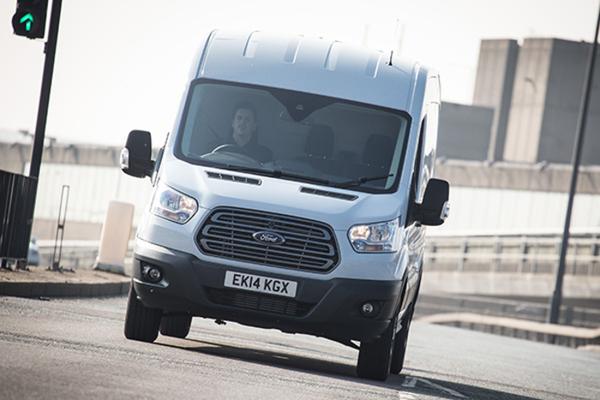 Words by: John Fife

Additional words by: Auto Trader
Last updated on 20 January 2020 | 0 min read
The Auto Trader expert verdict:
By splitting the Ford Transit range into four distinct categories, Ford is playing a risky game with the nation's favourite LCV, but it's working. For those who need a smaller van, the Connect has filled the bill admirably; the smaller Courier adds more choice; and, the stylish Custom appeals to the average tradesmen at the lower end of the panel van market. For those needing something bigger and more robust, the Transit is taller and wider. But is it any better? After 2,500 miles, the initial verdict is that Ford has done it again and set a new standard.
Reasons to buy:
Roomy and comfy cab with good ride quality
Huge loadbox with large doors
Door mirrors give excellent rearwards visibility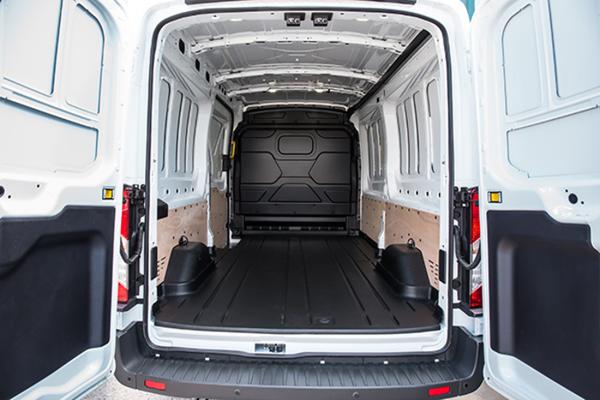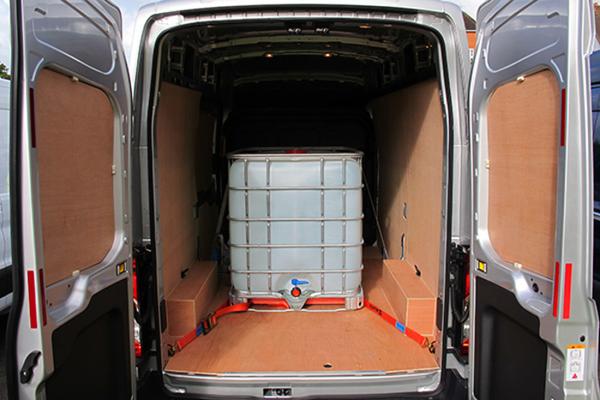 Cargo & practicality
The cargo floor length on the L3 is 3,494mm – enough to slide in four Euro pallets – while the distance between the wheelarches is 1,392mm. There are eight, large D-Ring lashing eyes in the loadbox, which has a payload capacity of 1,364kg – pretty good for a big rear-wheel drive van. There's one grab handle on the 'B' pillar inside the siding side door to help the less fit haul themselves inside, but there are no grab handles inside the rear doors. The Transit makes full use of its generous loadbox, with wide-opening rear doors that are hinged right at the corners of the rear panels. When opened, they reveal a gap that's slightly over 1.5 metres wide, easing the job of aiming a fully loaded forklift truck at the 11.4 cubic metre loadspace. Similarly, the side-loading door is wider than average at 1.3m. Ford has also made a better job of the rear step built into the bumper and improved the depth of the side door step, so that even drivers with large feet shouldn't have any trouble getting in. However, the best thing about the new Transit is the LED lighting inside the back. Unfortunately, it's an option, but for those who are continually ferreting about in the back for tools, parts or packages at night, it's an essential extra, allowing labels to be read without resorting to torches. In the previous hi-roof Transit, there was a shelf above the cab accessible from the rear, but that's not available in this van.
Expert rating: 4/5
Interior
With the extra space inside the taller and wider cab, Ford has retained the practicality of the previous dashboard layout, albeit with the notable exception of the fold-down tray. The dashboard still has a bottle holster at each end, however, with enough room in them to hold a 1.0-litre bottle, and there are plenty of cupholders, too. The door pockets offer additional storage; there is an over-windscreen shelf in the Transit for the first time; and, the seats benefit from a new design, with a storage box under the two-seater passenger bench and a fold-down 'desktop' in the centre seat. There are also two 12v sockets, with one under the lidded compartment ahead of the driver, which is ideal for hiding mobile phones when they are being charged.
Expert rating: 5/5
Running costs
According to the official combined cycle fuel consumption test, the 123bhp engine should return 35.3mpg. When we first drove it, the van was returning 27mpg in everyday use, but that has improved to 31mpg as miles have been added; and, we think that, as the engine loosens more, that figure will improve further. Service intervals are up to 30,000 miles, or every two years, and the van comes with a three-year/100,000-mile warranty.
Expert rating: 5/5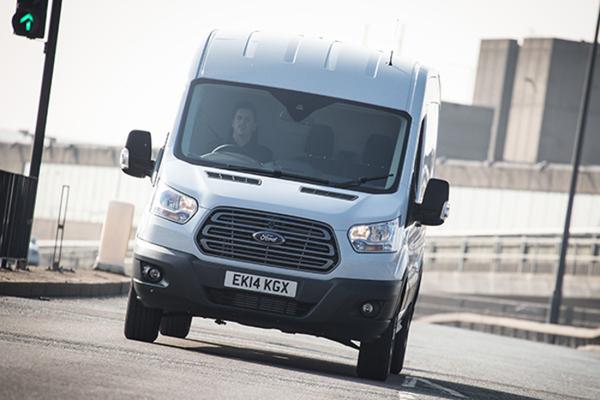 Performance
"

The six-speed gearbox helps to make things easy when pulling away with a load

"
Our van had the mid-range 123bhp 2.2-litre TDCi, four-cylinder, Euro 5 engine, producing a healthy 258lb/ft of torque from 1,450 rpm. A six-speed gearbox is standard across all Transits and helps to make things easy when pulling away with a load, and getting past slower-moving trucks and caravans when added 'oomph' is needed. What's more, our experience suggests things should get better as the van piles on the miles. At first, the van we were testing had 600 miles on the clock, but with just over 3,000, the difference in engine response and flexibility is definitely noticeable.
Expert rating: 5/5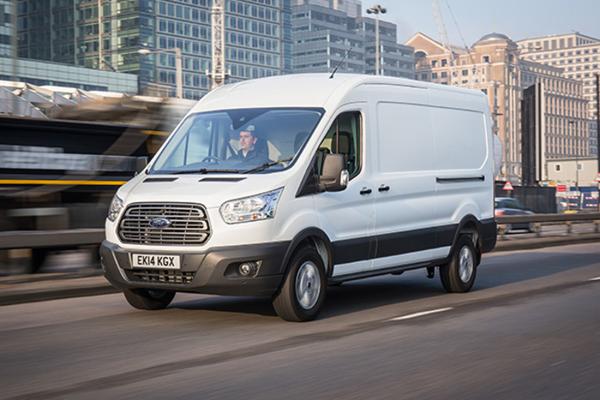 Ride and handling
"

The ride is as smooth as on some more luxuriously appointed executive saloon cars

"
Even when running empty, the new Transit provides an exceptionally good ride, and as you would expect, it's a pleasure to drive. There is no shake and shudder over rough roads, although some of Britain's 'best maintained potholes' will catch you out. However, once the suspension is under load, the ride is as smooth as on some more luxuriously appointed executive saloon cars. That's down to stiffer suspension mounting bushes and a new design of anti-roll bar compared to the old van. Our only complaint is that the seats are bit firmer than before.
Expert rating: 5/5
Safety
In terms of safety equipment, this Transit represents a huge step forward over the previous model. ESC and EBA are standard, as you would expect these days, but if a driver has to execute an emergency stop, the hazard warning lights are automatically activated, giving other drivers a chance to stay out of trouble. The electronic systems also use Curve Control (a system which detects if a corner is being taken too quickly), Roll-Over Mitigation (which activates the ESC if a sudden change of direction, like a high-speed lane change on the motorway, is detected), and Load Adaptive Control which compensates for the amount of load the vehicle is carrying. Hill start Assist is also standard on the new van, as are a driver's airbag and the Drive Away Locking system. This is a good security feature, which lets you know if you drive off with a door not fully closed and latched.
Expert rating: 4/5
Equipment
The standard cab is comfortable and pretty well equipped, but is a bit drab compared to the Trend and Limited specifications. These get extra chrome highlights and shiny plastic panels on the dashboard, which transform the look of the interior, especially with the multi-function leather-rimmed steering wheel. This Transit has an adjustable steering column and, coupled with the eight-way adjustable driver's seat, will provide the vast majority of drivers with their ideal seating position. Just one wee niggle, though: the seats don't have as much 'cushion' as the previous seats, so they're firmer, although still comfortable. In-cab comfort also includes a radio (with a CD player on Trend and Limited trim) with AUX socket, USB/iPod connectivity and Bluetooth. Electrically operated door windows are also standard, as is a heated front windscreen. The test vehicle also had a few options, including a rear-view camera, alloy wheels, air-con and an inverter with a 230v 3 pin plug socket.
Expert rating: 5/5
Why buy?
If you're still unsure about the Transit's looks, console yourself with the fact that, when you're driving it, you don't have to look at it. But, what will sell this van is that it has a comfortable cab, a huge loadbox, a good payload and great driveability. In short, this van is an absolute cracker.
Expert rating: 5/5