Guide
An Auto Trader Vans Guide To ULEZ
In a bid to improve air quality, London Mayor Sadiq Khan launched ​an Ultra Low Emission Zone (ULEZ) which operates central London (within the same area of as the Congestion Charge), 24 hours a day, 364 days a year. If your vehicle doesn't meet the ULEZ standards , you must pay a daily charge to drive within the zone.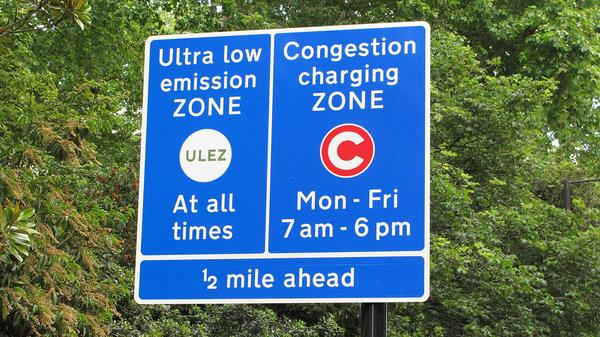 Why do we need ULEZ?
The Mayor launched the ULEZ, back in April 2019, after he visited young patients and specialist doctors at Evelina London Children's Hospital in Westminster.
Claire Lemer, Clinical Director, Evelina London said: "Sadly, there's not a day that goes by when we don't see a child with asthma on our wards. This initiative will help to improve the lives of children in the city, reducing unnecessary visits to hospital and helping them to lead healthier lives." The Ultra Low Emission Zone (ULEZ) hopes to address the toxic air health crisis in London, which leads to thousands of premature deaths every year. At the time of the launch, ULEZ was the toughest Global emission standard in operation. It aims to allow millions of Londoners to breathe cleaner air and it is expected to make NOx road transport emissions estimated to fall by 45 per cent, within the ULEZ zone.
How will it affect you?
If you drive a petrol van that isn't Euro 4 compliant, or a diesel van that isn't Euro 6 compliant, into the ULEZ zone you will have to pay £12.50 per day.
Where is the ULEZ zone?
Here is a map of the ULEZ zone at the time of publishing this article. For the most up to date information, use the Transport for London
website here.
How can I check if my van is compliant?
Will the ULEZ boundaries change?
Yes, they are likely too. There is a plan for the ULEZ boundary to be extended from 25 October 2021, this will create a single larger zone bounded by the North and South Circular Roads. To keep up with the latest plans
please click here.
Can I get a discount?
You can receive a 100% ULEZ discount until 24 October 2021 if you are a London resident who lives within the zone or some other designated areas near the boundary, if you register for the residents' Congestion Charge discount.
If your van is registered with a 'disabled' or 'disabled passenger vehicles' tax class, you could also benefit from a grace period after the ULEZ starts.
Read more about discounts and exemptions here.
If I want to replace my van, what can I do?
You might have a few options including
Scrappage grants if you are a small business or charity with a non ULEZ compliant van
You could fit emissions reduction technology to your van
You could convert your van to run on LPG to lower it's emissions
You could retrofit your van for it to convert to Liquid Petroleum Gas (LPG)
ULEZ, LEZ and the Congestion Charge Zone during the COVID-19 coronavirus pandemic
On 23rd March Transport for London (TfL) announced that all road user charging schemes in the capital will be temporarily suspended, until further notice.
Previously every van which entered into the Congestion Charge zone between 7 am and 6 pm would be required to pay £11.50 every day. If your van needed to go into the ULEZ zone and didn't meet the standards, you would also be required to pay another £12.50 per day. This means that businesses with non-Euro 6 compliant vans, who are required to drive in both zones would be paying up to £24 per van, per day. As these are temporarily suspended, the cost is now £0 per day until further notice. For more information on this
please read our full article here.
Where can I find Euro 6 compliant vans on Auto Trader?
You can browse Euro 6 compliant vans
here.