Review Volvo FH review
The Volvo FH mixes style with substance. Perfect as a flagship motor with the industry's most powerful roadgoing engine, or as a run-of-the-mill fleet truck.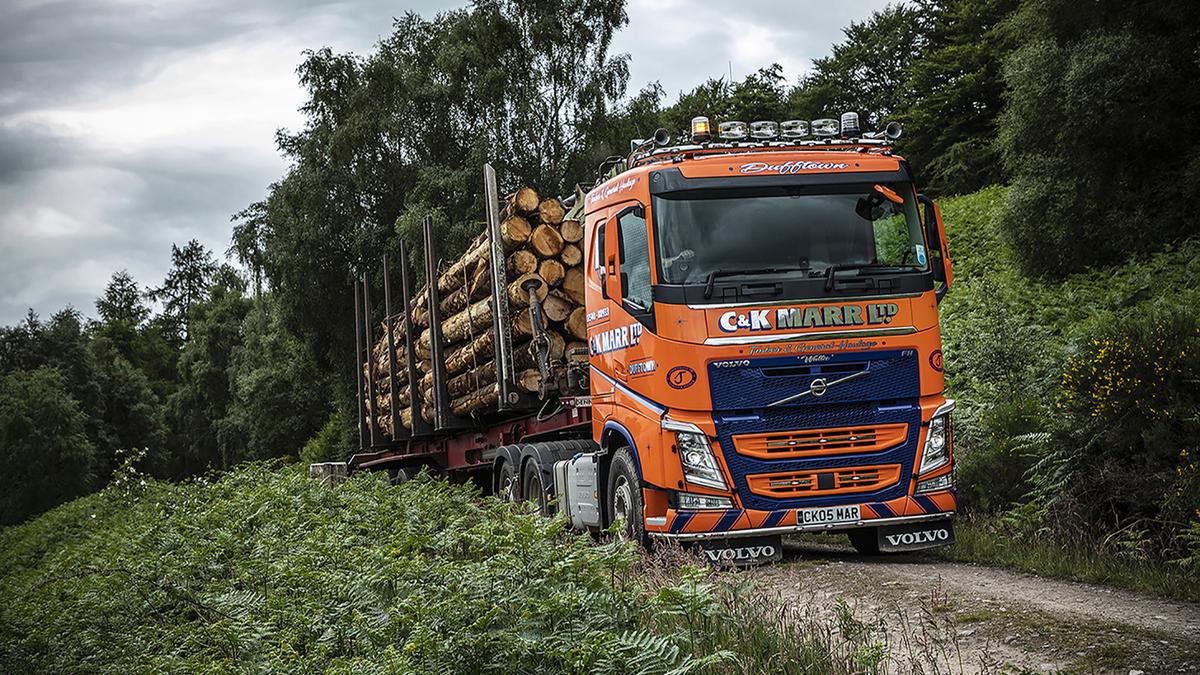 View gallery
The Auto Trader expert verdict: ★★★★★

★★★★★
4.7
Loved by bosses and drivers, the Swedish manufacturer has been able to keep a mature brand fresh and contemporary.
Reasons to buy
Versatile

Affordable

Comfortable
Engines
Replacing the legendary F series, FH was introduced in 1993 as two brands with Euro-1 engines; FH12 was powered by the 12.1-litre delivering 340, 380 and 420hp, and FH16 with the 16.1-litre delivering 470 and 520hp.

In 1998, the D12C engine was introduced pre-empting the move to Euro-3, and in 2005 the 12.8-litre D13 engine broke cover preparing the way for Euro-4 and -5, with 400, 440, 480 and 520hp.

D13A with SCR (selective catalytic reduction) was available with 360-to-480hp, and two years later the D13B with EGR (exhaust gas recirculation) was launched offering 360-to-500hp.

FH16 fans got more power in 2008 with a 700hp lump, which was then upped to 750hp four years later. Since 2012, the D13K for Euro-6 has boasted 420, 460, 500 and 540hp; with the D16K continued at 550, 650 and 750hp.

Earlier this year (2018) the OEM started to offer dual-fuel trucks using predominately LNG (liquid national gas) powered engines with minimal diesel-ignition delivering 420 and 460hp.
Transmission
FH started with two manuals, the nine and 14-speed, complimented by the two-year-old automated Geartronic transmission. The arrival of I-Shift in 2001 replaced Geartronic as the automated option, then supplanted the manual gearbox as standard fit across the entire FH range.

I-Shift, a real gamechanger, opened the door to new ideas like using neutral to improve rolling resistance when driving that saved fuel and software that could modify engine performance to suit a hauliers' needs; economy mode for long-haul, power-mode for heavy-duty work, off-road and emergency services to name a few. In 2012 I-See, its forward-looking predictive cruise control, was added.

You can still order a manual, but it's listed in the options.
Cabs
Although a brand name when it was launched in 1979 as a long-haul cab for the F12, Globetrotter has become truly synonymous with FH. First offered as a high-roof sleeper cab alternative to a standard sleeper and a day cab, it was lighter, better designed and aerodynamic. The new Globetrotter XL arrived in 1995, and in 2002 the range of cabs got fully overhauled with improved styling and aerodynamics, and a larger windscreen.

It would 2008 a redesign introduced a more angled front making it even more aerodynamic and sleeker, with air-channelling corner panels. The most recent revamp for the fourth generation arrived in 2012. The day cab was jettisoned, leaving three sleeper cabs; standard, Globetrotter and Globetrotter XL.

Keep an eye out for the Limited Editions; since 1997 there's been seven.
Comfort and storage
From the days of the F12, Globetrotter has been all about driver comfort. Although the first generation was functional, the upgrade in 2001 brought much needed refinements.

The true step up in comfort and storage arrived was in 2008 with the Generation III. More stowage around the cab and dashboard, USB ports and Bluetooth phone connections, improved headspace when standing, and a pair of under-bunk, slide-out lockers with a fridge-option.

In 2012 the most recent upgrade brought more internal space for the driver, greater standing height with a lower engine tunnel, and a deeper the windscreen rake.
Safety
Safety is a focal point for all truck manufacturers, with each governed by the European Union's 19 legal safety requirements for trucks which include; automatic emergency braking (AEB), intelligent speed adaptation, lane assist, driver alert systems, tyre pressure monitoring and pedestrian and cyclist detection linked to AEB systems.

Volvo has innovations like the safety hatch in the form of a large skylight that doubles as an escape route, and a safety system that combines Volvo Dynamic Steering (VDS) with Lane Keeping Assist to adjust the drivers' road position should the truck show signs of edging towards the lane marking.

With a slight turn of the steering wheel in the appropriate direction and gentle vibration in the steering wheel, the driver is notified and is helped to steer the vehicle back into the existing lane.

Rollover, impact and strength tests, are all paramount, but Volvo Trucks might be the only OEM to crash test its 'coffee maker'.
Handling
Smooth, responsive and advanced. Of all the trucks in the marketplace the FH is the closest to perfection as you're likely to find when it comes to handling. Steering has pinpoint accuracy, and the addition of VDS launched in 2013, stops drivers wrestling with the steering wheel as they squeeze the wagon into a tight space.

Pick of the drivelines is the D13K 540hp with the Euro-6 12.8 litre six-cylinder diesel engine. Oozing 2,600Nm peak torque it gives you all the power and durability without the extra weight and cost of the 16.1-litre 550hp.

Arguably Volvo's finest 'new idea' is the I-Shift Dual clutch transmission unveiled back in 2014; claimed as the first of its kind for heavy trucks and 'inspired by motor racing gearboxes'. It has super-quick changes when under pressure; a must-have for any heavy-duty operator working in rugged terrains.
Running costs
Volvo FH engines enjoy a reputation for performance delivering a more consistent speed up hill and down dale irrespective of the weight it is hauling. But that comes at a small price, making its fuel economy more of an also-ran than leading the pack.

I-Shift helped FH close the mpg discrepancy with competitors and opened the door for more fuel-saving innovations like I-Roll and I-See.

Its robust stature makes it a favourite with heavy-duty operations but less so to those with weight-sensitive bulk transport businesses, where an operator needs maximum payload.
Price and residuals
A more recent problem for FH is that it's become all-things-to-all-operators; a flagship motor with bells and whistles and a mass-fleet truck too. All done in the pursuit of stronger residual values.

This has relegated the smaller, lighter, cheaper FM to the rigid market even though the tractor unit might be a better solution, especially in the bulk transport sector.

Where they crop up, RVs on unremarkable, lower-spec FHs become diluted because of the sheer number. There is good money for the highly specified FHs with Globetrotter XL and the higher-powered D12 engines, and always strong appeal for anything with the D16 engine.
Warranties and dealer networks
There are 85 service points, split between private enterprise and the wholly-owned network, and standard warranty is 24 months.

Since 1993 there have been 81 vehicle recalls issued by the Driver and Vehicle Standards Agency, with 17 issued since 2012. Most significant were in 2016;

An internal oil leak in the cab tilt cylinder, during a tilt the cab could pitch forward when over top-dead-centre without any restraint

Internal electrical short circuit in some cab interior lamps.

Split pin for the brake pedal cross shaft may not have been correctly installed.

Driver's airbag inflator may rupture due to uncontrolled burning of propellant.
Why buy?
Despite being 25 years old and in its fourth guise since 2012, FH is showing no signs of slowing down.

Globetrotter helps with driver retention and operators get a driveline that delivers a first-class performance. For new sales it has the cabs, drivelines and options to cover a multitude of sectors from heavy-haulage to supermarket deliveries without compromise. In the used sector there is plenty of choice, with most of it very impressive.