Expert Review
Scania R Series review
The 'first generation' R-series replaced the four-series and cemented Scania's place in the vanguard of British trucking.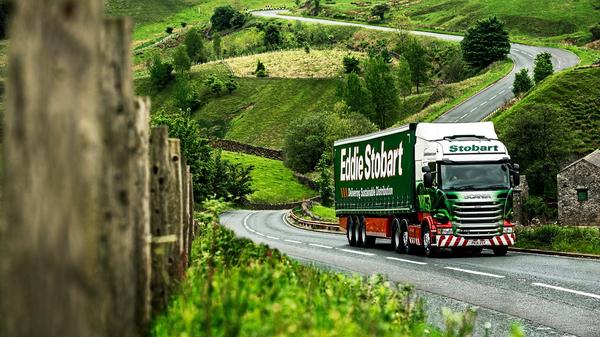 The Auto Trader expert verdict:
Popular with large fleets, family-run hauliers and owner-drivers alike, R-series generates industry-leading residuals and remains a firm favourite with drivers.
Reasons to buy:
Reputation
Evolving driveline
Comfortable
Engines
When first launched in the spring of 2004, the R-series came with the last of the Euro-3 straight-six and V8 engines. By 2005 it had a full Euro-4 line-up which included 11.7-litre at 340-to-470hp using exhaust gas recirculation (EGR), and the 15.6-litre V8 available with 500-to-620hp using EGR and selective gas recirculation (SCR). Scania made the transition to Euro-5 in 2007 employing EGR on its new 12.7-litre (which would supplant the 11.7-litre) with a small increase in power across the range from 360-to-480hp, Scania then added an SCR version in 2012. Scania unveiled a second V8 engine in 2010, a 16.4-litre for the top 730hp rating and retained the 15.6-litres for the less powerful versions. These engines were the gateway to Euro-6, launched in 2013. With more power and torque it offered two 12.7-litre versions; SCR only with a 410 and 450hp, and a EGR and SCR version offering 450 and 490hp ahead of the 'second generation' launch. Scania then offered just one V8 engine with three ratings; the 16.4-liter with EGR and SCR available with 520-to-730hp.
Transmission
Back in 2004 trucks came with a choice of an eight-speed manual or the automated Opticruise and a 12-speed three-over-three manual or the Opticruise (ignoring crawler gears). Unlike its competitors, Scania retained a third pedal, namely the clutch, which the driver used to start and stop the truck. In 2009, it revamped Opticruise into a traditional two-pedal set up. Two years later ahead of the Euro-6 launch, Scania refined its Opticruise software and added an economy mode that softened the engines response and disabled kickdown.
Cabs
The external appearance and shape of the new R-series cab borrowed heavily from its predecessor. One crucial change was mounting the cabs 70mm higher to for better airflow to accommodate the new Euro-4 EGR engines that were about to be launched. In Topline the upper bunk was moved to the rear of the cab, and a new 'high-roof' version called Highline was introduced, delivering an all-new interior. In 2009 the interior was revamped again, and Scania modified the exterior. The cab got a new grille and bumper with reshaped air-intakes, to allow greater airflow through the engine compartment in preparation for the next generation of Euro-6 engines. In 2013, 22 years after it was first introduced, Scania brought back Streamline. It was applied to all R-series sleeper cabs fitted with side and roof air-management kits. It featured new corner sections, a patented deflector lip just above the headlights, and redesigned open-ended sun visor to improve airflow.
Comfort and storage
From the outset Scania successfully addressed several issues with the outgoing four-series by providing a roomier, more comfortable working and sleeping environment for the driver. A shallower footwell and additional storage volume were welcomed, with a much-improved bottom bunk with slide-out extensions. Raising the R-series cab 70mm brought additional storage space under the bottom bunk. Drivers were critical of the build and material quality used for the interior, which were prone to being easily scratched and damaged. The 2009 version of the R-series introduced a new dash, better quality surface materials and a full-length slide out lower-bunk. The centre console joined the modern age with handy storage boxes, a sliding drawer and cup holders.
Safety
Safety development has been incremental since the innovative electronic braking systems were launched in 1998. A Driver Alert system was first added in 2006, now the Driver Attention Support, to monitor the driver's attention level, and in 2009 the Scania Driver Support system was added, which focussed acceleration, anticipation, and driving over undulating terrain. In 2011 it added an integrated tyre pressure monitoring system to achieve optimum rolling resistance, improve fuel economy, manage tyre wear and help prevent accidents. Since 2014 Scania has added electronic stability programs to avoid vehicle roll-over, advanced emergency braking system that uses a camera and radar to identify stationary and slow-moving obstacles, and lane departure warning system.
Handling
Gradual increases in horsepower, torque and the evolving Opticruise gearbox, has made R-series a more sophisticated and comfortable truck to drive. The driveline has improved lower down and is happy to lug at 1,000rpm, with the latest Opticruise transmission swift to change under duress to retain its road speed, although it's not the quickest 'gear changer' on the market. The economy mode might be more appreciated by the gaffer than the driver but its strong and responsive when it needs to be. In the run-up to Euro-6 Scania introduced faster rear-axle ratios to maximise fuel economy on long-haul motorway journeys. In the 12.7-litre straight-six line up, the best rear-axle ratio is the 2.59:1 with a direct-top drive that can keep the rpm down to below 1,200rpm at top speed.
Running costs
Through Euro-4 and into Euro-5 fuel economy was not great, which left some operators disappointed. That changed when the manufacturer introduced Euro-6, especially with SCR only engines. The leap in mpg has been widely welcomed, by operators. Part of the improvement in fuel economy is down to Eco-roll, which calculates the ideal time for a truck to roll downhill in neutral, and Scania Active Prediction (SAP), which were added in 2013. SAP uses GPS to read the road ahead and adjust power and braking procedures to climb and descend undulating terrain with maximum fuel efficiency.
Price and residuals
Throughout its run the R-series was one of the most expensive new motors available, however, they tend to hold their price. Those who chose V8 with Topline could almost guarantee a sellers' market. Only the more generic specifications (6x2, 450hp and sleeper cab) suffered a nominal dent in the residual values, but not enough to damage its reputation. With several large orders Scania ensured 'first refusal' on defleet so they could enjoy a second bite of the cherry and control supply into the marketplace. There is a strong demand for the early Euro-6 models in the last of the R-series cab. Apart from a service and a brush up, Scania don't tend to go down the 'specialist' route with limited editions, with the Streamline the exception, not the rule.
Warranties and dealer networks
For the outset Scania offered a two-year repair and maintenance (R&M) cover from new until 2013. From 2014 with the Euro-6 vehicles that continued but with an option to buy a third-year R&M at a discounted price. This was one of the more comprehensive packages in the market and provided significant peace-of-mind for operators going down the second-hand route. Through its production run the R-series has been subject to 18 recalls from the Driver Vehicle and Standards Agency, with the last two issues in 2016 for the backrest on the driver's seat and loss of steering control. Within the dealer network are wholly owned dealerships and large independent groups; in total there is 89 service points across the UK and Northern Ireland.
Why buy?
The R-series has evolved from Euro-3 to Euro-6, and with each step improved on what came before. For fuel economy the move to SCR-only brought industry-leading figures, while the towering V8 remains iconic. Strong residuals offset an expensive outlay upfront, and a strong warranty offer from new means a first-class maintenance regime backed up by genuine parts. In the R-series, Scania produced a truly desirable asset.