Expert Review
Mercedes-Benz Atego review
Now in its 21st year, the Mercedes-Benz Atego 7.5 tonner enjoys a solid reputation for durability, quality engineering and performance.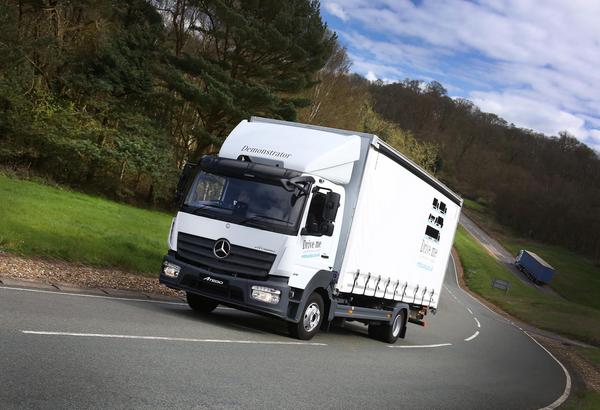 The Auto Trader expert verdict:
Spacious and comfortable; it enjoys success in the own-account sectors and compliments fleets with larger M-B vehicles.
Reasons to buy:
Build-quality
Robust
Reliable
Engines
The 900-series engines first launched in 1996 would form the basis of all the four-cylinders through to Euro-5. The 4.25-litre Euro-2 engine was put into the final production run of the LK before the truck was replaced by Atego. It came with a choice of the 150 or 177hp, or a 6.37-litre 231hp. For the Euro-4, branded Bluetec 4, Mercedes employed selective catalytic reduction (SCR) aftertreatment system (EAS) with the 4.25-litre retained with 156hp and 177hp, which were also kept for Euro-5, better known as Bluetec 5. Atego mark three was introduced in 2013 with new Euro-6 four-cylinder 5.1-litre engine with common rail injection, exhaust gas recirculation (EGR), an exhaust box with an integrated SCR system and a choice of 156, 177, 211 and 231hp respectively.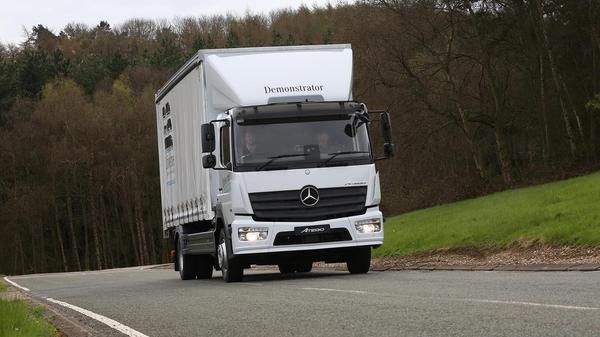 Transmission
Operators buying the first Ategos had a choice of the ZF five-speed or the Mercedes-Benz six-speed box. The ZF was quickly replaced, with in-house five and six-speed gearboxes, and an optional six-speed Telligent Autotrans automated. For Euro-6 the two-pedal Powershift automatic gearbox became standard along with a choice of gearshift programs. On offer now is the Mercedes-Benz PowerShift 3, which oozes finesse. Quick changes combined with a choice of an economy transmission mode or power mode, with the latter changing gear a 100rpm higher so power output is available for longer.
Cabs
The 7.5 tonner has benefitted and been penalised for having a cab that has been essentially designed for heavier chassis-cab up to 16.0 tonnes gross vehicle weight (GVW). Wider and often taller than your average cab meant more internal space for the driver, but it's also heavier than the average, reducing any potential payload. Mercedes-Benz has consistently offered four cab versions; standard day cab, extended day cab with an extra 175mm longer, long sleeper cab, and long sleeper with a double-bunk sleeper and a high roof. These are now rebranded accordingly as ClassicSpace S-cab, ClassicSpace S-cab extended, ClassicSpace L-cab, and BigSpace L-cab.
Comfort and storage
From its original launch, the first revamp came in 2004 with a choice of three dashboards; distribution with a centre seat, long distance with greater storage, and comfort, which adds soft-touch materials. With a little more internal space to work with Mercedes employ a large shelf on the dash, on the engine tunnel and in the door lining. The theme was to stow odds and ends like glasses, drinks, delivery documents, phones and the likes, safe from rolling around the cab. In BigSpace there are two compartments above the windscreen and capacity for two-bunks, and storage under the bunk.
Safety
This is an area that Mercedes-Benz has led by introducing innovations like Active Brake Assist (ABA), which detects obstacles and people driving ahead of the vehicle and warns the driver of any dangers. It will, if necessary, carry out an emergency brake. With ABA3 or ABA4 you can add Proximity Control Assist, a stop-and-go function that can reduce the risk of rear-end collisions in slow moving traffic. Also available is Lane Keeping Assist, electronic brake system with ABS and ASR, Brake Assist and hill holder, Active Drive Assist and Cornering Assist. The engine brake is rated at up to 235kW.
Handling
It is difficult not to be impressed by the driveline that underpins Atego. With several top-notch power ratings, it can be argued that it is too much for a 7.5 tonner. The pick is the 177hp version with 750Nm torque and the Mercedes PowerShift 3 with economy mode. It has enough power and depth, it lugs down to 1,200rpm, to cope with any terrain and in the economy mode with EcoRoll is deployed and where speed is restricted to 85kmp/h to deliver a smooth consistent performance. Gear changes in economy mode are quick enough for the driver when climbing not to lose any momentum, and changes are achieved with the minimum of fuss through the urban sprawl where many of these trucks work. At this weight category, a five-speed manual is probably a stretch – especially between third and fourth gear. Whether it's manual or auto, the six-speed plugs all the gaps, so the truck isn't having to work excessively to make up the ground to the next gear. On the road, Atego handles very smoothly through winding A-roads without any hint of over-steer. In fact, steering is very sensitive at low speeds. At faster speeds it stiffens and is designed to require less corrective steering by the driver.
Running costs
Fuel economy is usually good, although drive around in power mode and it'll take the edge off any savings. Where it might suffer is payload because it does come in a little heavier than most European competitors, and it is significantly weightier than the trucks produced and imported from Asia. If maxing out payload is a priority at 7.5 tonnes when you might need to consider heavy GVWs. Where Atego comes into its own is utilising the strong engine ratings, so choosing a higher horsepower to haul a trailer might well be the answer to countering the higher kerbweight of the chassis-cab.
Price and residuals
Not the cheapest up front or when found in the used truck market due in part to Atego not being a big seller in the UK. It keeps demand strong for a well-designed chassis-cab with genuine build-quality. Also, Atego tends to age well. In its own-account customer base with a raft of different and specialist bodies often mileage is lower than trucks with boxes put into general haulage with the parcel companies.
Warranties and dealer networks
Warranty is one year across the board for the whole vehicle, with driveline over two years up to a specific mileage on each engine size; for the 5.1-litre engine it's up to 250,000kms. The Mercedes-Benz dealer network is comprehensive, with 14 dealer groups and 83 service points covering the UK and Northern Ireland. In the 21 years Atego has been available there have been 33 recalls issued by Driver and Vehicle Standards Agency. However, 22 have been issued since 2014. The bulk of the more recent recalls have been for a risk of a short-circuit and the cable lug of the ground line on the engine's mounting bolt potentially breaking.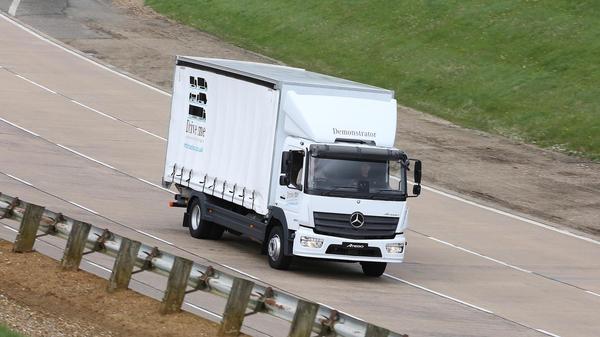 Why buy?
Weight and price tag usually combine to keep Atego towards the back of the field when it comes to sales. That said, not everyone wants to max out a 7.5 tonner and if they run bigger Mercs then an Atego is the obvious choice. There is plenty going for it; a very impressive engine, transmission and driveline, and a cabin that drivers love to work in. In an age where many choose for run-of-the-mill chassis-cab supplied by DAF, Iveco and Renault – all with the same cab – then perhaps being different means buying an Atego.
Browse all our new trucks here
.