Expert Review
Iveco Stralis review
Heralded by Iveco as 'the most technologically advanced vehicle available', Stralis stuttered through its infancy before eventually catching up with its competitors with improved build quality and better reliability.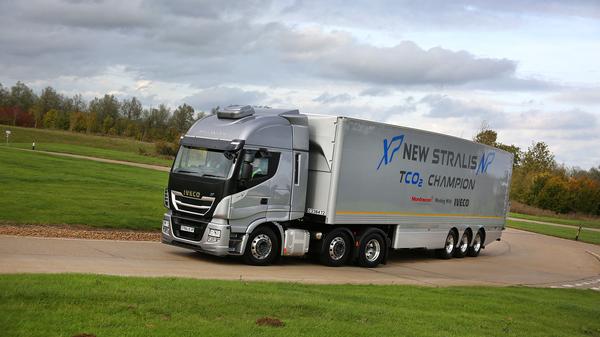 Words by: Kevin Swallow
Published on 1 March 2019 | 0 min read
The Auto Trader expert verdict:
Using SCR-only technology and leading the way in alternative fuels with a new gas-powered engine, Stralis continues to gain new admirers.
Reasons to buy:
Light
Green and clean
Reliable
Engines
Replacing EuroTech and EuroStar, Stralis began life with the tried and tested Euro-3 Cursor 10 six-cylinder 10.3-litre engine offering 400 and 430hp, and Cursor 13 six-cylinder 12.9-litre lump with the 480hp and an all-new 540hp. Iveco bypassed Euro-4 and went straight to Euro-5 using selective catalytic reduction (SCR). The Cursor 8 six-cylinder 7.8-litre was added as a 360hp, Cursor 10 options included 420 and 450hp while the Cursor 13 engines had a choice of 500 and 560hp. For Euro-6 Iveco moved from unit injectors to common-rail injection, retained its faith in SCR and beefed up the two smaller engines. The Cursor 8 was replaced by a Cursor 9 six-cylinder 8.7-litre lump, which offered 330, 360 and 400hp; the Cursor 10 was succeeded by the Cursor 11 six-cylinder 11.1-litre engine with a choice of 420, 460 and 480hp. Cursor 13 remained unchanged with the 500 and 560hp. In 2016 Iveco tweaked its engine line up; the 310hp became the new entry level for the Cursor 9, and the Cursor 13 got a hike in power with a new 510 and 570hp. Iveco rowed back on its SCR-only solution for Euro-6, by introducing 8% exhaust gas recirculation (EGR) for the Cursor 11 480 and Cursor 13 570hp engines and called it 'Smart EGR'. It was added as part of XP (extra performance), a strategy to improve mpg, as a 'fuel economy enabler' by burning NOx inside the engine when the temperature is up. In 2017 Iveco unveiled its NP (natural power) range using compressed or liquified natural gas to power its engines. The options include a Cursor 8 270, 300 and 300hp, a Cursor 9 400hp followed by a Cursor 13 460hp.
Expert rating: 4/5
Transmission
Within 12 months of the launch, Iveco became the first western truck manufacturer to make its new ZF 16-speed automated gearbox, dubbed 'EuroTronic', standard on the Stralis range, with operators who wanted a manual box having to pay a £1,000 surcharge. In fact, the 540 was only available with an auto. Eventually the 12-speed auto supplanted the 16-speed version. For Euro-6 the name EuroTronic was initially retained but in 2016 Iveco utilised ZF's development and gave the gearbox a new name; Hi-Tronix, which also brought Hi-Cruise, Iveco's predictive cruise control system that uses GPS to make proactive gear changes and initiate eco-roll.
Expert rating: 4/5
Cabs
The full-width Stralis Active Space (AS) cab began life as a one-size fits all. Incorporating a flat floor with 2.0 metre standing room it created vast internal space. Soon after a narrower 2.3m version of the cab named Active Time (AT) was the replacement for the EuroTech. In 2005 Iveco offered a luxury flagship Executive Space (ES) with a trim level to match its name. The cab underwent an external revamp and name change in 2012; the AS cab became Hi-Way, AT was renamed Hi-Road and the day-cab low-roof version was rebranded Hi-Street. Both the Hi-Way and Hi-Road are available with high and low roof options.
Expert rating: 4/5
Comfort and storage
From the outset Iveco struggled to lose its reputation for producing a plasticky interior, even though AS and AT was fitted with improved materials, and more resolute designs for lockers. However, what you saw was all you were likely to get; battleship grey with a blue seat trim. Despite the austere appearance it was a much-improved working area for the driver, with a comfortable high-back seat and a set of switches to control the electric windows built into the driver's door armrest. Launched in 2005 ES proved a short-lived high-end option with metallic paint, a chrome finish, two-tone interior, air-con, remote locking and roof-mounted air horns as standard. The 2013 overhaul brought the cab in line with the modern era with a new dashboard with soft-touch plastics combined with more storage and a thicker mattress, a touch-screen with links to driver and vehicle performance and evaluation tool.
Expert rating: 4/5
Safety
What made Stralis different was a new multiplexed wiring system to control electrical components allowing it to do 'fault diagnosis' quicker and more reliably. Iveco moved to electronically-controlled disc brakes plus traction control system as standard. Operators reported operational issues with the early electric wiring. Iveco worked to improve the quality and go some way to setting the standard for what electrics could do in a working cab. Iveco has continually added to its roster of safety and 'driving assistance' functions with electronic braking and brake assistant systems, electronic stability program, and hill-hold to stop the vehicle from rolling back after the brake pedal is released.
Expert rating: 4/5
Handling
Pick of the range is the Stralis XP 480, the top offering off the Cursor 11 engine. It has an impressive 2,300Nm torque from 970rpm through to 1,500rpm. It can cope admirably with undulating terrain as well as the tougher climbs. It has a willingness to lug, if you let it, but conservative transmission software prefers to change down the gearbox when under pressure. The focus is on 'up and over' rather than being in the sweet spot going on an ascent. On the A-roads the engine and transmission work tirelessly on the driver's behalf rapidly changing gears for sharp climbs, using eco-roll and activating the engine brake; all in the name of creating a consistent speed.
Expert rating: 4/5
Running costs
The arrival of XP in 2016, which is a new fuel-friendly long-haul version of Stralis, is welcomed but living up to Iveco's claim that XP improves fuel efficiency by 11% is a challenge. Although pricey, the CNG/LNG powered engines also help reduce day-to-day running costs. Gas is cheaper, cleaner and matches diesel mile-for-mile and doesn't require AdBlue. The Italians are pushing this concept hard with several alternative fuel suppliers.
Expert rating: 5/5
Price and residuals
Up front Iveco Stralis represents a decent deal; across the range the price tag is competitively priced. Like any competitor, if you throw in the extras the price will climb accordingly. And this is where you have to question what you want and what you need. Spend too much up front and it'll be lost on the residual values. Despite being an equal of its competitors in the marketplace in terms of technology and performance it has poor market perception and the prices reflect that. To get value for money you might have to consider running it longer than you might with something Swedish. On the upside, if you want a good quality second-hand motor then any Euro-6 Stralis represents a good deal.
Expert rating: 3/5
Warranties and dealer networks
Current warranty for both new diesel and gas powered Stralis is a one year full warranty, plus a one-year driveline warranty. Across the British mainland and Northern Ireland there are 17 main dealers, 31 satellite locations and 36 authorised repairers, totalling 84 sites. Since January 2002 the Driver and Vehicle Standards Agency has issued 26 vehicle recalls on Stralis.
Expert rating: 4/5
Why buy?
Iveco's Stralis was a vast improvement on what went before but poor build quality meant its impact wasn't the great leap forward the Italians were hoping to achieve. This led to poor market perception and even though it is competitively priced in the showroom Stralis still struggles with residuals because of the quicker depreciation. However, get a decision maker behind the wheel and they quickly realise Stralis is a good, solid, versatile option thanks to a strong engine line up, complemented by options for alternative fuels, a smart transmission and a quiet, comfortable cab. Browse all our new trucks here.
Expert rating: 4/5