Guide
How to name an Eddie Stobart after someone
How can you name an Eddie Stobart truck after someone you love? This article explores the process of naming an Eddie Stobart truck, and if you can really give one a name of your choosing.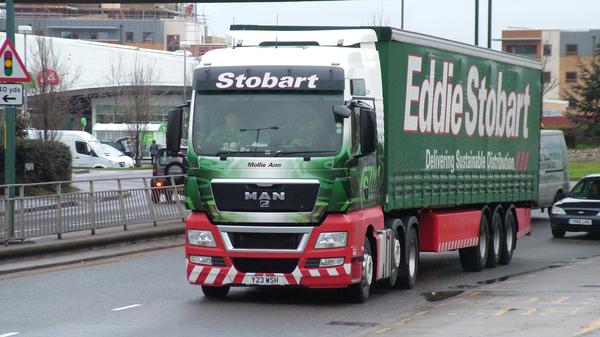 Words by: Auto Trader
Published on 19 March 2020 | 0 min read
Eddie Stobart trucks are an icon of British culture, operating over 2,700 of their instantly recognisable vehicles throughout the UK and Europe. One of the key reasons that Eddie Stobart trucks have earnt such a reputation amongst the British public is due to their very unique tradition of giving their trucks an individual name.
This tradition first began when Eddie Stobart himself named his first four trucks after four famous women. There was "Tammy", named after sixties and seventies country singer Tammy Wynette, "Twiggy" named after the iconic sixties model, "Dolly" after the legendary Dolly Parton, and "Suzi" named after the American rock singer-songwriter Suzi Quatro. Stobart went on to carry on christening his trucks with female names and became increasingly renowned for it. However, there have been some variations in the tradition, such as the naming of a Volvo FH after the heroic fusilier Lee Rigby in 2017. Today, the trucks can be named by drivers who want to pay a special homage to someone they admire and sometimes are named to commemorate long-time employees.
Become a member
The first step to naming an Eddie Stobart truck is becoming a member of the Stobart Club. The Stobart Club is a longstanding members club for fans of Eddie Stobart trucks, providing exclusive perks to their members as well as the chance to buy model trucks, gifts and accessories. Currently, the chance to name a truck for yourself is only accessible to those that are a member of the Stobart Club, but the good news is that it is relatively simple to sign up.
Make a request in writing
If you are already a member of the Stobart Club or have just signed up, you are now able to request that a truck is christened with a name of your choice. Eddie Stobart requests that all truck naming requests are made in writing, so the next step is to write down a polite request that includes the name you have chosen and why. You can then send this request to the Eddie Stobart Promotions team either by email or by post. You will know when they have received and noted your request as they will send you a written confirmation.
The waiting list
Once you have requested your truck name, you have done everything possible at your end to have an iconic Eddie Stobart truck named after your loved one. However, the largest hurdle will be the waiting list. Currently, the Eddie Stobart truck naming waiting list is up to 5 years long.
Choosing the name
Although it would be nice to be able to name a truck with whatever name you decide to give it, Eddie Stobart has some restrictions for their truck names. When choosing the name you would like to see on a truck, it is important to remember that Eddie Stobart will only use recognised girls names, excluding nicknames and surnames. To up your chances of having a unique name on a Stobart truck, the Stobart Club recommends using two names in one, such as "Amy Louise". Stobart will also request any names that they do not think are suitable for a truck.
Keep an eye out for competitions
There is no doubt that the process of naming an Eddie Stobart truck can be a long and patient wait. However, Christmas 2016 saw a unique opportunity come up on eBay that would see one lucky winner christen a Stobart truck with a name of their choice. Eddie Stobart themselves had donated the prize to the eBay seller, who was auctioning it off for £500. The winner had the chance to name the truck anything they liked, not following the strict naming regulations other keen truck namers have to follow. Opportunities like this one may come up again, so it is always worth keeping an eye out online!
Receive your certificate
Once the waitlist process is finally over, you will be informed that a Stobart truck has been given the name of your choosing and this will be officiated with a certificate. Eddie Stobart will send you a certificate in the post to show that a truck has now been christened with your chosen name, which is a great thing to present to the loved one you named your truck after.