Expert Review
Volkswagen Transporter Camper Conversion (2020 - ) review
For holidays that are truly yours, or even office space working from home, take a look at the VW campervan conversions courtesy of Revolution Campervans.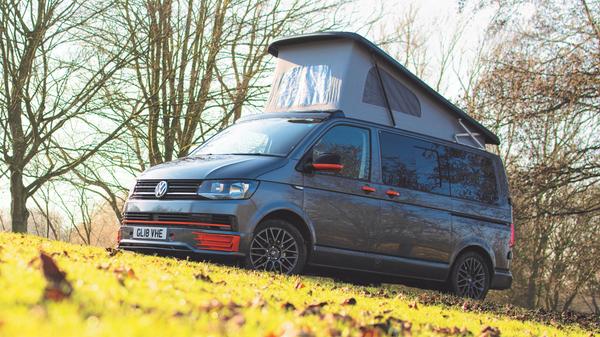 The Auto Trader expert verdict:
For family time, festivals or even working from home when you're not living life on the road, VW Transporter conversions and VW Campers are a mainstay of contemporary chic and head-turning appeal. Revolution Campervans take favourites such as the VW Transporter – T1, T2, T5 or the California, for example – before completely refitting the interior to your spec and preference.
Reasons to buy:
Quality of VW with bespoke interior design.
Holds value but secondhand deals still out there.
Simple range selection to build on.
Drive
Search out any VW Transporter used cars for sale, or pick any random reviews of the manufacturer's leisure vehicles, and you're not likely to find anything less than four stars. VW has always been renowned for excellence in the leisure and touring industry, whether it's campers or towcars for caravans. Whether you're looking at reliability, performance and handling, safety features, or simply enjoyment behind the wheel, they're nothing short of impressive. All three models on the Revolution Campervans roster are built on a short wheelbase as standard and come with enough optional extras to suit any need. With the bespoke nature of sourcing your base vehicle for any build, you can't go wrong.
Expert rating: 5/5
Design
Revolution Campervans take care to keep the iconic exterior design of its VW base vehicles, which is great. Retaining the external style expectations gives every one of the campervans and conversions a certain 'sleeper' effect when it comes to the big reveal of what's inside. There is, however, also the option to upgrade the paint to two tone if that's your thing. On the inside, each design is entirely unique, based upon three ranges – the compact and cosy Kook, the entertainment-laden Ricos, and the Noah, perfect for a large family or group of friends to get away. All three offer 12 options in surface finishes, nine flooring choices and three worktop materials to pick from.
Expert rating: 4/5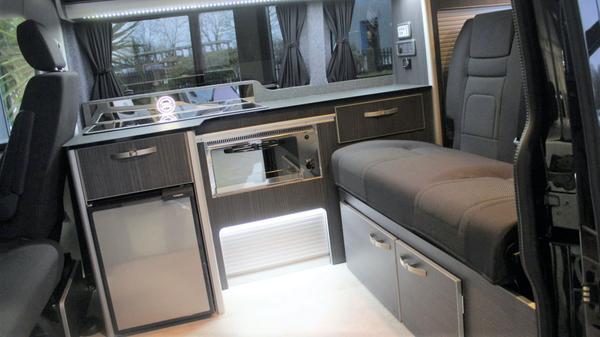 Volkswagen Transporter Camper Conversion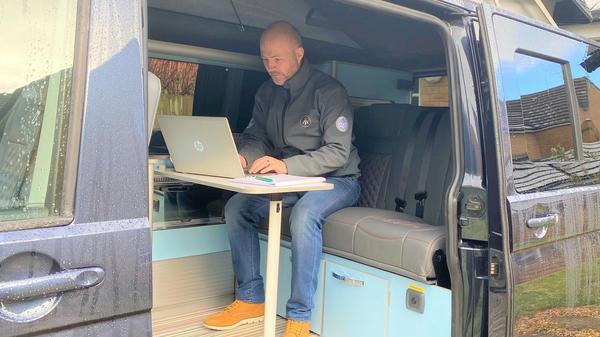 Volkswagen Transporter Camper Conversion
Living
Campervan life is all about activity. Pitch up and get out on the move as soon as possible, especially with options such as a bike rack available here. Yet, when you do come to land, a cosy space is waiting and 100 litres of storage even at entry level still means you're never short of places for your essentials. The other great thing about the Revolution range is that your space to kick back to read or relax is plentiful, especially as you'll be doing so somewhere that's bespoke to you. The front swivel chair plus the upgrade to swivel passenger seats on Ricos and Noah models also make for additional convenience, while an Fiamma F45 awning upgrade adds even more living area. The Ricos range – and the Noah with space for six people – ups the entertainment stakes with a front canopy projector, too. Kick back, grab the snacks and have a movie night after every busy day.
Expert rating: 4/5
Dining
Compromise has to come somewhere, and campervans often tend to lack luxury in the kitchen department. None of these models are short on kit, though. The Kook features a separate sink and twin gas hob; Ricos include a fridge/freezer and a Dometic 9722 double gas hob, and the Noah houses the same hob as the Ricos but with a SMEV555 grill in addition. Plus there's also the optional extra of a BBQ point for alfresco eating in the summer months.
Expert rating: 3/5
Sleeping
Campervan bed layouts need to be easy to set up, safe as a seat, and comfortable in both modes. By now you've probably guessed that the Revolution range covers all bases at every price point. The Kook range features the usual M1 crash tested rock and roll bed for easy set up, tidy convenience during the day, and important safety on the move in seat mode. Comfort and convenience combines with the Ricos range and up, courtesy of Scopema RIB ISOFIX bed set ups that bring safe travel and sleeping for any age member of the family or friends.
Expert rating: 4/5
Value for money
Models start at £29,995 but realistically you're looking at around £40k for a decent-spec used Ricos model, for example. The good news is that, whether you're creating your own home from home or finding a good deal in the listings of used campervans for sale, there's plenty of choice out there of vehicles in great condition to suit any style needs. Combine that with the community that comes with ownership; the deals you can get from VW-friendly festivals, and the quality of the drive... You'll get your money's worth.
Expert rating: 4/5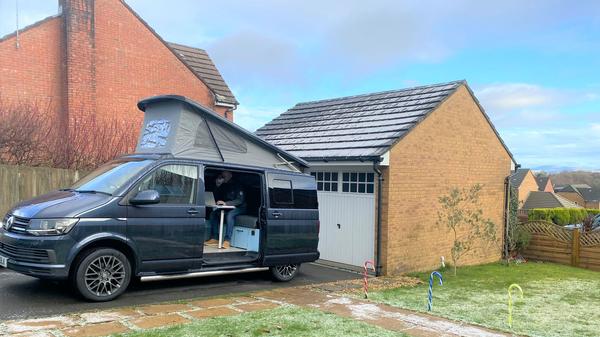 Volkswagen Transporter Camper Conversion
Why buy?
Look no further than having your own bespoke holiday option. Look no further than putting your faith in a campervan with the longest production run of any commercial vehicle. The T1 splitscreen, T2 bay window; the rear-engined models that followed right up to the 70th anniversary Volkswagen Transporters rolling off the production line... They're holiday icons and making one yours is an investment that will create convenience and community every time you head out on the road. Want to know more about Revolution Campervans? Visit their website here
Expert rating: 5/5