Expert Review
Swift Escape 2021 motorhome review
Stacks of value and accessibility force these time-served Swift Escapes into consideration.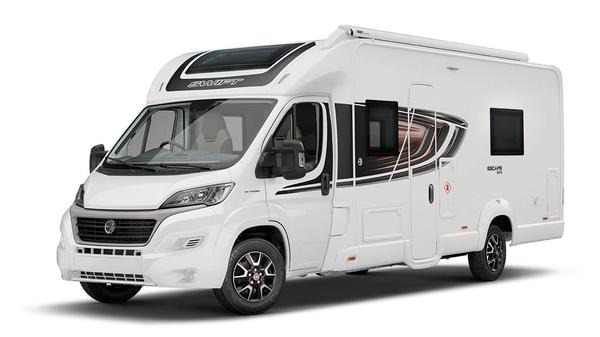 Words by: Ben Hackney-Williams
Published on 19 May 2022 | 0 min read
The Auto Trader expert verdict:
With a new range re-imagined for 2022, Swift motorhomes in the 2021 Escape line up are primed for a bargain hitting forecourts. Searching through Swift's back catalogue is a firm favourite pastime when anyone's looking to treat themselves for the years ahead, and this is why.
Reasons to buy:
Luxury living without the depreciation hit.
Subtle styling while keeping a touch of class.
Accessible for any motorhomer.
Drive
Pulled by Fiat 2.3-litre Euro 6D engine with optional automatic, the Escape is not only geared up for any road journey, but its 3300kg weight makes it suitable for anyone without their B+E license as well. Accessibility at its best! Behind the wheel, there's full functionality with the luxuries you'd expect from Swift, such as cruise control and speed limiter options, and everything you could want from the multimedia headunit.
Expert rating: 5/5
Design
On the road or on the pitch, Swift is a manufacturer that's never been short in the style stakes. Dynamic decals don't overdo it, as the brand's British-build caravans and motorhomes always put the b in subtle. Practicality comes in the form of easily accessible external storage and a large exterior garage door within the range. Its GRP exterior is set to resist the elements, with SMART construction ensuring everything has been tested to high standards.
Expert rating: 4/5
Living
There's something for everyone here in the way of furnishings as well. Swift keep it simple on the fabric finishes, so you've no fear of crazy bright colourways or old-school stereotypes. The downside of the washroom in some models is that you're faced with a curtained wet room set-up, but a rooflight staves off any steam and condensation concerns. While space is always a compromise and you can often find more capacious washroom caravan options compared with motorhomes, there's always the option for on-site facilities if you want to keep this shower for emergencies only. What's more, the 664 or 675, for example, has a rear washroom that's much more of its own separate space.
Expert rating: 4/5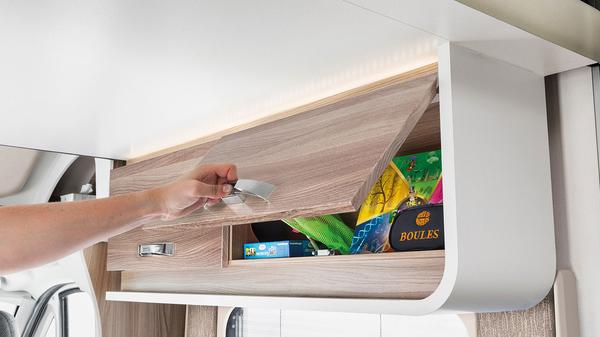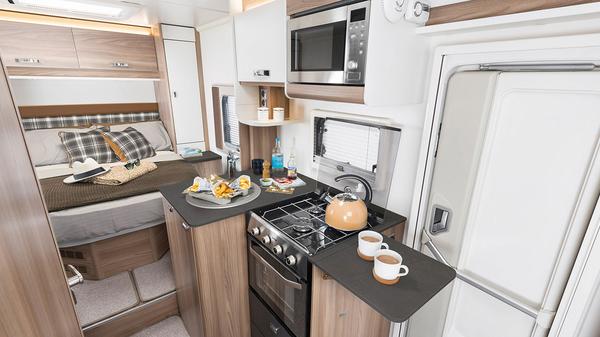 Dining
The dining space features an accessible table (no need to squeeze in) that makes up into sleeping arrangements when needed. Kitchen-wise, there's everything you'd need for culinary creations thanks to the Thetford three-burner gas hob, oven and grill, but the real winner is a massive sink that makes clean up a breeze. I always feel the need to mention when the microwave is placed high in the interior, as this can be a big difference maker in practicality for some prospective owners, but there's no need for concern when it comes to most cooking needs. The fridge here also has plenty of space for anything needing a chill.
Expert rating: 4/5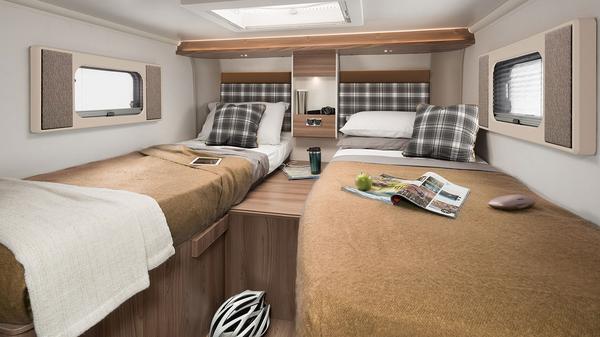 Sleeping
With a real level of luxury throughout, the fixed island bed of the 694 along with the double-bed dinette space has everything covered in both comfort and convenience. The 684's twin singles are equally impressive. Both spacious main sleeping areas give plenty of comfort when night comes, but perhaps more importantly it's the high quality that just helps to make the interior feel more like a home from home. The 675 model also features twin singles towards the rear that offer plenty of space for sleeping and another great option for lounging during the day, too. While there's no shortage of seating space, it's always nice to have the option of giving each other a little more space now and again.
Expert rating: 5/5
Value for money
Seen as a value for money motorhome upon launch, now that the superseding Escape motorhomes are available it makes previous models all the more appealing for a used motorhome purchase. There's more than enough variety and practicality across the range, and the dealer favourite is sure to be a hit for the post-pandemic staycation motorhome rush.
Expert rating: 5/5
Why buy?
The Escape forces itself into consideration just on value alone. However, one last positive factor is perception with the exterior graphics. While superficial, they do make a difference along with bodylines and alloys when you're pulling up on pitch. Everything here from Swift looks great and makes for a real sense of home away from home when you're on holiday. The best part is that by the time you're reading this, the depreciation hit will have struck another lover of the great outdoors and you can get a Swift motorhome deal that will last for years to come without breaking the bank.
Expert rating: 5/5