Expert Review
Lucky Dog Camper Knaus motorhome review
Safety, security and a sense of their own home away from home are now all available in Knaus motorhome models thanks to a new addition of four-legged functionality – the Lucky Dog Camper.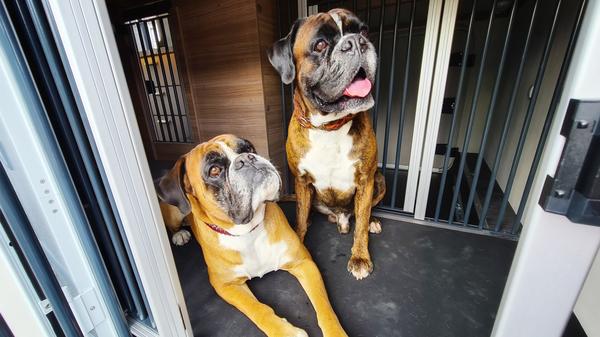 Words by: Ben Hackney-Williams
Published on 8 December 2021 | 0 min read
The Auto Trader expert verdict:
Now your four-legged friends can feel at home in their own space, which easy access to share yours, too. The Lucky Dog Camper system from Knaus offers your four-legged loved ones comfort and convenience, all while keeping them safer than other travel options where you have to deal with compromise.
Reasons to buy:
Dedicated sleeping space.
Easy access to the main cabin and outside.
Still plenty of storage options for accessories.
Drive
Forget searching Google for articles on "travelling with dogs in a motorhome and campervan" or "how to secure your dog". Canine camping comes into its own with the Lucky Dog Camper set-up. You've got enough on your plate with vaccinations or pet passports when travelling abroad, so why not take as much of your plate as possible? For anyone struggling with dog cage concerns or space issues on the move, the Lucky Dog Camper's comfort and convenience makes any form of travel set up easier to accommodate, while also giving your dog its dedicated space to 'own'.
Expert rating: 5/5
Design
The design of the Lucky Dog Camper is simple enough but will make a staggering difference to your time away. Behind the external garage hatch you'll find a cage door that's much more welcoming than the description suggests. Using the garage space with additional flooring material, your four-legged friend has direct access to the outside or at least can sit and see what's going on on-site if it's not time for them to be let loose. Moving through the converted garage and you'll find another secure door leading to the motorhome interior. This is great as an access point or just to check out your dog's doing if you don't want them roaming the motorhome in the night. The incredible access options means that they've got their own space, you've got security and peace of mind, and you can also use the kennel area as a go-between when your dog's drying off from a weather-fueled walk, for example.
Expert rating: 5/5
Living
These installation systems have been designed by engineers using their own experiences overcoming the challenges of travelling with dogs. They've found plenty of trick little touches that make ownership and companionship as enjoyable as it always can be. The outdoor shower point is perfect for cleaning off paws that have been for a paddle, meaning that the through draft from open-but-secure doors can act as a great drying option. What's more? Further security comes in the form of the Lucky Dog Camper leash system, anchored directly onto the motorhome, providing peace of mind on pitch.
Expert rating: 5/5
Sleeping
Even the best-behaved dogs don't like being woken up in the middle of the night while you stumble around in the dark to get to the loo. Giving them their own space to rest and relax in means a much greater avoidance of midnight barks, and there's always the option of leaving the inside hatch open for them to come and go as they please, or even share the bed. Make sure you check that your innocent pup hasn't sneakily stolen your space before jumping back in after your toilet break though.
Expert rating: 4/5
Value for money
Prices on request for the Lucky Dog Camper depending on whether you're having it fitted new or retrofitting it to your current pride and joy. However, the investment is not only in its immediate benefit but in how it can protect your motorhome over the long term from wear and tear. Particularly if you have an anxious pet, giving them their own dedicated space will keep them feeling more comfortable and keep your furnishings in better condition when it comes time to resell and move models.
Expert rating: 4/5
Why buy?
The Lucky Dog Camper 650MEG and 700MEG installation systems are available for Knaus L!VE TI, L!VE I, L!VE WAVE, SKY WAVE and VAN I models, with individual installation requests available for VAN TI, SKY TI and SUN I models. The 900LEG installation system is available for the L!VE I model, and individual installation requests can also be made for the SUN I. Last but not least, with new Knaus models in the range for the 2021-2022 season, there's a lot more dog-worthy news in the soft furnishings, too. Active Line fabrics in the Knaus range are a step above the standard upholstery. They're not only antibacterial and breathable, but they're water and oil repellent, making cleaning a breeze and removing a lot of hassle when it comes to the nature of pet ownership on pitch.
Expert rating: 4/5