Expert Review
Auto-Sleepers Kingham review
With everything accessible and easy to use, this is a campervan of convenience for any couple to enjoy.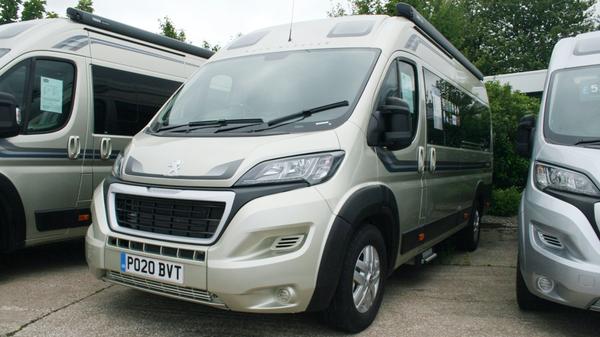 The Auto Trader expert verdict:
Practicality and comfort without the unnecessary detail means that the Kingham is your key to holidays with the simple things in life – rest, relaxation and really good times on pitch. The motorhome for sale in this review was provided by Marquis South Yorkshire.
Reasons to buy:
Fixed bed layout and a great use of space throughout.
Premium and winter pack upgrades included.
Easy to drive and maneuver on-site.
Drive
The model reviewed featured a turbo diesel Euro 6 manual engine with 165bhp, but you can also find the Kingham with a Fiat Ducato 140bhp or 165bhp automatic gearbox. MTPLM of 3500kg and compact dimensions (6363mm length, 2508mm wingmirror-to-wingmirror, and 2640mm overall height including the TV aerial) make this more than manageable on the road. Comfort in the cab comes from integrated touchscreen functionality, DAB radio, sat-nav and steering wheel controls. If that's not enough, there's also air conditioning, cruise control and an in-colour reversing camera with rear-view mounted LCD screen.
Design
This two berth equipped with two traveling seats just does everything well in the design department. However, it's one of those slightly Marmite layouts that will be perfect for some and just not right for others. There's lounging space, no need to set up a bed every night, decent storage and style that suits the majority of tastes. In terms of tech, an 80W solar panel alleviates battery bother, and to stay out of the sun yourself, the Thule canopy awning is the perfect place to hide under, and you can relax at night thanks to its LED awning light. With a rear wet room shower and toilet, the layout makes more sense to me than some of the awkward angled options on the market. It's also less intrusive to the rest of the living space as the wash housed in the back corner, alongside the bed. Plenty of space for drying and getting dressed if you've laid your clothes out beforehand.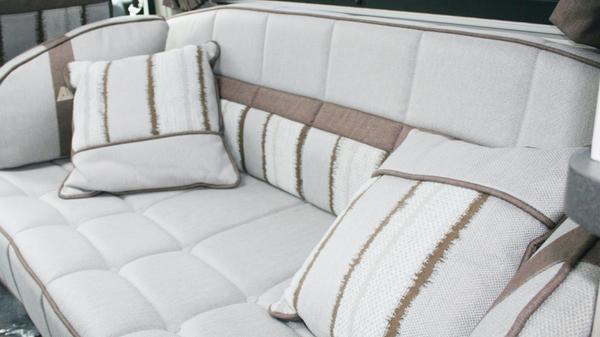 Living
Between the seating area and the fixed bed, there's also enough separate living space to have time to yourself reading a book, listening to music or just relaxing if the mood should take you. Nice touches include a magazine rack, a glasses/drinks cabinet, and a three-plug socket extension that pops up from the counter top, ready to be tidied away again if not in use. The Kingham's simplicity extends through its living quarters, putting you at ease with everything in the right place, ready to enjoy. Efficient 6kw Whale underfloor blown air heating will keep you comfortable in the cold and, although it needs a SIM card, the Kingham's motorhome wi-fi set up will solve all your entertainment and communication concerns on-site, too.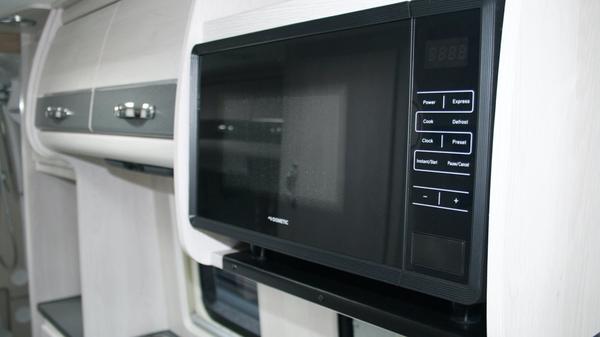 Dining
The dinette seating space comfortably fits two with room to spare, plus the swivel cab seats mean there are also options to entertain. The folding dining table storage can be found above the cab. The kitchen itself features a combi oven with spacious three-burner hob and an extractor fan overhead. I particularly like the pop-up worktop extension by the door, which is perfect for serving when eating outdoors. What the Kingham lacks is prep space if you were to take on a larger meal. While I'm not a fan of head-height microwaves due to access issues, the location here isn't inconvenient. The large Thetford fridge/freezer, four drawers and four cupboards of varying sizes means that you're never going to be short of places to store the essentials.
Sleeping
I'm a big lover of not messing about with making up a bed as darkness falls and having to pack it all away again come sunrise. The only issue with fixed beds is that it eats up space that could be used for something else when not sleeping. The Kingham offers the perfect compromise for such a compact campervan layout. The bed to the rear measures in at 1900mm by 1200mm and lifts at the back for support when reading before it's time to sleep, or lounging in the day. There's spacious storage above, with four cupboards and corner storage. The nature of the fixed bed means that there are decent storage options below, too, courtesy of the 'garage' space accessible by lifting the gas-strut supported bed.
Value for money
The price includes the premium pack upgrade and the winter pack upgrade, at £57,995 that's a great collection of extras for less than the original price of the motorhome alone.
Why buy?
The main selling point here is that impressive rear double bed that manages to not get in the way of daily life. Easy access to everything you need and more than manageable maneuvering on-site or on the road make this an ideal option for simple convenience and comfort.