Expert Review
Elddis Crusader Super Sirocco review
Just how super is the twin-axle Elddis Crusader Super Sirocco and who is this big beast aimed at?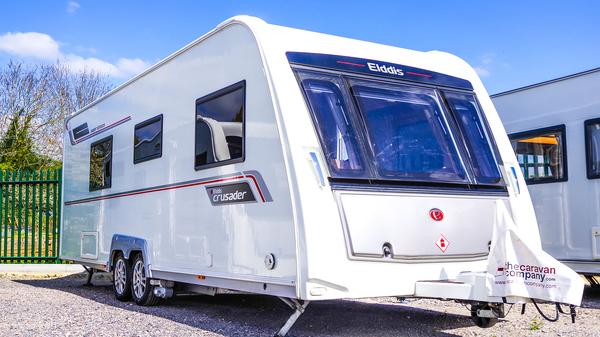 Words by: Clare Kelly

Additional words by: Auto Trader
Last updated on 6 July 2021 | 0 min read
The Auto Trader expert verdict:
Caravan names are quite the mouthful and often, I'm a little flummoxed as to the reasoning behind them. Let's take the Sirocco then. I looked this up to confirm I was clear on the definition and here's what came up: "a hot wind, often dusty or rainy, blowing from North Africa across the Mediterranean to southern Europe." Do I want a caravan that's dusty and brings the rain? Not really. In good news, a sirocco wind is warm and this caravan with its Alde heating system is certainly toasty – something you'll welcome on cold evenings. A twin-axle van makes for a steadier towing experience and if your licence permits it, this caravan with its full size bathroom is an attractive prospect and despite this model being six years old, it's in near-perfect nick and your for around £16K. Roughly speaking, if you were to take finance for the full amount over a five year period, you're looking at monthly repayments of around £322. Have a look at the Zuto finance calculator here for more on the money side of things. Let's see if that's a price worth paying.
Reasons to buy:
Big on storage
Light and bright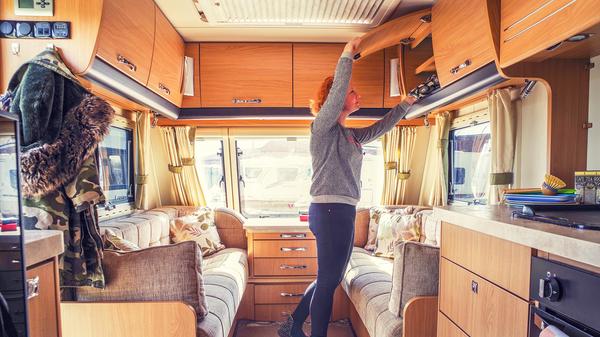 Elddis Crusader Super Sirocco review
Design
Simple, streamlined and with plenty of windows, the exterior of this caravan gives it the appearance of being new. This particular caravan has obviously been well taken care of and is as bright as a Hollywood smile. Graphics are pretty simple and the addition of the silver-coloured wheel arches with coordinating gas locker give is a bit of a classy touch – this might not seem like a big deal but caravans are generally pretty vanilla and pretty much all white apart from the windows. Inside the caravan, you're immediately aware of the space – it's massive and pleasingly unfussy with honey-coloured units and simple upholstery.
Expert rating: 4/5
Living
The lounge area of this caravan isn't too spacious, likely as a result of the fixed rear bed and full size washroom but it's perfectly suited to a small family. I'm often surprised at how little space is dedicated to living areas primarily because when it rains, you'll all be crammed in there together but I guess that depends on how well you're getting on with your partner and whether your kids are well-behaved. Now storage is where this caravan really excels – there's loads of it so if you've got some of the aforementioned kids who have more tech kit than Currys, at least it can be tidied out of sight when not in use or hidden or confiscated. There's a rooflight directly above the living area so only sunny days, it makes the caravan feel even larger. Like to watch TV? There's a ledge opposite the sink so you can pop it there. The shelf below has enough space for a few books.
Expert rating: 3/5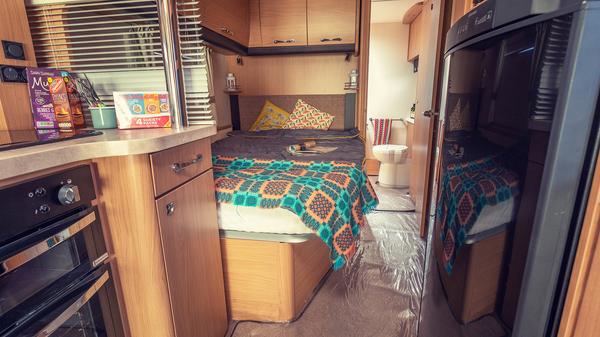 Elddis Crusader Super Sirocco review
Dining
You're a bit restricted when it comes to preparing your meals as there isn't too much space to chop and slice but if you're only making simple meals, this won't bother you too much. If you're buying fresh food when you arrive, make use of the full size fridge freezer which is larger than the one I have at home. The microwave is positioned above this so you don't need to bend down to access it but I'd prefer it to be a little more discreet since it's not that attractive! You get three burners and an electric hob and the usual oven. It's simple and functional. The sink is granite effect and the cover makes it feel a bit cheap but are you going to get hung up on this? Unlikely. I don't know if manufacturers think caravanners are obsessed with booze but having a drinks cabinet isn't uncommon. In this caravan, you'll find it to the right of the sink and there's enough room for red, white, rose and then a few bottles of spirits if that's how you roll.
Expert rating: 2/5
Sleeping
The large fixed bed is the draw here and you'll be comfortable lying here with the skylight above open letting in plenty of light. I would happily sit in this bed and read with a cup of tea on the shelf behind me. The headboard is soft grey and comfortable to lean up against if you're not in a hurry to get out of bed. Again, storage is plentiful so if you want a cupboard solely for your pajamas, then go for it. There is also a big wardrobe if you're taking fancy outfits and don't want them to get creased. To the front of the caravan, the front seats are long enough to act as two single beds for little ones or can be made up into a large double. In case you've fallen out with your partner or you're taking a teenager.
Expert rating: 3/5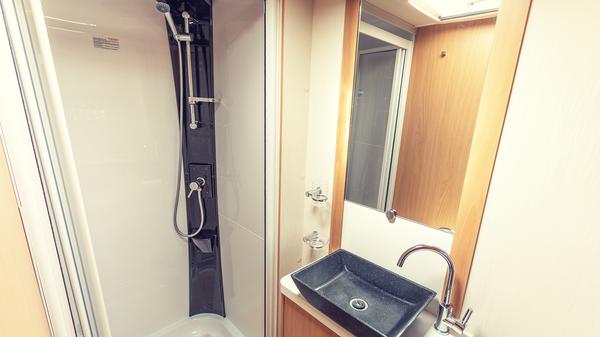 Elddis Crusader Super Sirocco review
Washroom
This is a spacious washroom with a black granite effect 'Belfast' sink which is a good size and gives you the space you need to have a proper wash. The cupboard underneath is the place to store all your bottles and keeps them nicely out of sight. Mirrors can often be an afterthought but not in this caravan – it's long as also helps to bounce the light around the washroom. The shower can be found in the corner of the washroom and is generous in size which appeals to me as I find most caravan showers to be quite claustrophobic to say the least.
Expert rating: 3/5
Value for money
The caravan I reviewed came with a top-of-the-range motor mover which will be a real asset if you're not a fan of reversing back onto a pitch and all the stress that can go with it. This was added by the previous owner and doesn't come as standard with these caravans. Having said that, you'll still be looking at just under £16K for a Sirocco of this age. I think it's a fair price for a caravan that clearly holds onto its value.
Expert rating: 4/5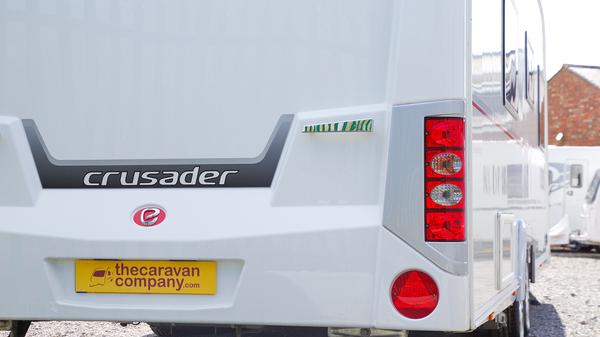 Elddis Crusader Super Sirocco review
Why buy?
You enjoy spending time in the bathroom? Failing that, it's a great caravan for a couple who like to take it easy when they are away or a small family. Reviewed on site at: The Caravan Company Northampton, Finedon NN9 5EJ thecaravancompany.com Photography by Matty Graham. Browse all our new caravans here.
Expert rating: 3/5